Partner content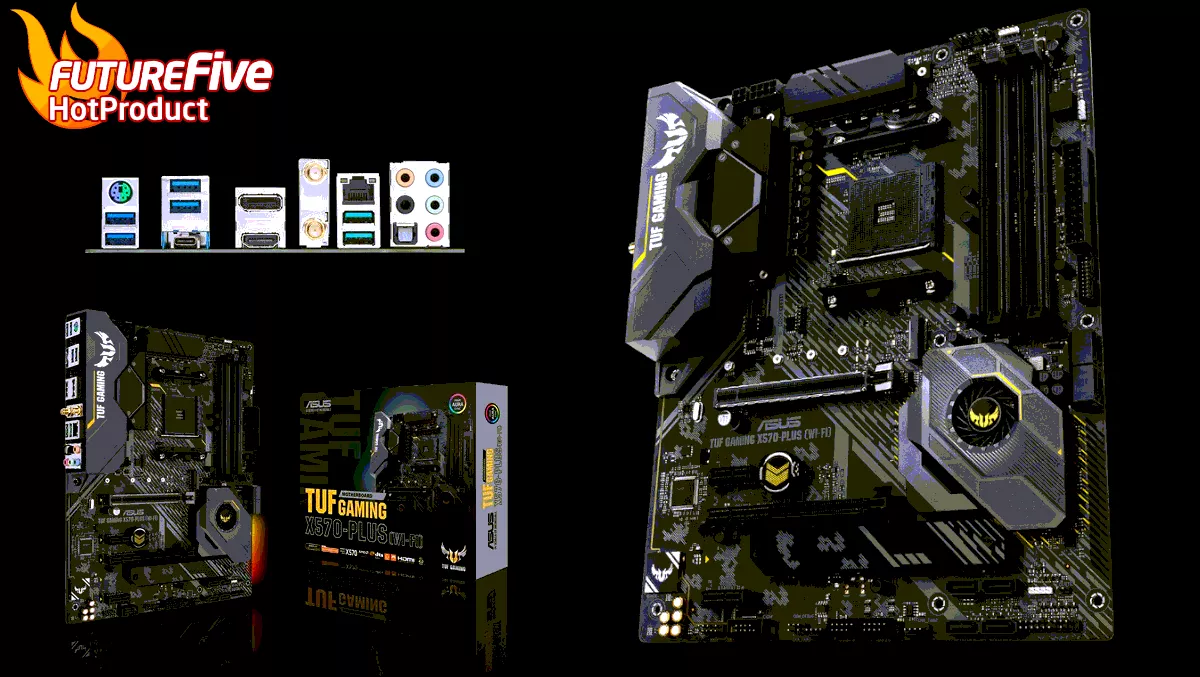 A look at the ASUS TUF Gaming X570-Plus (Wi-Fi) motherboard
FYI, this story is more than a year old
A motherboard is like the skeleton of any computer – it needs to be strong and it needs to provide all the right foundations on which to build a PC.
The ASUS TUF Gaming X570-Plus (WiFi) is such a motherboard that promises performance, 'military-grade' components, and almost everything you need to start building a gaming PC that packs some serious punch.
Designed to support Windows 10 64-bit, this ATX form factor motherboard measures 30.5cm by 24.4cm. ASUS also says these motherboards are designed to be easy to set up, even for first-time PC builders.
"When you build with a TUF Gaming motherboard, you also benefit from the TUF Gaming Alliance — an ASUS collaboration with trusted industry partners that ensures easier building, the best compatibility, and complementary aesthetics from components to case," ASUS says.
In translation, deciding which parts you need to pair with your motherboard just got a whole lot easier.
Here are some of the ASUS TUF Gaming X570-Plus (WiFi)'s basic features.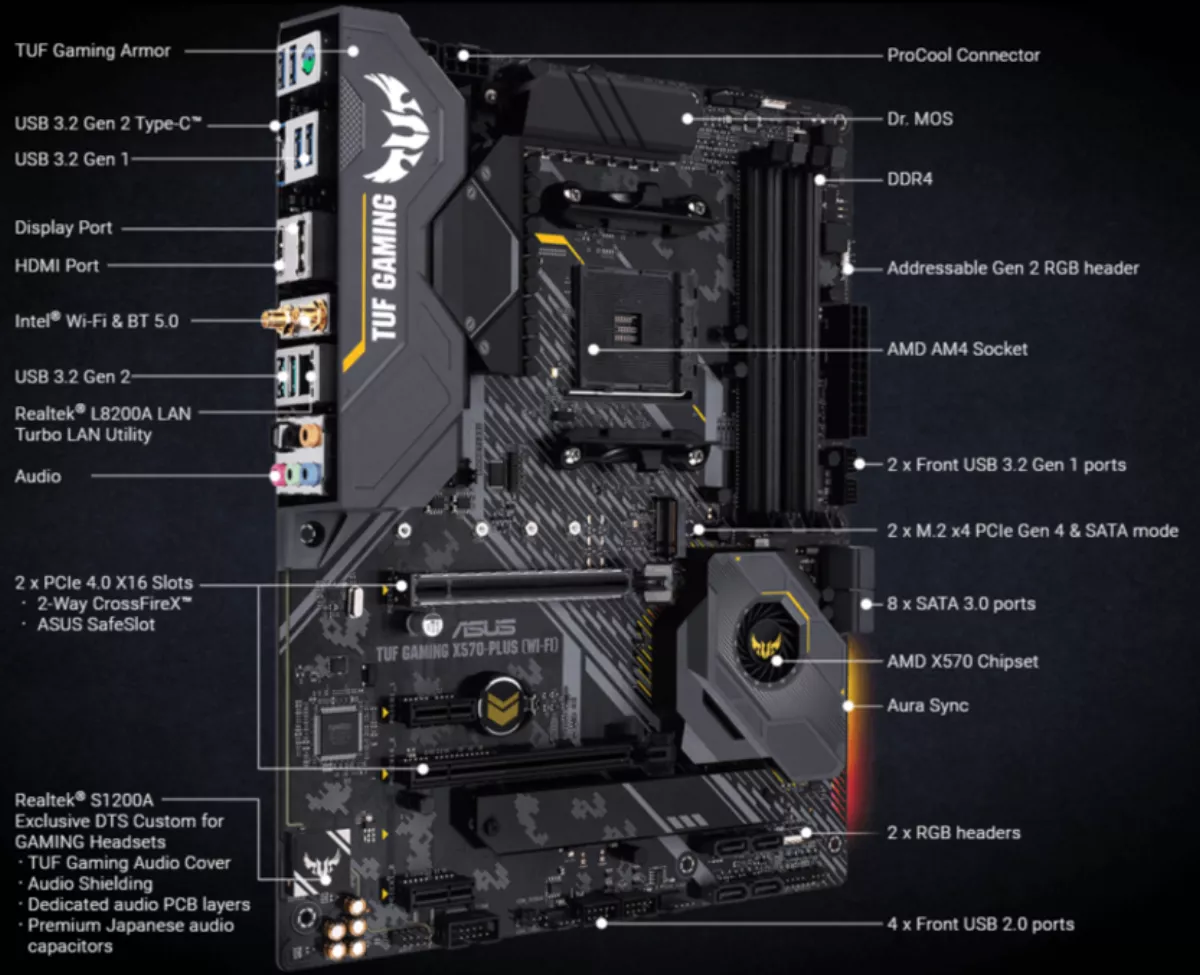 Memory: This is a motherboard designed to support up to 128GB of DDR4 memory working with AMD Ryzen processors. A unique layout method call ASUS OptiMem was adopted, claiming to reduce crosstalk of up to 26%. This basically improves memory stability and compatibility, giving you either more headroom for tuning, or less headache working with high-frequency memory. Of course, the 3rd Gen Ryzen is still highly recommended when working with high-frequency memory kits.
Graphics processing unit (GPU) support: This motherboard supports both 3rd and 2nd Gen AMD Ryzen Processors as well as AMD Ryzen 2nd Generation and 1st Generation Ryzen with Vega Graphics Processors. Ryzen with Vega Graphics Processors is essential in order to allow the onboard graphics output ports to be active. Needless to say, that enables the use of up to the GTX1030 equivalent RX Vega 11 graphics without the need for additional graphics cards. Alternatively, if discrete graphics is the way to go, then Ryzen will be your best friend, offering up to x16 lanes of PCIe to your discrete graphics card. CrossFireX™ is supported as a little touch-up bonus, though it is not so common to utilise multiple GPUs for symmetric GPU processing these days.
Cooling: This motherboard has plenty to offer. Delta's custom low-noise Superflo fan has been adopted with proper air ducts and a finned heat spreader in order to offer long-lasting cooling to the relatively warm X570 chipset. Large VRM and M.2 heat spreaders were also included to keep the temperature critical locations free from overheating concerns. There are also a total of six hybrid fan headers that can be calibrated and precisely controlled from either BIOS or FanXpert 4 software. Definitely worth check out if you are not a fan of the rock 'n' roll concert by your array of system fans.
Internet & networking connectivity: In addition to a Realtek L8200A Ethernet controller, it is also integrated with Intel AC9260 WiFi receiver with BT5.0, the fastest 2x2 Wi-Fi 5 adaptor to ever exist. Sporting connection speeds of up to 1.73Gbps over 5GHz means no more messing around with Ethernet cables around the house.
USB ports: This motherboard is USB port central. There are 4x USB 3.2 (1st gen) ports; 4x USB 3.2 (2nd gen) type-A ports, 1x type-C (2nd gen) port, as well as two extra USB 3.2 (1st gen) ports and 4x USB 2.0 ports over front connection.
Other ports: For connections to monitors and other peripherals, there's a DisplayPort and HDMI port. Both of these support a maximum resolution of 4096x2160, however, the HDMI port tops out at 24 hertz (Hz) while the DisplayPort tops out at 60Hz. You'll also even find a PS/2 keyboard/mouse combo port, and an optical S/PDIF out port, and five audio jacks.
Audio: This motherboard has an onboard Realtek ALC S1200A 8-Channel High Definition Audio CODEC. What's more, there are a few awesome audio features like audio shielding, premium audio capacitors, and Exclusive DTS Custom for gaming headsets. You want audio? Sorted.
Storage: This motherboard features dual PCIe 4.0 M.2 slots for your SSDs, and also provide NVMe SSD RAID support; Do note that Ryzen processors are essential to activate dual M.2 support. An optional Hyper M.2x16 card can be added onto the 1st PCIe slot to support additional 4 NVMe M.2 while also being RAID'd with the onboard if desirable.
ASUS has also included a bunch of other special features on this motherboard – from lighting controls and strip headers to voltage protection and power stability protection, there is so much more packed into this motherboard.
There are so many features, power connectors, slots and ports we could mention here, but if you want the full details head over to ASUS' website.
Related stories
Top stories