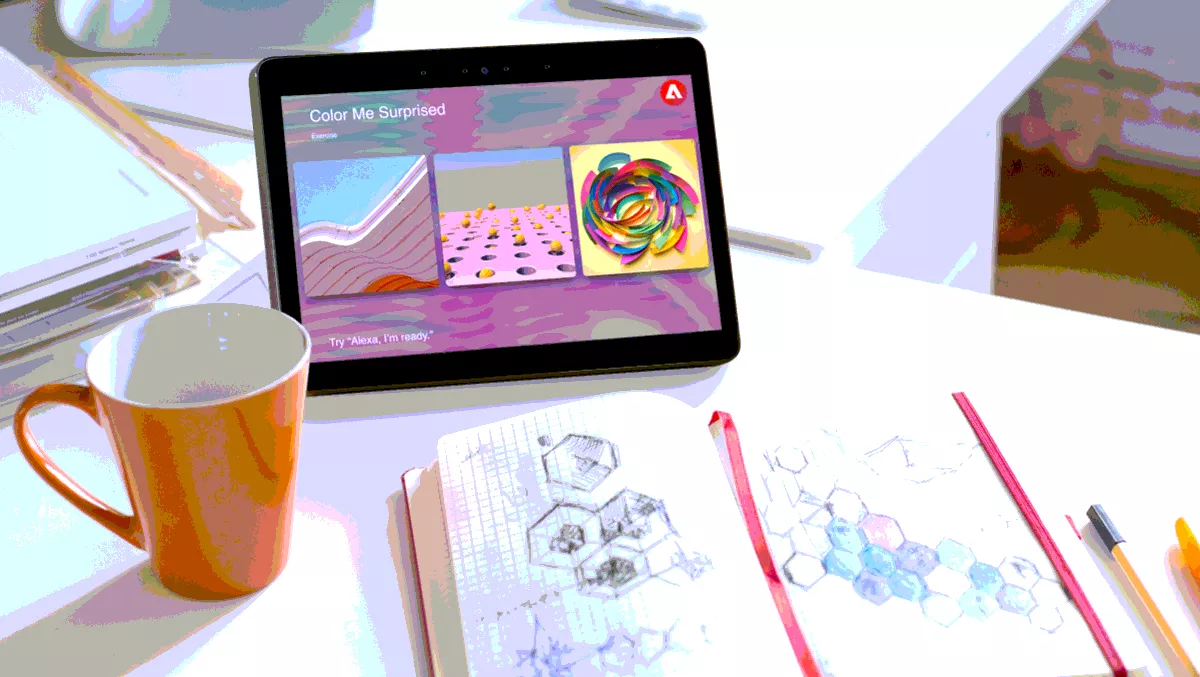 Adobe provides a 'jolt' of inspiration through Amazon Alexa
FYI, this story is more than a year old
Where do you turn to for a source of creative inspiration? If you happen to own an Amazon Alexa, you can now train the device to give you a dose of inspiration when you need it most.
The inspiration is the work of Adobe's Inspiration Engine, which is a new free skill for Alexa.
Adobe's research uncovered that while 71% of people consider themselves creative, a whopping 89% say they struggle to find inspiration. As a result, the company set itself a mission to design a new source of inspiration.
Designed for anyone who needs a 'jolt' of creativity like artists and designers, or somebody who needs more than coffee to start their day.
All users need to do is activate the Adobe Inspiration Engine skill by asking Alexa to enable the Adobe Inspiration Engine. Or, download the Alexa app and enable the Adobe Inspiration Engine skill. Users can say "Hey Alexa, open the Adobe Inspiration Engine" to any Alexa device or Alexa app.
Users can get inspiring quotes, tried-and-true creative exercises and, when using an Echo Show or Amazon Firestick device, visual bursts of inspirations.
The Adobe Inspiration Engine offers:
- Quick Insight: Light up your creativity with a quote or insightful sentence from creative minds such as Jessica Walsh, Pascal Campion or Weitong Mai. These doses of inspiration will offer new perspective.
- Exercises: In just a few minutes, these exercises will get your creative juices flowing. With select exercises voiced by the talents of Calob Castellon and Elise Swopes, you'll be guided through activities like using your senses and environment to explore your project.
- My Creative Type: Better understand your personal brand of creativity. Are you a Thinker, a Visionary, a Dreamer? You can take the My Creative Type quiz to appreciate how your mind works.
- Visual Inspiration: See creativity flash before your eyes. With an Alexa-compatible screen device such as an Alexa Echo Show or Firestick, you'll be served up inspiring imagery from Behance.
The Adobe Inspiration Engine Alexa skill is available in New Zealand, Australia, Canada, the United States, and the United Kingdom.
Adobe has also integrated its Adobe XD design and collaboration platform with Alexa earlier this year. The Adobe XD skill allows users to access and interact with prototypes via an Alexa-enabled device like an Amazon Echo.
"It's our goal to provide designers, developers, and creators with the support they need to build great voice experiences with the tools they are familiar with," says Amazon head of voice design education, Paul Cutsinger.
"We're excited to work with Adobe to help Adobe XD designers more easily prototype their Alexa skill experiences, and give their vision a voice."
The Adobe XD skill is Adobe's first ever skill built for Alexa.
Related stories
Top stories