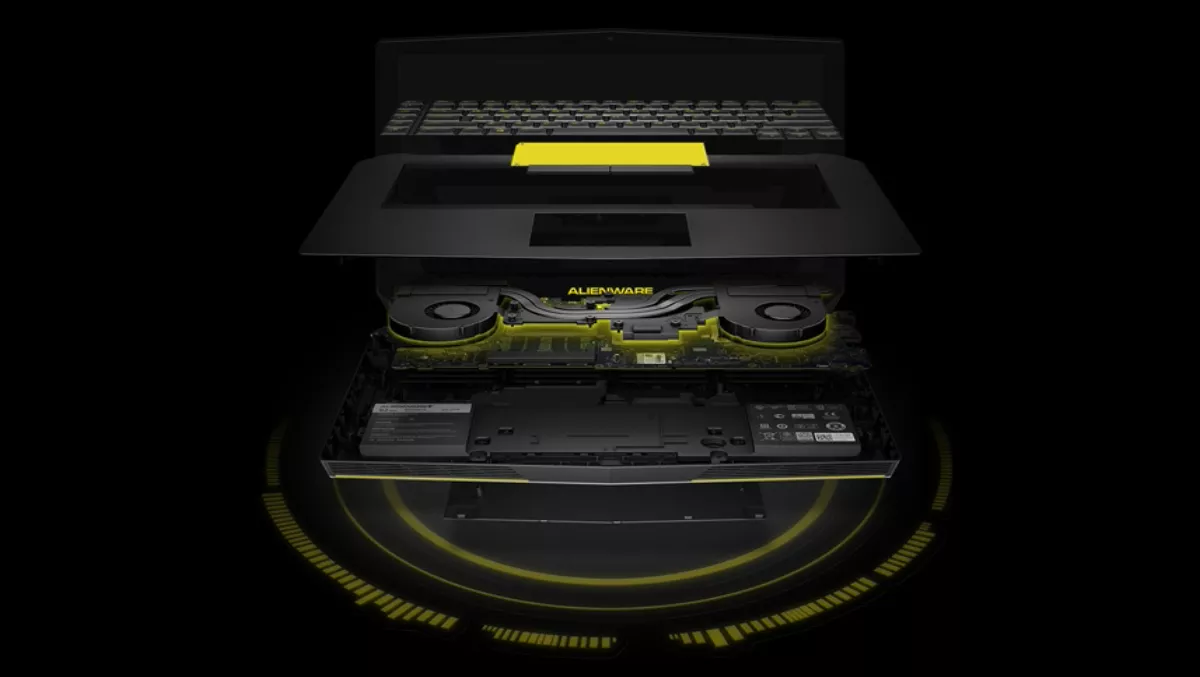 Alienware 15 allows virtual reality on the go
Mon, 1st May 2017
FYI, this story is more than a year old
Dell's gaming PC marque, Alienware have been producing gear for the more discerning gamer for years. Their desktops, whilst arguably overpriced, allow novice players the chance to easily purchase a gaming rig without having to know the inside of a PC case.
With Alienware laptops, it's a different story. If you seriously want to play games on a laptop, you go for Alienware. Not only are the machines internals top spec, the more well-heeled can opt for the optional internal graphics accelerator stuffed with their favourite high-end GPU.
With NVIDIA's GeForce GTX 10xx series GPUs on board the latest line of Alienware laptops, the best mobile gaming platform just got better.
When I was asked to demo an HTC Vive, Alienware kindly leant me one of their new Alienware 15 R3s. Powered by an Intel i7-6700HQ running at 2.6 GHz, complemented with an NVIDIA GeForce GTX 1060 (Notebook) the Alienware 15 is a VR-ready laptop.
The downside of all this power is that the Alienware 15 is a rather heavy and bulky machine. The thing barely fit in my rucksack and is really too heavy to lug about with you. It's more your gaming rig away from home than something that you are going to get out in a coffee shop to check your emails and do some officey things with.
The stylish lines, the striking alien head logo and the fully-customisable AlienFX RGB lighting make for a very good-looking laptop.
The demo unit shipped with Windows 10 Professional and Valve's Steam client installed on a 250GB PCIe SSD and a 1TB 6Gb/s SATA drive for storage, which is exactly what I needed to demo my HTC Vive VR kit.
The Pascal-powered GTX 1060 is roughly on par with the performance of a GTX 980, the GPU of choice when the Oculus Rift and HTC Vive launched last year.
The Alienware 15 will easily run all but the most graphically intensive games on high settings. With VR, no matter what you've been told, there's still no GPU on the market that is man enough to provide a VR experience anywhere near that of your 2D monitor. Whilst the GTX 1080 is about 75% more powerful than the GTX 1060, this is a fair compromise for a VR capable, portable machine.
3D Mark benchmarks

Timespy

TechDay i7-6700K GTX 1080 6445

Alienware 15 i7-6700HQ GTX 1060 3453

Fire Strike Ultra

TechDay i7-6700K GTX 1080 5095

Alienware 15 i7-6700HQ GTX 1060 2518

Sky Diver

TechDay i7-6700K GTX 1080 32088

Alienware 15 i7-6700HQ GTX 1060 21996
Testing the Alienware 15 with the excellent Forza Horizon 3 yielded a consistent 60fps, with scaling on, and with no discernible drop in visual quality. The laptop's 15.6 inch IPS screen produces a really vivid picture to boot.
But what about VR? As fabulous as the HTC Vive is, it is a fickle piece of kit. Teamed up with the touchy SteamVR client and HTC's own dodgy Vive software, there's plenty of things to go wrong. I've spent many an hour trying to get VR working on machines with incompatible USB ports and iffy configurations.
Getting the Vive to work on the Alienware 15 was a breeze. A Vive needs two things from a PC: a compatible USB port and an HDMI socket. With the Vive plugged in and powered up, all it took was a click of the Steam VR icon and my mobile VR demo was set.
Being realistic, running something like Project CARS in VR on the Alienware laptop is going to require the settings to be turned down to such an extend as to make the experience a bit so-so. Of course, with a Alienware graphics adapter plugged into the laptop's custom port on the back, I could run a state-of-the-art GTX 1080ti through the laptop and be able to play literally any VR game available today. But I needed a portable VR demo system and the Alienware 15 on its own proved more than capable for my needs.
WeVR's stunning underwater experience theBlu, however, worked faultlessly. Whilst I could detect that the laptop was being put through its paces by all the fish swimming around me in VR, my audience were amazed. TheBlu allows you to witness the migration of sea life across a coral reef, from beneath the waves, watch bio-luminous sea creatures light up the inky blackness of the ocean floor and have a close encounter with a hump-backed whale. The VR title is such great showcase for the immersive power of VR.
It was amazing to use a the Alienware 15, a laptop as powerful as one of last year's desktop gaming rigs, and to be able to demo such a great VR experience.
The Alienware 15 R3 makes for an excellent portable gaming platform. You are having to compromise power compared to a desktop PC, but even though it is a little too big and heavy to just sling over your shoulder, you can still use it to game on the go. With the addition of the optional graphics accelerator and a top end GPU, the Alienware 15 becomes a viable alternative to a high-end desktop gaming rig.