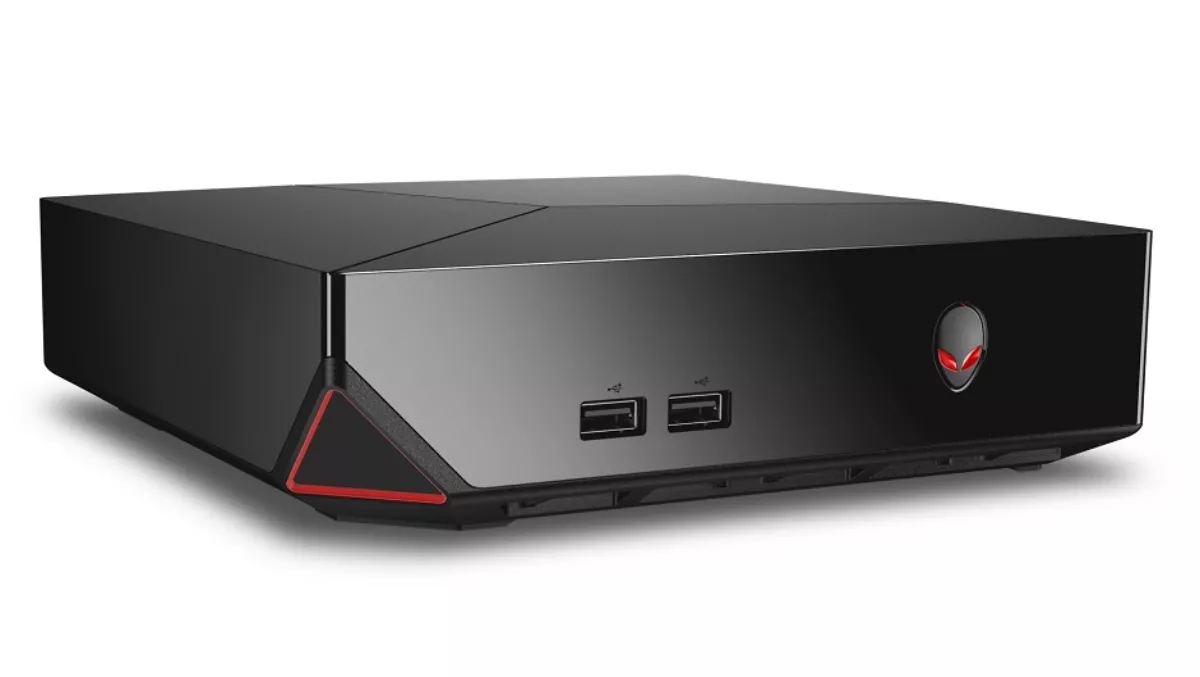 Alienware Alpha Hands-on Review
By Damian Seeto,
Fri 15 Jul 2016
FYI, this story is more than a year old
The Alienware Alpha is a unique device because it's a hybrid between a gaming console and a fully working PC. With that being said, is this a device that people will actually enjoy? Let's start off by talking about the design of the console itself. The Alienware Alpha packs a lot of power inside, but it's surprisingly very small. While the Xbox One is as big as an old VCR machine, the Alienware is similar in size to the original Nintendo Wii. The device fit nicely inside my TV cabinet beside my PS4. The other thing I like about the device is that it is so easy to set up and get started. The review unit I tested came with a keyboard, mouse and HDMI cable. All I had to do was plug in the keyboard and mouse to the USB sockets and hook up the HDMI to my TV and I was ready to start using it. As quick as it was setting up the device physically, it was quite fast to boot up too. Normally when you boot up a computer, it can take a long time to get started. The Alienware Alpha on the other hand turns on really fast and I was on the Windows 10 dashboard in just a mere 15 seconds. There are two ways you can use the Alienware Alpha device. First you can use it as a normal desktop computer/laptop as it has Windows 10 installed. It can do anything a computer does but the benefit now is that you can do it all on an HDTV. The other way is to use it like a dedicated gaming console, although you have to download a separate UI called Hivemind in order to do this.
If you are using the Alpha as a console, it's best to pair it up with an Xbox 360 controller. You can then link it up with your Steam account and play all of the games that you have in your library. The model I tested had 8GB of memory and I was curious to see if it was powerful enough to handle the latest PC video games. In order to test out how well the Alpha does with gaming, I played FIFA 16 and Star Wars Battlefront. I tried the former first and I upped everything to the maximum to see if it could handle the best visual quality. I am glad to say that the Alpha was able to handle FIFA 16 quite easily on its highest settings. The graphics looked awesome and the game ran smoothly without any dips in framerate or lag. As a huge Star Wars fan, I was more interested to see how well the device will do performing while I was playing Star Wars Battlefront. I have only played Battlefront on the Xbox One version, and it still looks great on Microsoft's console. Well, the Alien Alpha was able to make Star Wars Battlefront look a little better thanks to some of the settings I adjusted. I just made sure to put everything to the maximum settings, and Battlefront ran just as smoothly as FIFA 16 did. Not to mention the sound was great as I put the volume up on my TV speakers. Playing both games were easy too because I didn't have to fiddle around adjusting the control schemes. All I had to do was plug in the mouse and keyboard and I was ready to go. I didn't need to install an extra driver or app for any of the hardware to work properly on the Alien Alpha. It was pretty much as user friendly as a normal gaming console.
The Alien Alpha also handles 2D graphics quite well as well. I downloaded a free-to-play game called Atlas Reactor and it looked brilliant too. The only game I had trouble playing was Disney Infinity 3.0. I wasn't sure if it was the Alpha or the game itself, but it didn't recognise the mouse while I was flying an X-Wing. This was odd to me because I was able to fly easily in Battlefront. As much as I liked the Alien Alpha, there are some flaws that prevent it from being perfect. First of all, New Zealanders with slow or capped internet plans should avoid buying this. This is because the device does not accept any physical media whatsoever. You have to download or stream everything on this device. I have unlimited internet so this was not a problem for me. The only problem I had with it was when I had to download Star Wars Battlefront which was 40GB. I have a standard ADSL broadband connection and it took me 10 hours in order to download the game. You also cannot watch any Blu-rays since there is no disc drive. The new Alienware Alpha consoles are also more expensive than the models that came out last year. The model I tested was the 8GB RAM version and this goes for a price of $1,598.99. There is the 4GB RAM and 16GB RAM that are priced at $1,298.99 and $1,798.99 respectively. Having said that, they are cheaper than the average Alienware Alpha laptop and you can upgrade them for future use. As a predominantly console gaming user, I was impressed by how easy it was to use the Alienware Alpha. I usually don't like tinkering with PC games as I'm a person that just wants to plug-in and play. Thankfully, the Alienware Alpha was powerful enough to play the latest games. The only downside to some people is the lack of a disc drive and the fact that it's more expensive than a PS4 and Xbox One. Verdict: 8.0/10