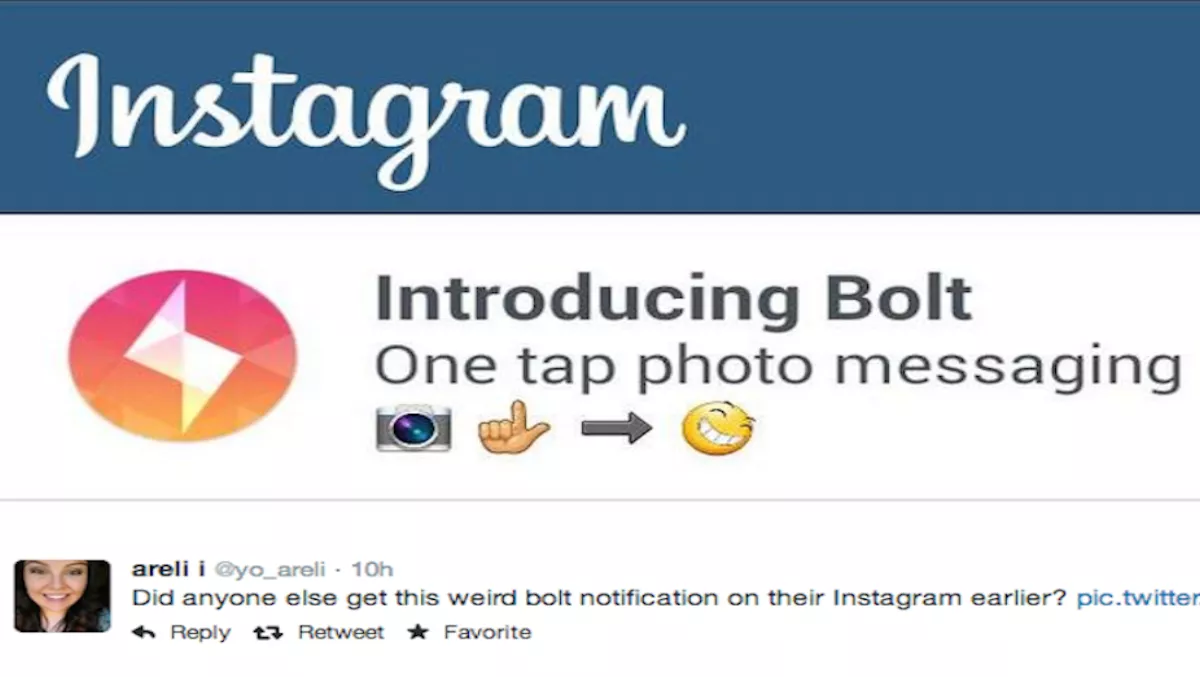 App of the week: Bolt
FYI, this story is more than a year old
Instagram has released their answer to Snapchat – Bolt. Initially available in Singapore, South Africa and New Zealand, this is Instagram's first standalone app, enabling users to send instant photos and videos to their contacts at the single touch of a button. Once the users receive the message, the content disappears as soon as it has been read. Sound familiar? What sets Bolt apart, apparently, is the speed (hence the name).
With photo and video sharing sites everywhere you turn, you'd be surprised that Instagram would bother with this. Perhaps Facebook was all annoyed with Snapchat's refusal to accept their 3 billion dollar offer? While they certainly already have the millions of Instagram users behind them, there is loads of competition – Vine, Snapchat, Mirage… not to mention all the apps Facebook already has out there..Messenger, Instagram Direct, Paper, WhatsApp (soon). Too many fingers and too many pies.
You don't need to sign in to Instagram or Facebook to sign up for Bolt. Instead you use your phone number and it syncs contacts from your contact list, and then you make a Favourites list. Then you're given the Bolt camera. Rather than a standard shutter button, the faces of all your friends in your Favorites list are shown as a scrollable row across the bottom of the screen. Tapping one of the faces instantly sends that person a photo with a single touch, which is supposedly Bolt's big value proposition.
So this is obviously the big flaw. You can only send a photo to one person at a time, and have to re-shoot to send to more. How annoying. You also can't upload shots from your camera roll.
It will take a while to see if Bolt is successful or not. When Instagram came out, it wasn't the first photo filtering app to be on the market, but it was simple, easy to use and impressive marketing made it cool and the alternative to Facebook. Will Bolt be the same? I doubt it. But only time will tell if this one-to-one messaging service will succeed with the full force of Instagram behind it. However, in the long term it will only succeed if there's clear value to the end user that they can't already get in other established apps.
Related stories
Top stories