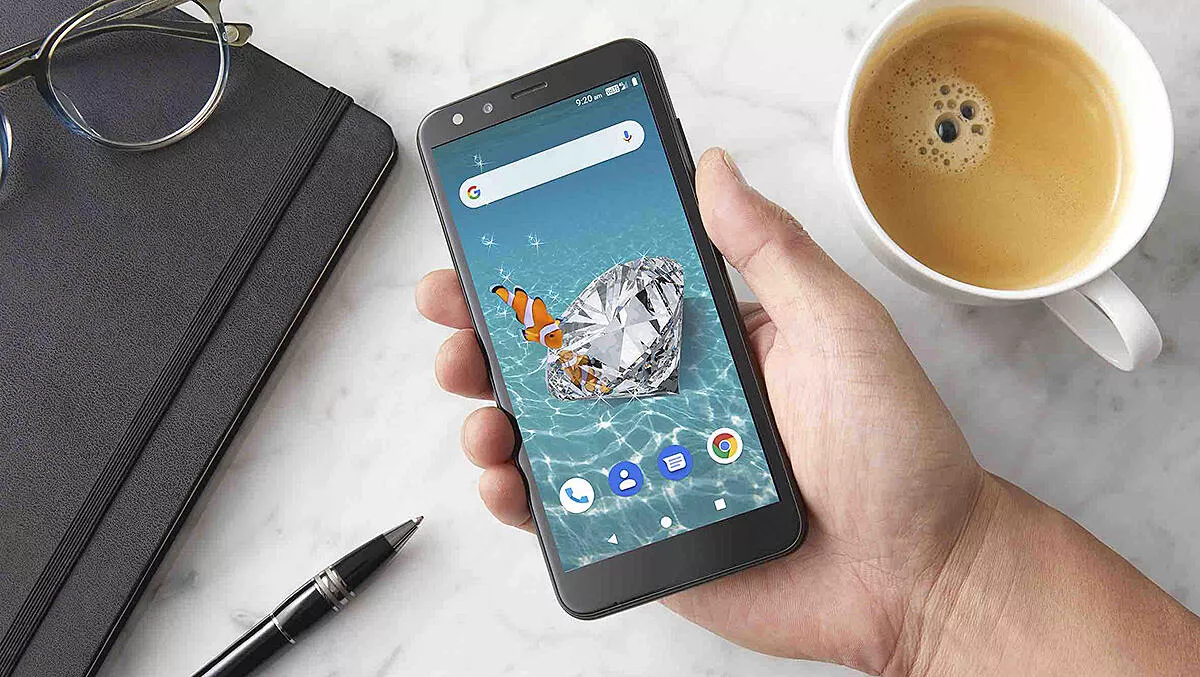 Aspire releases GEN 4G dual-SIM smartphone
FYI, this story is more than a year old
Australian phone manufacturer Aspera Mobile have launched the GEM, a 4G dual-SIM device, the latest in its range of affordable smartphones. The full-featured Android Pie smartphone is available for AU$149.
Aspera Mobile MD Allan Robertson explains, "We had our new Jazz 2 smartphone targeting the $99 entry-level 4G price point but could also see a gap at the $149 price point for a model that came with full Android 9 Pie and better specifications, so that's where the new GEM came in.
Despite the low price-point, Aspera's new GEM is a fully-featured phone with an impressive specification. The device has 2GB of RAM (upgradable with an optional MicroSD up to 64GB), 16GM of ROM and runs on a 1.5Ghz quad-core Mediatek processor. The phone comes with the full version of Android Pie installed and not the cut-down Android 9.0 Go of Aspire's Jazz 2.
The rear camera takes 8MP shots and the front facing camera is an impressive 5MP for your selfies. The GEM smartphone also features a fingerprint sensor and facial recognition for added security. These are all features that you'd normally expect a budget phone like this to overlook.
Robertson continues, "I think most people would agree they are an excellent set of features for just $149. As usual with Aspera phones we strived to offer the best value for money at the price point in terms of display size and resolution, memory, camera and processor.
The phone has Bluetooth 5.0 LE and Wi-Fi - Hotspot/VoLTE connectivity and GPS facilities. There is a micro USB for charging and computer connection and a 3.5mm headphone jack for audio. The 2500mAh Lithium-Ion is replaceable via the phone's removal back cover.
The GEM's 5.45" IPS display has a 1440 x 720-pixel resolution. With this and the duel-4G SIM (micro and nano) card functionality, Robertson believes that the market will appreciate.
He adds, "The kind of person who will buy a GEM wants more than our entry level Jazz 2 but does not want to break the bank spending big money for a top end mobile. For $149 you get a big package that's suitable for phone users young and old who also like to browse the web, use email and popular content and social media apps like YouTube and Facebook.
According to Robertson the company genuinely cares about its customers, their experience and the fact that they only pay for what they want, need and use.
He feels Aspera Mobile phones are designed and developed to be more than just about price, "The new GEM really is the best value smartphone on the market at just $149. Many of our competitors at that price point only offer Android Go not Pie, just 1GB of RAM and a single SIM option.
"GEM's better specs and dual 4G SIM cards means customers can get the best BYO SIM plans to maximise their usage costs, run two numbers and pick up and use a local SIM card when travelling overseas. Fingerprint and face recognition are a huge bonus at this price point and definitely not the norm. Combined with a HD+ display and a good camera experience GEM's appeal is very broad.
Aspire's affordable range of smartphones has matured to the point that users now have a defined upgrade path. Customers can step up from the company's F10 flip-phone or from the Jazz 2 entry-level smartphone to a higher spec device like the GEM, without breaking the bank.
Allan Robertson concludes, "Having different tiers of product experience at a reasonable cost means our customers can stay within the Aspera Mobile family and move to a more sophisticated phone whenever it suits them.
Aspera Mobile's new GEM smartphone is available in Australia now and can be purchased outright for just $149 at BigW, Retravision, Leading Edge and BNE Express.