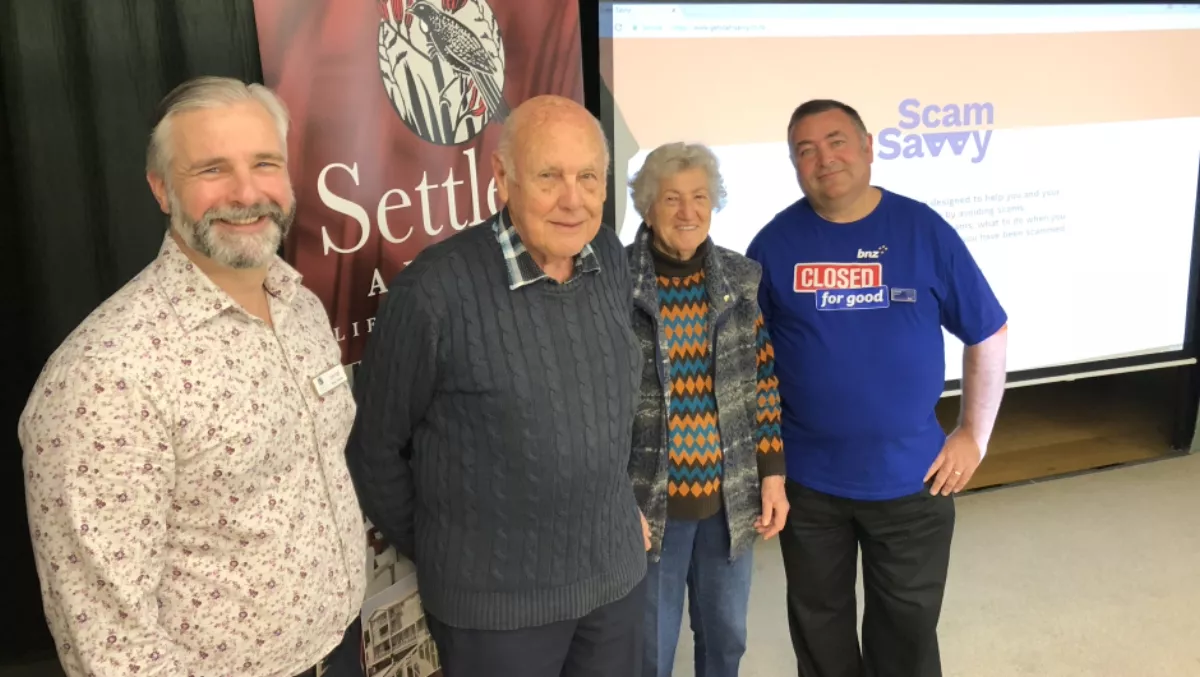 BNZ teaches Settlers Village residents about online scams
FYI, this story is more than a year old
Elderly residents at Auckland's Settlers Village are now wiser to the dangers of online scams, thanks to a visit from BNZ staff yesterday.
BNZ's Closed For Good campaign provides a chance for staff to get out into the community and help others. The bank closes all of its branches for the day.
BNZ representatives travelled to Settlers Vilage, a lifestyle village for people aged over 65. The village's 334 residents are tech savvy: 90% of residents are online, 80% use smartphones, 20% use Facebook, and many others use Skype or Facetime to communicate with family.
But many people are concerned about technology because it's always changing – and can be dangerous, especially when online scams and cyber threats are becoming more frequent.
"It's extremely important for our residents to feel comfortable with technology - it makes life easier, keeps them in touch with family and friends, and can help reduce any isolation or loneliness they may feel later in life," says Settlers Village manager Jarrod Shearer.
He says communities are using more technology, but scams and cybersecurity issues are a major concern.
When the opportunity came along to be part of Closed For Good, Shearer knew it was important to teach residents about online risk.
BNZ staff spent the day with 40 residents as part of a training session called 'Scam Savvy'. The programme was designed to teach residents about online scams, how to spot them, what to do if they've been caught in a scam, and how to avoid them in future.
Settlers Village has been bringing technology learning opportunities to its residents for some time to ensure their residents are not left behind in fast-changing times. Earlier this year, it ran a course to help seniors register to fill out their census form through the new online platform," says Shearer.
According to statistics from CERT NZ's Quarter One Report 2018, it received 297 incidents about individuals, and 61% of these reports provided a date of birth.
A majority (87%) involved people over 55, and 25% of reports were about those aged 65 and over.
"While all New Zealanders are affected by cybersecurity incidents, people over 55 are reporting the majority of the financial loss," CERT NZ reports.
Shearer says that Settlers is committed to giving residents a comfortable, safe, and secure community, as well as independent living and freedom.
"Part of our role is to help feel safe and secure, and helping them to understand cybersecurity is a big part of that," Shearer concludes.
This week Spark and Netsafe also announced a partnership to deliver scam awareness brochures in Spark Stores, as well as branches of Senior Net and Age Concern.