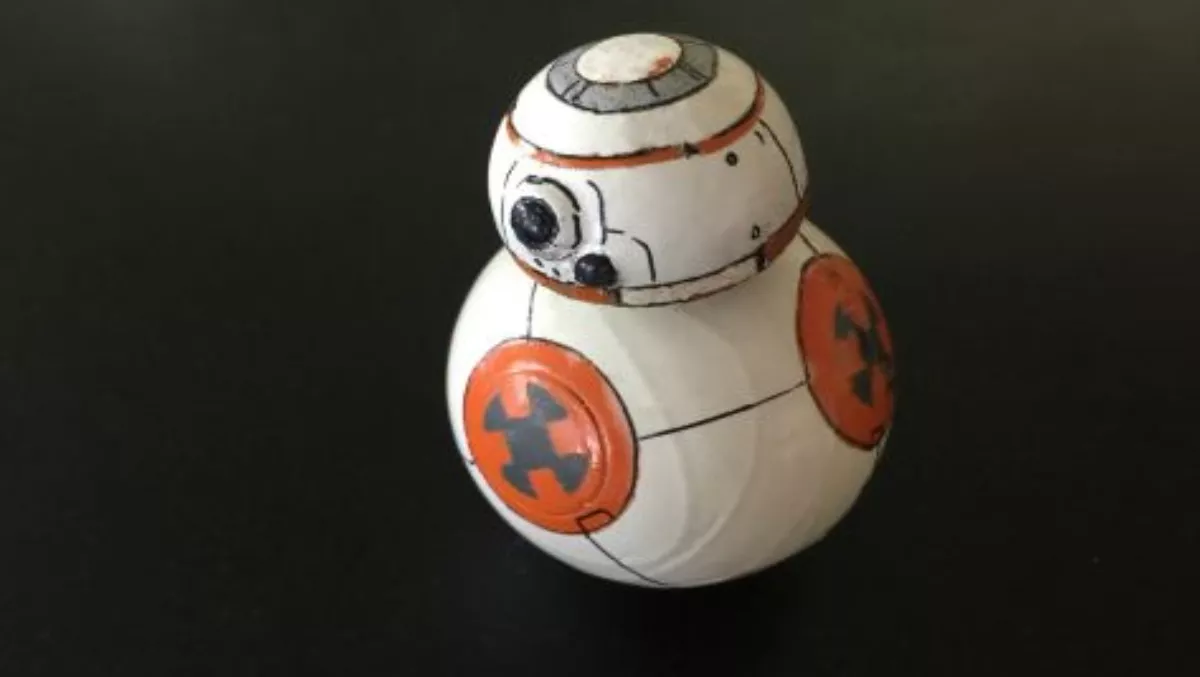 Could this be the cutest Star Wars Toy ever?
By Patrick Pilcher,
Mon 7 Sep 2015
FYI, this story is more than a year old
Star Wars has been a hugely powerful marketing vehicle for all sorts of merchandise, some of it being very average, with other gear being outstanding. Orbotix's BB-8 droid sits (erm rolls) firmly into the latter category.
When I first saw the trailer to Star Wars: The Force Awakens, I was intrigued by the BB-8, I mean how on earth did its head stay on its spherical body without falling off? Okay so it BB-8 isn't as cute as a small furry Wookie, but it is a rolling droid and has spades of personality.
The movie isn't airing until December 18th, but having choked back any temptation to say "this is the droid you're looking for", many star wars geeks will be bound to keep themselves amused by rolling the Sphero BB-8 around their homes.
Look and Feel
The BB-8 is easily one of the cutest Star Wars toys I've seen to date. Its head (which stays attached using a particularly clever combination of magnets and hidden wheels) looks about as BB-8 trundles about the house. The BB-8 app makes lots of droid noises which helps add no small measure of realism to things.
Other clever features such as BB-8's head looking around, or signalling yes (and no) or the fact that BB-8 even trembles when you pick it up all add up to give it a tonne of personality.
This also changes the relationship I developed with the BB-8. My previous attempts at piloting earlier Sphero toys around the house were pretty abysmal, yet when the Sphero BB-8 crashed into walls, doorjams, people and pets, I frequently found myself uttering "Sorry!" and cringing each time it clattered to a stop.
In Use
As with the original Sphero, BB-8 connects to an iOS or Android smartphone or tablet. Getting set up is however a bit of fun as the BB-8 app has to be downloaded and installed from an external site, rather than the Android store, which required I change my phones security settings. Once the app is installed, it is simply a matter of bringing your phone/tablet into range with the BB-8 where it'll pair via Bluetooth LE.
The BB-8 app represents a significant evolution on the original Sphero app, with three different modes including Driving, Holographic Messaging and Patrol. The holographic messaging mode uses some clever augmented reality trickery to mimic Star Wars' iconic R2D2 holographic princess Leia message to Obi-Wan Kenobi. Messages are recorded using the application and the smartphone/tablet camera. The Patrol mode puts BB-8 into an autonomous explore mode and any movements or other events are logged by BB-8's sensors.
If my experience with Sphero is anything to go by, it'd be fair to assume that even more functionality will be added in a raft of ongoing future updates. Additionally, it is probable that third party developer support from the burgeoning Sphero develop community is also likely.
Verdict
Orbotix have crafted what is likely to be one of the cutest Star Wars toys I've seen for a long time. Better still, BB-8 is also a hell of a lot of fun. This combination could quickly see BB-8 becoming both highly collectable and more popular than light up plastic light sabres. Here's hoping!