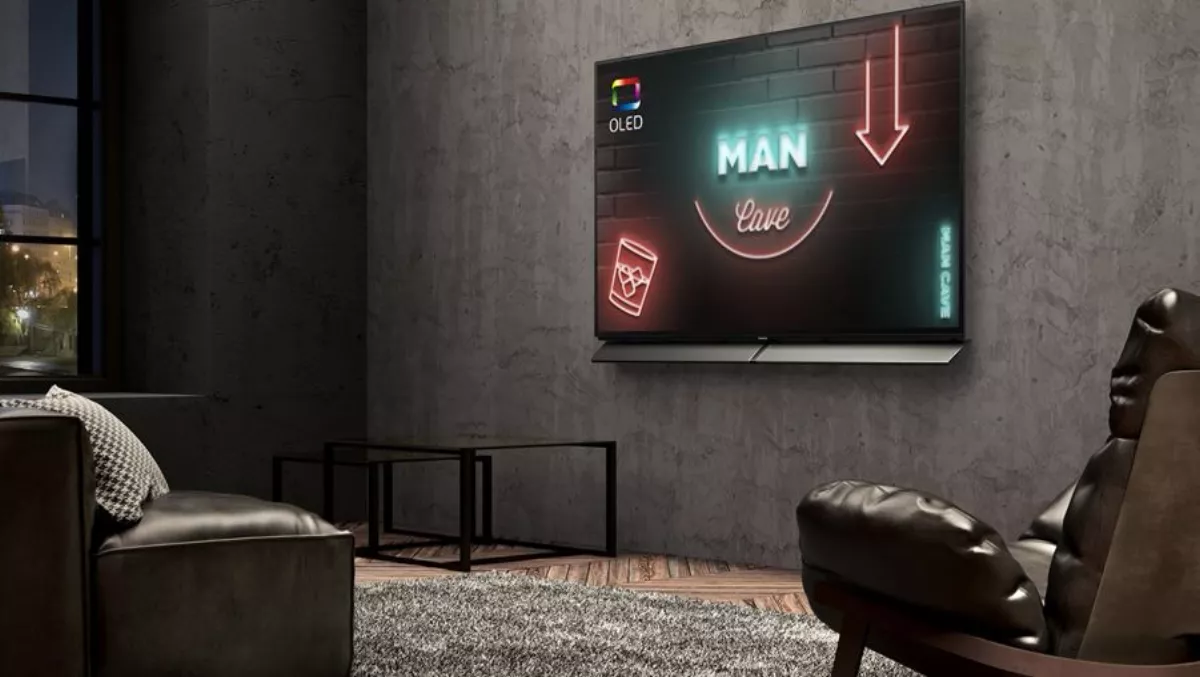 Could OLED really be the future of television?
FYI, this story is more than a year old
Is OLED really that good?
The answer is, yes, yes it is.
Following the success of their 65" EZ1000U OLED television Panasonic is about to release an even bigger 77" model proving that when it comes to TVs bigger is definitely better.
The 77" still boasts all the impressive specs and features that made the smaller model such a sought-after product, but the increased size adds an extra element of awe to the viewing experience.
Whether gaming, streaming 4K content or watching sports, the colour and clarity of the EZ1000U brings a truly cinematic feel to your living room or 'mancave'.
What makes Panasonic's EZ1000U so insanely good?
Tuned by real filmmakers, this 4K PRO HDR TV combines the stunning contrast and colour of next-gen OLED technology with cutting-edge image processing to create the most impressive picture quality ever. What's more, it features a razor-thin panel, integrated Technics-tuned Sound Bar and seamless cable management to elevate your home cinema experience.
The EZ1000U Series takes OLED's unique qualities and improves on them with a powerful mix of professional-grade Panasonic TV technologies honed over the company's 79-year history in TV research and development, as well as Hollywood know-how. As a result, Panasonic OLED TVs deliver picture quality to rival the film industry's 'master' monitors, letting you enjoy images that look almost exactly as filmmakers intended them to look.
For industry experts and film enthusiasts alike, OLED screens represent the ultimate in picture quality. OLED's unique ability to have each and every pixel produce its own light and colour leads to incredibly rich, natural colours and industry-leading contrast. Making its own light means reproducing detail in dark areas is a particularly tough challenge as a consequence of the relatively large jump from off (zero black) to on (above black).
Through the application of processes honed during decades of plasma screen production, Panasonic's engineers were able to significantly enhance the production of fine detail, especially in those near-black areas. While OLED technology is renowned for its ability to deliver 'absolute black', external reflections can reduce the accuracy of black tone reproduction.
The unique Absolute Black Filter exclusive to the Panasonic OLED TV Series, though, neutralises reflections, resulting in far more intensely rich and accurate black shades.
Panasonic OLEDs' stunning picture is enhanced by the very best sound, thanks to the Dynamic Blade Speaker.
This deceptively slim audio system houses no less than 14 multiple speaker units, spanning eight woofers, four squawkers and two tweeters, plus a quad passive radiator to boost bass. What's more, engineers from the acclaimed audio brand Technics were involved at every stage of the Dynamic Blade Speaker's development, from mechanical and electrical circuit design through to sound tuning.
High Dynamic Range (HDR) is vital for accurately revealing fine detail in scenes that combine the darkest and brightest of content. Meeting strict criteria concerning resolution, bit depth and colour gamut, the TVs are fully compatible with HDR10, a compulsory feature on UHD Blu-ray content and used by streaming services such as Netflix.
Furthermore, with compatibility for Hybrid Log Gamma (HLG) HDR (as developed by NHK of Japan and the BBC), Panasonic unequivocally shows its commitment to the latest technology, which will be the bedrock of future television broadcasting.
With HDR gaining traction on 4K games consoles, Panasonic's fastest-ever 4K HDR Gaming mode will meet the demands of the most proficient of gaming enthusiasts. It substantially reduces input lag to improve performance when playing 4K HDR games, especially those with fast movement that require quick reaction times.
Stewart Fowler, Managing Director at Panasonic NZ says "with our OLED TV Range we bring the greatest leap forward in TV technology for years. Panasonic's unique experience in self-emitting TV technologies paired with our Technics team's audio expertise provides the best viewing experience available."
Tuned by Hollywood professionals for a truly cinematic picture, Panasonic OLED 4K PRO HDR TVs represent the pinnacle of Panasonic's achievements in panel technology.
They combine cutting-edge HCX2 processors with professional-quality colour management technology (Hexa Chroma Drive Pro) and wide colour range displays to amaze viewers with dramatic highlights and shadows, stunning levels of detail and breath-taking colour accuracy.
Colour reproduction is an important element in high-resolution 4K picture quality. Thanks to a wider colour coverage and professional processing technology with 6-colour reproduction, Panasonic have realised reference 4K picture quality that satisfies even Hollywood movie creators. This stunning quality creates the ultimate cinematic viewing experience for you at home.
As part of the Panasonic 'Art & Interior' concept, the EZ1000 has been designed with a flat screen that seems to float magically above its stand and created with dark metallic finishes that enhance its seamless construction.
The clever construction also ensures cables are not visible, adding to the TV's sleek look and feel. Finally, this television delivers a perfect blend of form and function with its powerful sound system, which is integrated tastefully into the pedestal stem.
An emphasis has firmly been placed on ensuring that the physical aesthetics of Panasonic OLED TVs are as premium as the sound and picture quality it produces.
To find out more click here.
Related stories
Top stories