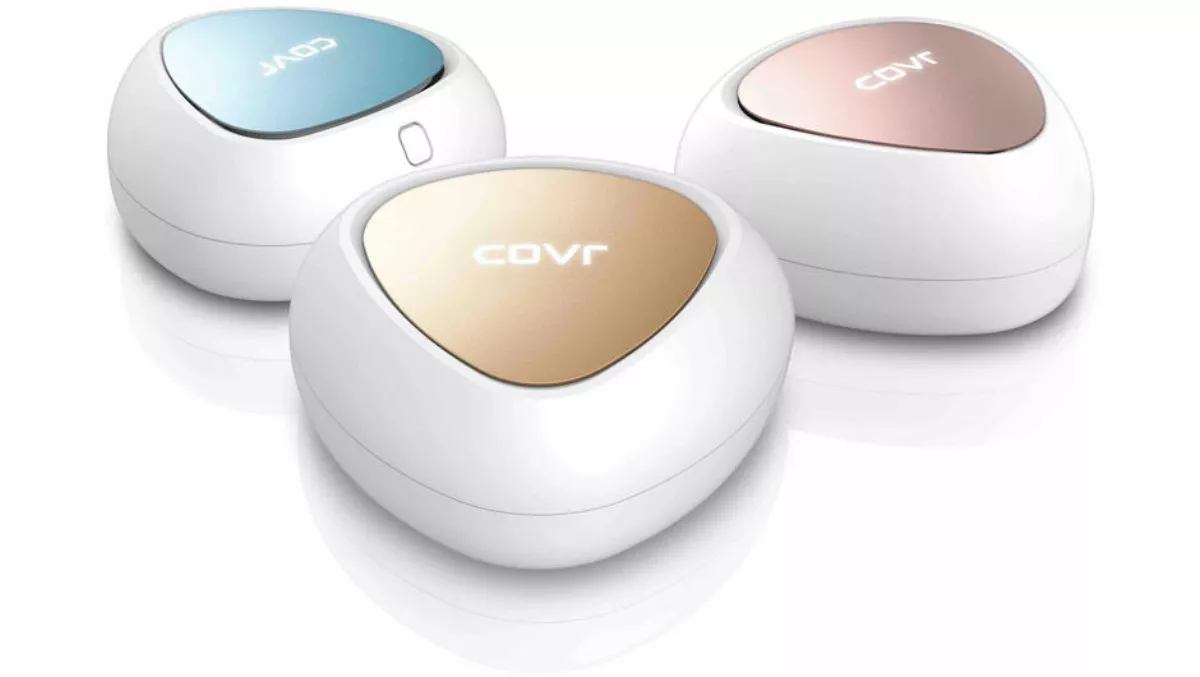 D-Link ANZ launches Covr Seamless Wi-Fi System
FYI, this story is more than a year old
D-Link ANZ has launched its next-generation Covr Seamless Wi-Fi System to the NZ market. The Covr Wi-Fi System provides a MU-MIMO wireless mesh network intended to deliver ultra-fast speeds and seamless coverage to the furthest reaches of any home.
D-Link ANZ MD Graeme Reardon said, "If you want seamless Wi-Fi all around your home, then look no further than Covr. Easy to install, yet brimming with smarts inside, this clever solution gives users a Multi-User MIMO (MU-MIMO) mesh networking solution, making streaming on multiple devices all around the home a breeze."
The Covr Seamless Wi-Fi System blankets your home with MU-MIMO Wireless AC speeds of up to 1200 Mbps with its 2x3 internal antenna configuration for maximised range and connectivity. The system provides Wi-Fi coverage for up to 465 square metres via its three, pre-paired Covr units. Each unit has two onboard Gigabit Ethernet ports for wired connectivity where needed. The Covr-C1203 is designed to support multiple devices undertaking data-intensive tasks like simultaneous gaming and HD streaming.
The Covr's Smart Roaming technology continually scans the wireless signal strength to your devices, automatically connecting them to the strongest signal available. This means that you can walk from room to room without experiencing video buffering whilst watching HD movies from your favourite streaming channels. Covr also ensures your entire home is covered by a single Wi-Fi network using a single network name (SSID).
The three included Covr Points are pre-paired to work straight out of the box, just plug the master unit into your existing modem/router to get started. You can configure your network quickly and easily with the free D-Link Wi-Fi app on your Android or iOS mobile device, or by using the D-Link web-based interface. Connecting wireless devices to your Covr network is also simple, thanks to the Wi-Fi Protected Setup (WPS) button, which establishes an instant connection to new devices without the need to enter new settings or passwords every time.
Covr's built-in MU-MIMO functionality sends data to multiple devices simultaneously to increase speed and efficiency across your home Wi-Fi network, whilst its Smart Steering will automatically connect devices to the optimal 2.4Ghz or 5GHz Wi-Fi band and even move devices between Wi-Fi bands when the network experiences congestion. All of this happens is designed to happen automatically and without any interruption to your wireless connection.
The new COVR-C1203 Seamless Wi-Fi System is available now at www.dlink.co.nz for NZ$599.99 and at D-Link retailers and resellers across New Zealand.
Related stories
Top stories