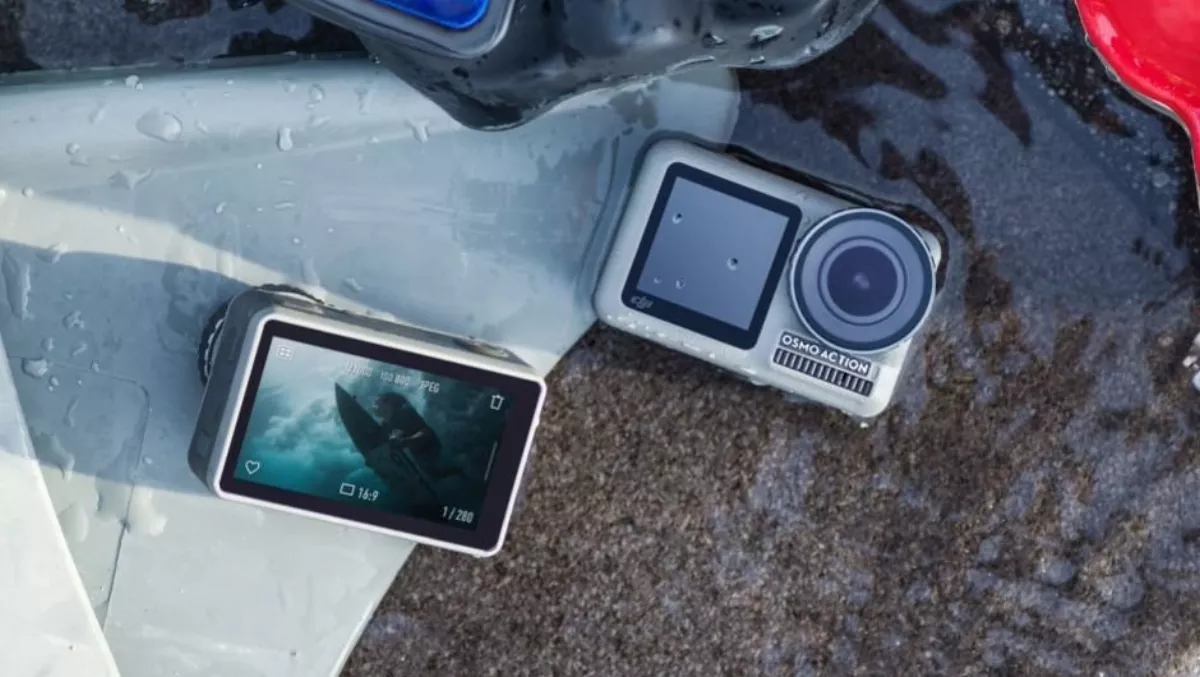 DJI launches Osmo Action - a handheld action cam with a difference
Thu, 16th May 2019
FYI, this story is more than a year old
Hold on to your skis, snowboards, or your camera-mounted stunt cars, because DJI has launched Osmo Action camera.
DJI describes it as a 'bold new direction' – but what exactly is so bold and new? Well, according to DJI this camera is built for the rugged outdoors, with both 4K/60 frames per second (60fps) and HDR video shooting.
Image stability is important when you're filming outdoors, which is why DJI used algorithms and 'RockSteady' technology to remove the shakes for better image stabilisation. There are also a few other perks like slow-mo, timelapse, and custom exposure settings.
Design – it's apparently rugged and intuitive
Dustproof, shockproof, waterproof, and it can operate in sub-freezing temperatures, Osmo Action utilises colour screens on both the front and back, a design feature that allows for more convenient scene composition while on the move.
The 2.25-inch rear touchscreen employs a water and fingerprint repelling coating, and the 1.4-inch front screen makes vlogging and selfies easier than ever before. With a brightness of 750-nits, Osmo Action can be used in harsh lighting conditions including direct sunlight.
The Action OS operating system allows users to power on, initiate recording, and rotate through the video and photo capture modes in the blink of an eye with three dedicated buttons. A feature called SnapShot can boot up the camera and start recording in fewer than two seconds – all by pressing the shutter button once.
Under the hood
The ½.3-inch sensor can record photos up to 12 megapixels. But even better is the camera's ability to record 4K video at 60fps, and at 100 megabytes per second. It can also shoot high dynamic range (HDR) video in 4K/30fps. The camera is equipped with dual microphones, plus a speaker.
The lens cap also has two layers of anti-fingerprint coating to keep shots clean. Anti-reflective coating reduces lens glare so users can shoot in bright conditions.
Osmo Action is the first DJI handheld camera to include the company's electronic image stabilisation technology called RockSteady.
"High-performance stabilisation algorithms work in conjunction with EIS to record every movement in smooth, stable, high-quality video, even when recording 4K/60fps," DJI claims.
Creative features
• Slo-mo: 8x slow motion in 1080p 240fps or 4x slow motion in 1080p 120fps creates a visually appealing effect when documenting action-packed scenes.
• Timelapse: If the user is looking to turn minutes into seconds, Timelapse is perfect for capturing unique content with the effect of the world moving faster.
• Custom Exposure settings: Shoot for the stars with manual and semi-automatic settings that allow up to 120 seconds of exposure, perfect for capturing the night sky.
DJI Osmo Action retails for $499 AUD (approx. $526NZD). It is immediately available for purchase on DJI's online store, and will be available at DJI authorised dealers in June