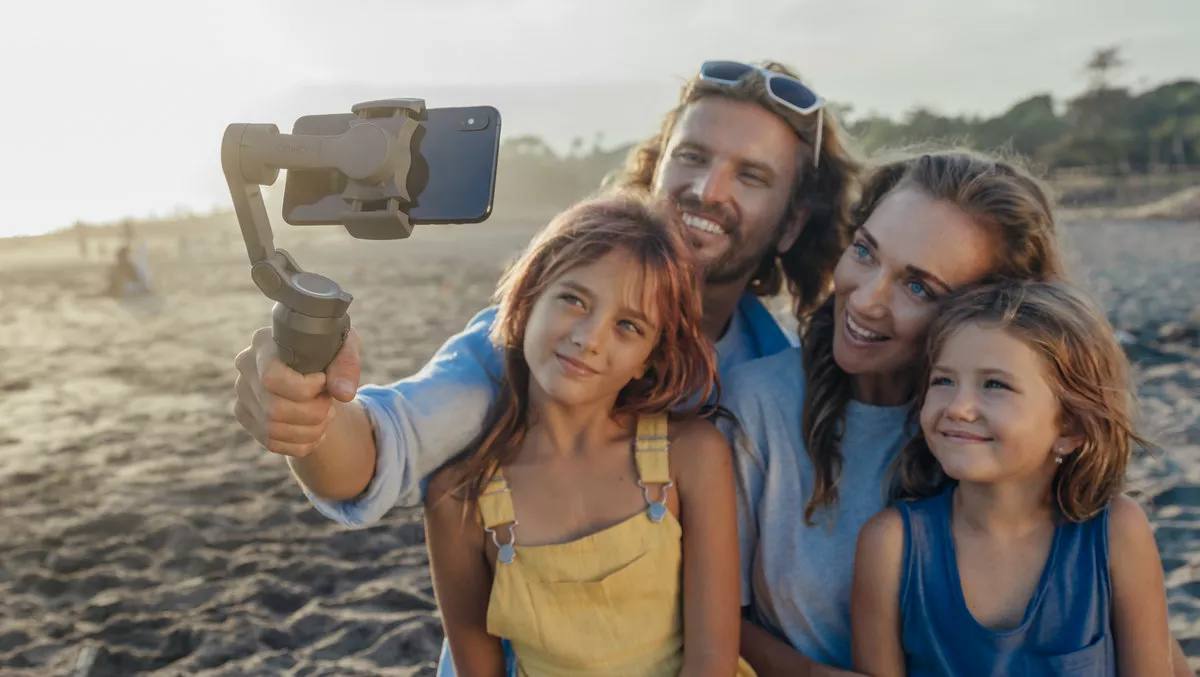 DJI's new selfie stick has plenty of awesome features
FYI, this story is more than a year old
DJI's new Osmo Mobile 3 mobile phone stabiliser is a selfie stick in disguise – but it's a selfie stick that has plenty of features.
The stabiliser is the latest in DJI's line of gimbals, and this is one designed for the smartphone era. Portable and foldable, Osmo reckons this device is a lightweight companion for all of life's adventures.
The Osmo Mobile 3 includes controls that are manageable with just one hand.
A trigger helps manoeuvre the gimbal by locking orientation, rotating the gimbal for selfies, and even re-centring when tracking a subject.
By using ActiveTrack, users can tap the trigger once, and Osmo Mobile 3 will begin tracking while keeping the subject centred within the frame.
The dedicated zoom slider sits on the side of the gimbal, so users don't need to touch their mobile device. This, according to DJI, makes content capture less complicated. Additionally, users have the option to customise zoom speed based on personal preference.
There's also a Quick Roll feature in Mode button that can switch filming mode from portrait to landscape if users press the button twice.
But gimbals on their own are standard for steadying video footage or photographs, which is why DJI also updated its Mimo App with a bunch of new features to work with the Osmo Mobile 3.
Connecting via Bluetooth, users can experiment with:
• Story Mode: Bring creative editing to your video with a host of preset music, video transitions, and filters. Choose one of 13 templates and Mimo will handle the camera movement for you. After shooting, Mimo automatically generates your very own professionally edited short video, ready to be shared.
• Gesture Control: Easily snap a selfie without pressing any buttons. Once Gesture Control is enabled, show a "peace sign" or put up your palm and Osmo Mobile 3 will begin a photo timer countdown.
• Sport Mode: Similar to the feature from the DJI Ronin series, Sport mode increases the response speed of the device to keep up when shooting fast-moving scenes.
• ActiveTrack 3.0: DJI's image recognition and deep learning algorithms allow Osmo Mobile 3 to recognise and follow subjects of your choice.
• TimeLapse - MotionLapse: If you're looking to turn minutes into seconds, Timelapse can capture unique content with the effect of the world moving faster around you, while Motionlapse adds the dynamic element of movement to your Timelapse by setting points for the camera to move to.
• HyperLapse: Take visuals from Timelapse and add movement by manually moving Osmo Mobile 3 with you. Additionally, HyperLapse not only supports real-time Electronic Image Stabilization (EIS) but also ActiveTrack 3.0.
• Panorama: Get a wider perspective with panorama mode. Users can choose between 3×3 and 180° panorama modes.
• Slow Motion: Slow down the world around you with 4X or 8X Slow Motion.
The Osmo Mobile 3 (standard version) is AU$159, or HKD$759. Combo packs are also available.