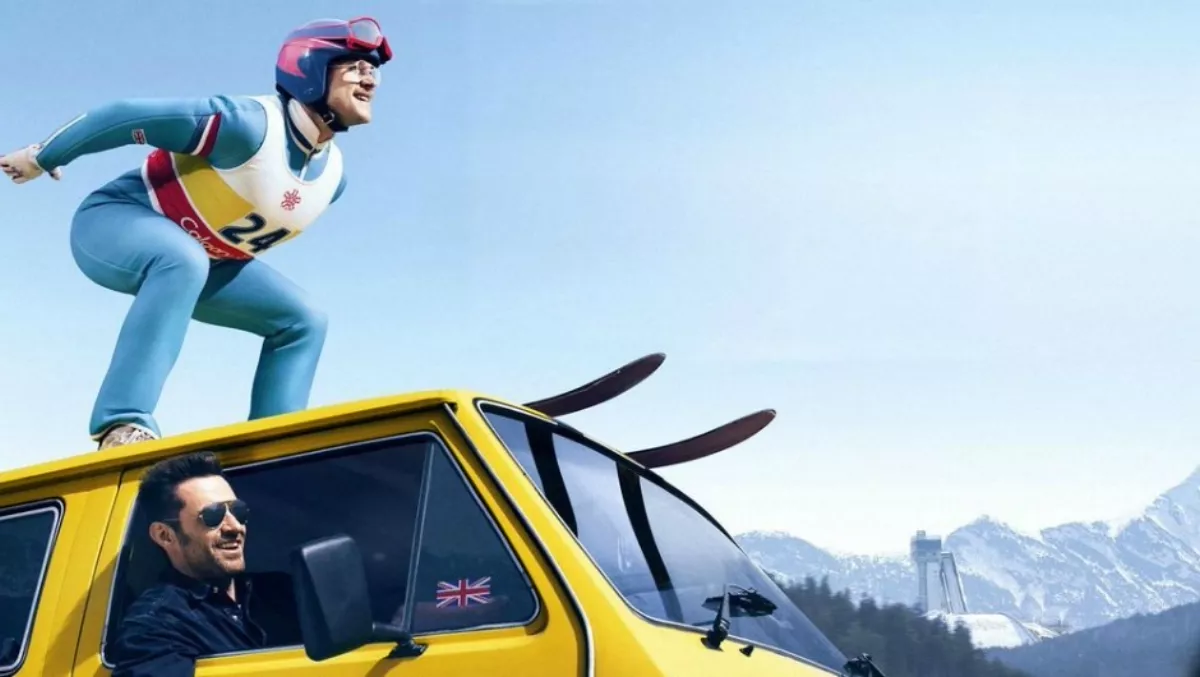 Does it fly? Eddie the Eagle film review
Wed 30 Mar 2016
FYI, this story is more than a year old
"Eddie the Eagle" is not the only thing soaring in this inspirational sporting film, as movie goers are treated to an emotional rollercoaster that climaxes with an entire cinema cheering as The Eagle attempts his final Olympic jump. And speaking of climaxes, a particular scene treats us to Mr Hugh Jackman's "O Face", which surely is worth the price of a ticket in itself.
Directed by Dexter Fletcher, and starring Taron Egerton in the title role, Eddie the Eagle follows the true life story of Eddie "The Eagle" Edwards as he overcomes all odds to represent Great Britain at the 1988 Winter Olympics in Calgary, Canada. From a young age, Eddie is determined to represent his country in any Olympic sport possible, and after several false starts he decides to enthusiastically throw himself both literally and figuratively into ski jumping – much to the joy and/or horror of all those who cross his path.
Supporting Egerton is a talented and wonderful cast including the aforementioned Mr Jackman as Bronson Perry, a washed up, drunken former ski jumper who teaches, supports and encourages The Eagle with growing enthusiasm as the movie progresses, Tim McInnerny as stuck-up Olympic selector Dustin Target and Christopher Walken as Warren Sharp – the former coach of Bronson Perry and a legend in ski jumping circles. Keith Allen also puts on an appearance as Eddie's long-suffering father who doesn't understand why his son can't settle down to a career in plastering, like many generations of the family have done before.
It is certainly not a film heavy on the special effects, with most of the budget seemingly taken up in ski jump shots. But the storyline and beautiful scenery of the Swiss/German Alps followed by those in Canada are enough to make this film a total viewing pleasure. The message of the film is also so simple yet so powerful at the same time: Never give up on your dreams - the heart and soul you put into something can be just as important as any God-given skills.
There are light-hearted moments, but tissues will need to be on-hand – for both the moments of triumph and those of heartache. For some generations Eddie the Eagle will be something of a nostalgic memory from an exciting bygone Olympic era, for younger viewers it could serve as an interesting introduction to a whole new sport – but it probably goes without saying, don't try this at home kids!
Rating: 4/5