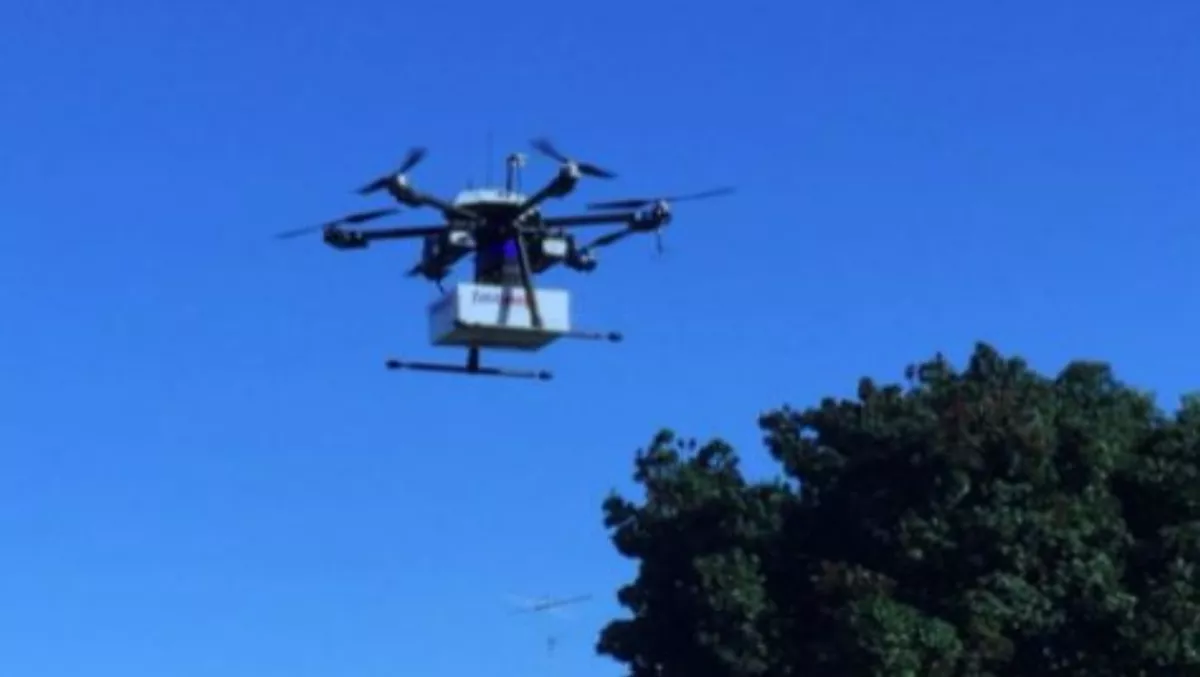 Drone parcel delivery a success in Auckland
By Shannon Williams,
16 Jul 2015
FYI, this story is more than a year old
Fastway New Zealand has successfully trialled a drone parcel delivery in Auckland, with the help of commercial aerial delivery service Flirtey.
Fastway New Zealand transported auto parts on a 1.9 kilometre trip, bypassing factories and traffic congested roads, the company says in a statement. "We're very impressed by the recent trial untaken by our global counterparts in New Zealand," comments Richard Thame, chief executive officer at Fastway Couriers Australia. "At Fastway, we're always exploring new and innovative ways to enhance the customer experience and, although there's no substitute for courier drivers, drone technology is rapidly progressing and may present future opportunities for increasing speed of delivery, particularly in traffic congested areas." By road, the same delivery route takes close to 20 minutes to complete, depending on congestion. During the trial, transporting by aerial drone took less than a quarter of the time, as it was able to travel uninterrupted. Matthew Sweeny, chief executive officer at Flirtey, says, "This is a significant moment because it is the first commercial drone delivery over a populated area in New Zealand.
"Together with companies like Fastway, we have an opportunity to offer safe and reliable technology to turn drone delivery into a reality," he says. "As the entire concept and its technology continues to evolve, the sky is the limit," says Sweeny. "We're pioneering a future where anything a consumer orders can be delivered directly via an unmanned aerial vehicle." The Flirtey delivery drone is constructed from carbon fibre, aluminium and 3D printed components.
It is a lightweight, autonomous and electrically driven unmanned aerial vehicle. The drone has a range of over 15km return and can deliver packages weighing over 2.5kg.
It has built-in safety features such as low battery return to safe location and auto-return home in case of low GPS signal or communication loss. The completion of the trial marks the beginning of a collaboration between the two companies, which will see Fastway and Flirtey expand their use of drone delivery technology with trials across New Zealand. "At Fastway Australia, while we don't think drones will replace our courier fleet, we're excited nonetheless about the prospect of drone technology and we look forward to seeing what the future holds," adds Thame.