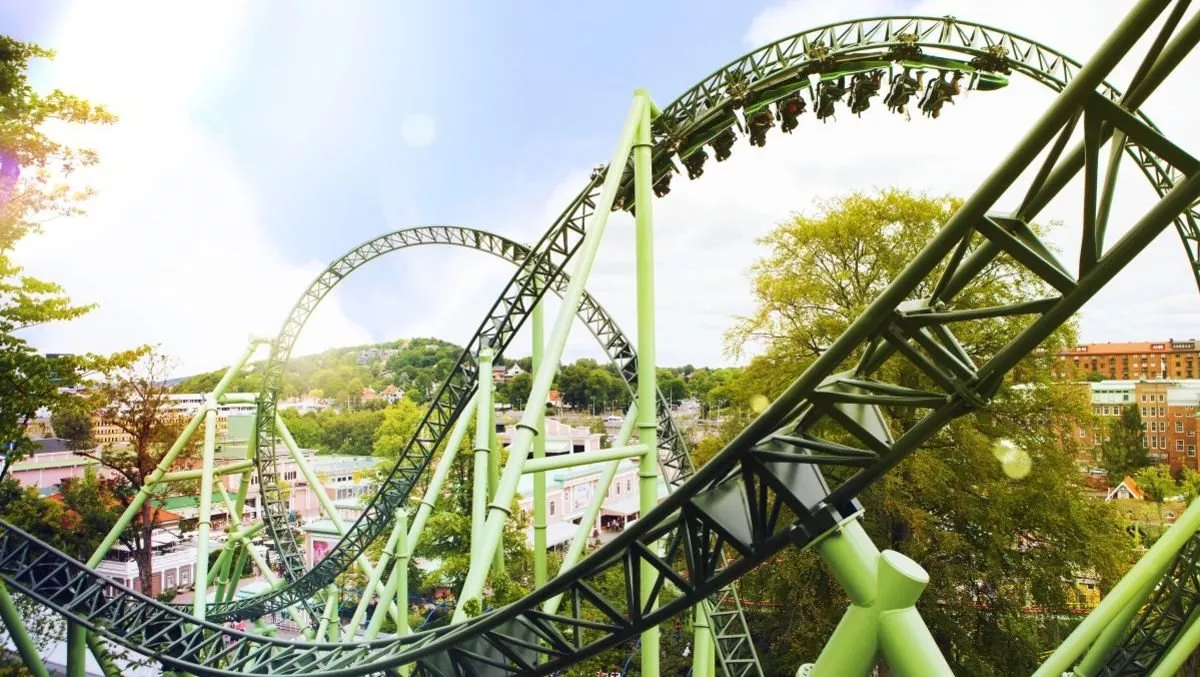 Drone pilots show serious skills in epic rollercoaster chase
FYI, this story is more than a year old
A quick glance around YouTube will reveal that professional drone pilots have some incredible skills flying drones in complex manoeuvres along a racing track in the sky – but what if your mission was to follow a rollercoaster?
That's exactly what happened at Liseberg Amusement Park in Sweden recently, when pilots Viggo Koch and Mattias Allring chased down the Helix rollercoaster.
Posted to YouTube, the drone follows the rollercoaster through every twist and turn in some pretty epic display of skills and control. All of that takes place in just 1 minute and 35 seconds.
Keen-eyed viewers will notice that the rollercoaster has nobody on board – a good thing since drones could do serious damage if things went wrong.
Liseberg worked with the pilots to film the chase before the park opened for the day – for safety reasons, obviously.
The pilots also practiced plenty of times to work out camera angles, speed and turns, as well as what looked good on video.
Koch explains on YouTube that the team nailed the footage after 16-17 flights, while the first several flights were test runs. Once they'd figured out what they were doing, it only took a few more flights to get things right.
By the way, did you know that the average hourly pay for a drone pilot is US$23.62 (depending on experience) according to PayScale.com? We hope Koch and his team were paid well for their time because this video is truly awesome.
The Helix rollercoaster is apparently the longest rollercoaster in Scandinavia, taking fearless punters on a two-minute ride around the 1.38-kilometre track and pulling G-forces of up to 4.3 G.
Liseberg's website says that Helix features weightlessness three times; upside down (inversion) seven times, and a top speed of 100 kilometres per hour.
Keen drone pilots shouldn't expect to rock up to their local theme part and start shooting – as this project required the Liseberg's permission and involvement.
On YouTube, Koch posts details of his drone setup for the Helix chase. Gear includes:
Prototype frame
Diatone Mamba stack
T-motor f40pro 2400kv popo
Tattu R-line 1800 4s battery
Foxeer Falkor FPV cam
TBS Unify pro HV
TBS Crossfire Nano, T antenna
Foxeer Lollipop 3 and VTX antenna
GoPro Hero 6&7 Black
Other gear:
Fat Shark HD3 goggles with Immersion RC Rapidfire module and VAS 3-turn helical antennas
Frsky QX7 with Crossfire
So, arms inside the coaster at all times and buckle up, here's a video of the footage (4K or 1080p resolution recommended) – and take care if you get dizzy easily…
Related stories
Top stories