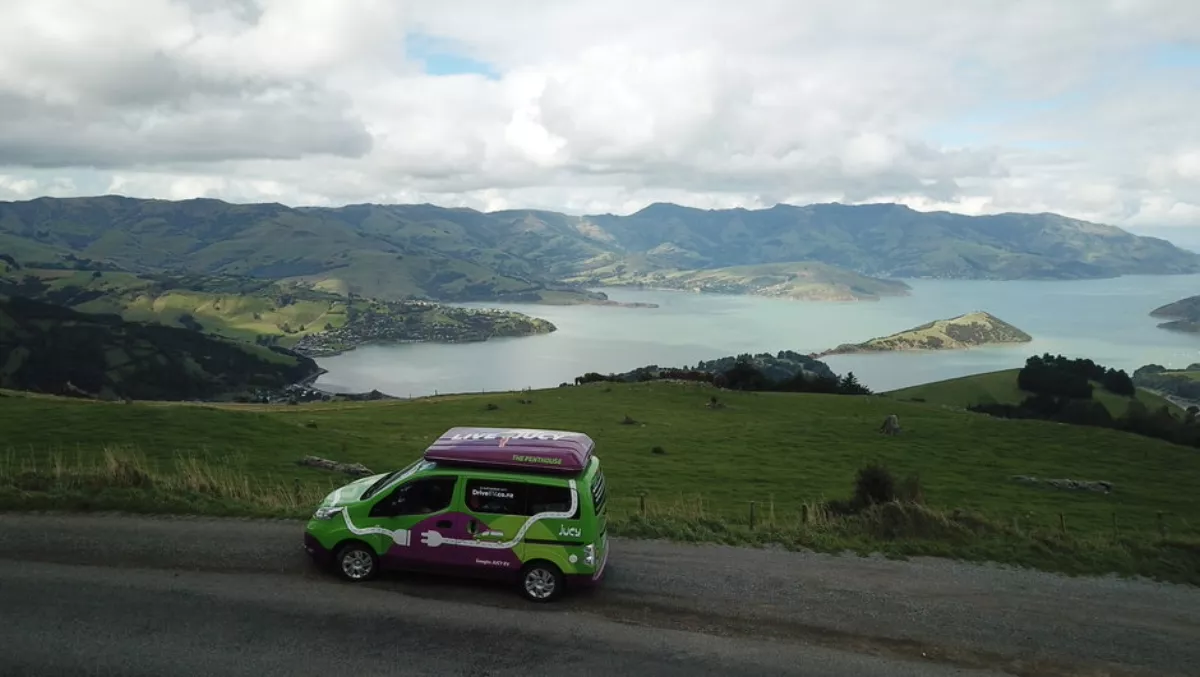 EV campervans to hit NZ roads in July
FYI, this story is more than a year old
Jucy Rentals is about to unleash the first wave of fully electric rental campervans in New Zealand in July – and each camper will be able to travel approximately 200 kilometres on each charge.
The locally-designed and manufactured campers show that there's growing demand for sustainable transport options in New Zealand tourism.
In 2018, two French tourists conducted a five-month trial of a prototype electric camper. They drove more than 13,000 kilometres to 45 locations around the country.
The trial analysed the availability and cost of the charging infrastructure – and it also got a sense of what Kiwi locals think about electric vehicles.
"The trial was a real-world proof of concept for us; two visiting Parisian tourists were able to navigate all ends of the country in our specially designed EV campervan," says Jucy CEO Tim Alpe.
"We have since been able to analyse the data from their experience and incorporate it into the new vehicles, which have lighter weight interiors and can travel significantly longer on a single charge."
People will be able to travel 180-200 kilometres on each charge, and would require a 40-60 stop at a fast charge station.
The campers also have a rooftop solar panel that charges a second battery while driving. The campers are also kitted with a wireless internet router, device charging ports, induction cooking, and a mobile app that reports battery levels.
"Ultimately if we can switch as many tourists from an expensive imported commodity such as petrol or diesel to a low cost, renewable energy source, that allows them to inject that additional disposable income from their travel budget into other parts of the New Zealand economy," says Aple.
"Since our trial last year, a number of tourism operators and regional towns have seen the potential opportunity around EV travellers and invested in new charging infrastructure in the hope of attracting more visitors using this mode of transport."
"If we aggregate that additional time and spend over thousands of visitors annually, it is a significant win for our regions, our environment and the country's brand image,' says Alpe.
He adds that the production of the first EV campervans was made possible in part by funding from EECA's contestable low emission vehicles fund.
The self-contained vehicles will rent at approximately the same daily cost as their new ICE models but at the equivalent of about 30 cents per litre and will have a fraction of the running costs; savings which will make it less expensive for tourists to travel around New Zealand.
Vehicles will be available to book this month and will be on New Zealand roads from July.
Related stories
Top stories