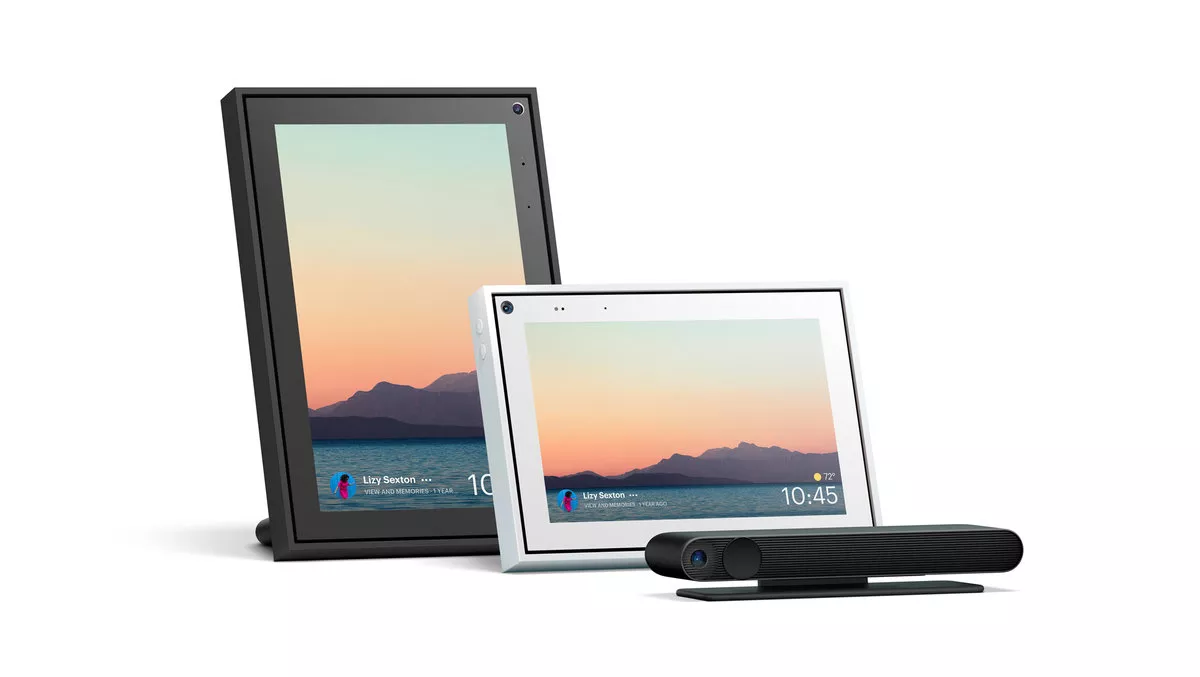 Facebook launches 'Portal', a new range of video calling devices
FYI, this story is more than a year old
Facebook is taking a leap beyond all things social networking – and into smart video calling devices as it tries to take WhatsApp beyond the smartphone.
Today the company announced three new home video communications devices: The Portal Mini, Portal, and Portal TV. The portal range uses an AI-powered smart camera that automatically pans and zooms to follow people on a call.
Portal and Portal Mini feature a sleek picture frame designed to fit into any home, and Portal TV brings the Portal video-calling experience to the largest screen in the home (typically the TV).
"We couldn't be more excited to bring some of the world's best technology to New Zealand," exclaims Facebook A/NZ managing director Will Easton.
"We've been on a mission to build technology that brings people closer together in ways that minimise our sense of physical and emotional distance. Portal allows New Zealanders to experience smart video calling on your TV and anywhere in your home. It is designed to make video chats feel less like a call and more like you're actually in the same room."
Facebook will make Portal calls available through WhatsApp, and available in six countries: New Zealand, Australia, the UK, France, Italy, and Spain.
Facebook says that the Portal range was designed with both privacy and security in mind.
According to Facebook, Portal:
"Has clear and simple settings for privacy, safety and security.

Users can disable the camera and microphone on Portal with a single tap or sliding switch.

A red light next to the lens indicates the camera and microphone are off and there's an integrated camera cover if users want to physically block the camera lens.

Users' Portal video calls are also encrypted. With support for WhatsApp on Portal, all Portal WhatsApp calls are end-to-end encrypted.

And for added security, Smart Camera and Smart Sound use AI technology that runs locally on Portal, not on Facebook servers."
However, audio will be recorded when users say the words 'Hey Portal' (All Portals have Alexa built in, and people can use Alexa Skills on Portal devices.)
"If you have "Hey Portal" enabled, Portal listens for the phrase "Hey Portal." If it's detected, Portal sends a short audio recording and transcript of the "Hey Portal" voice interaction to Facebook," a statement from Facebook says.
"A trained team may review a sample to make our voice services smarter and more accurate for everyone. You can view, hear and delete any of your "Hey Portal" voice interactions in your Facebook Activity Log. You can also turn off voice storage in Settings anytime, which means that your voice interactions are not stored or reviewed."
Portal Mini and Portal will begin shipping October 15, and Portal TV will ship November 5. (Customers in Australia and New Zealand will be able to order from portal.facebook.com on these dates.)
Portal+ will be available forNZ$479, Portal will be available forNZ$309, Portal Mini will be available forNZ$219 and Portal TV will be available for NZ$259 in New Zealand from portal.facebook.com.
The new Portal line up will be available for pre-order in North America and Europe from portal.facebook.com on September 18.
Related stories
Top stories