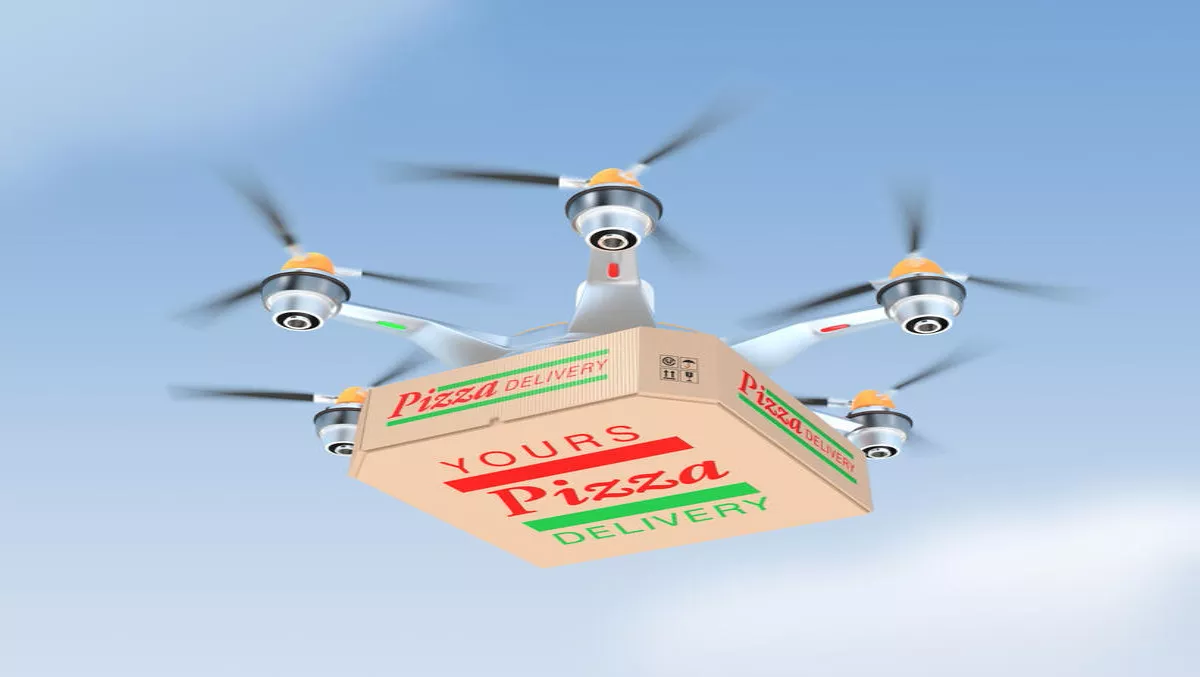 From fast food to flying food: Domino's showcases NZ pizza delivery by drone
FYI, this story is more than a year old
The new trend in on-demand pizza delivery is going from robots to drones and all the trials in between. Domino's and drone delivery specialist Flirtey teamed up in Auckland yesterday to showcase a live, on-demand pizza delivery.
The Civil Aviation Authority and Minister of Transport Simon Bridges also attended the event, with Bridges commenting on the world-first trial using an Unmanned Aerial Vehicle (UAV) to conduct commercial drone delivery.
"Domino's and Flirtey have chosen New Zealand for the trial because our forward-thinking aviation regulations encourage innovation, while protecting safety. As Transport Minister I have been actively promoting New Zealand as a test bed for new transport technology trials. Our enabling laws and regulation means we have the ideal environment to trial all forms of technology," Bridges says. The drone delivery complied with The Civil Aviation Rules Part 101, which came into effect in August last year. The rules enable UAVs for both commercial and recreational use in NZ.
"The announcement of this trial confirms that New Zealand's framework for UAVs is world-class. In addition, the Government has reviewed the laws for driverless vehicles and Small Passenger Service operators, to ensure New Zealand stays at the forefront of transport innovation. The trial is also a valuable opportunity for the Civil Aviation Authority, who are making sure that appropriate safety precautions are taken," Bridges says.
A statement by Domino's said that New Zealand was chosen as the test country because of its allowance and adoption of new, innovative technologies.
"New Zealand has the most forward-thinking aviation regulations in the world, and with our new partnership with the leader in pizza delivery worldwide, Domino's, we are uniquely positioned to bring the same revolutionary drone delivery service to customers globally. We are getting closer to the time where you can push a button on your smartphone and have Domino's delivered by drone to your home," says Matt Sweeny, Flirtey CEO.
Domino's is looking to trial drone deliveries from a selected store to customers sometime this year, while the company is still working with the government on a land 'driverless pizza delivery unit'.
"We have invested heavily to provide our stores with different delivery fleet options such as electric scooters, e-bikes and even the Domino's Robotic Unit - DRU that we launched earlier this year. We've always said that it doesn't make sense to have a 2-tonne machine delivering a 2-kilogram order. DRU DRONE is the next stage of the Company's expansion into the Artificial Intelligence space and gives us the ability to learn and adopt new technologies in the business," Meij continues.
Meij says that there are other factors such as product weight, dimensions, traffic, roads, distance that will be analysed based on feedback and results.
"It's about working with the regulators and Flirtey to make this a reality for our customers," he adds.
The company hopes the trial will be successful and will eventually be offered for the majority of orders in New Zealand. It is also looking at rolling out trials in Australia, Japan, Belgium, France, The Netherlands and Germany.
"Domino's is all about providing customers with choice and making customer's lives easier. Adding innovation such as drone deliveries means customers can experience cutting-edge technology and the convenience of having their Supreme pizza delivered via air to their door. This is the future," Meij concludes.