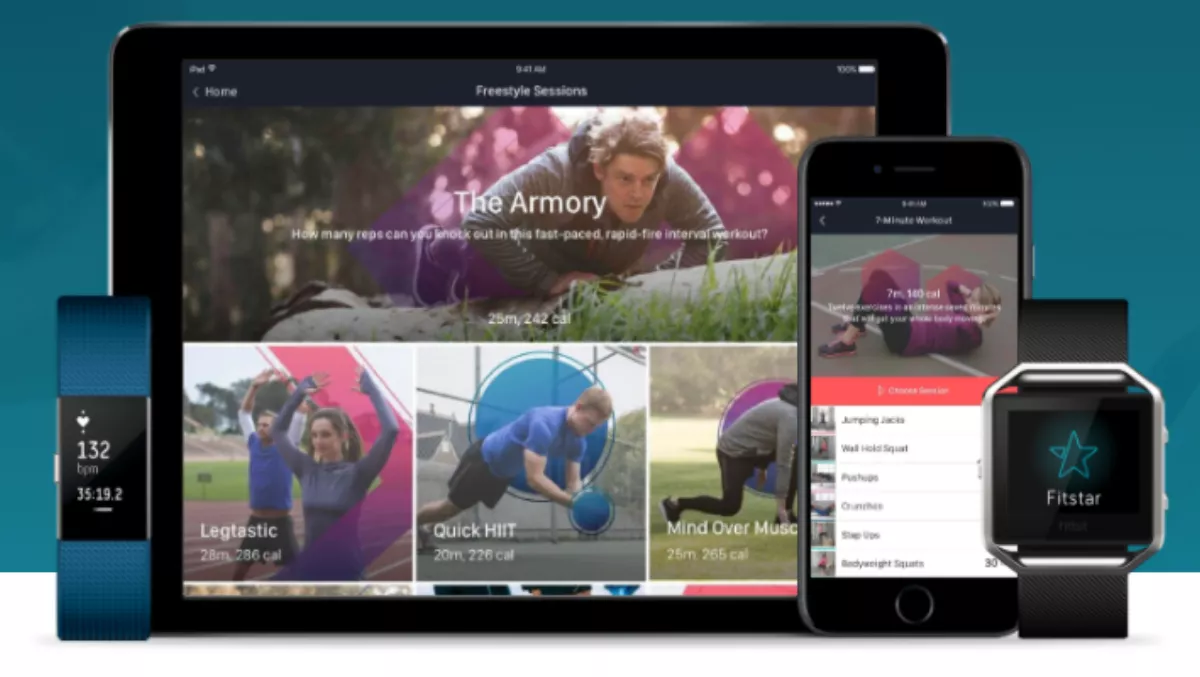 ​Fitbit unveils redesigned personal training app
FYI, this story is more than a year old
Fitbit has launched a redesign of its personal training app, Fitstar, designed to help Fitbit users achieve their fitness goals.
The Fitstar Personal Trainer app features tailored workouts and recommendations based on user's Fitsart and Fitbit activities. Fitbit says more robust guidance and coaching will help users work out smarter, and get the most out of the "Fitbit ecosystem".
The app features new trainers to choose from, an expanded library of exercises, customisable music, and a refreshed look provide greater inspiration.
"Fitstar Personal Trainer allows you to get fit anytime, anywhere, whether at home or on the go with adaptive video workouts that evolve as you progress," the company says.
"The app uses your own feedback to ensure each routine is built to match your fitness level, and personalised to your strength and stamina.
Fitstar Personal Trainer features four comprehensive exercise programmes with hundreds of moves, as well as dozens of Freestyle sessions such as "10-Minute Abs" and "Traveler 10.
Fitstar will provide a range of recommended workouts based on users' activities tracked with a Fitbit device and deliver them right to their Fitbit and Fitstar Personal Trainer apps.
For example, with this feature, if a user runs five miles wearing a Fitbit device, Fitstar might suggest a customised Fitstar Personal Trainer session that rests the legs and focuses on abs and arms. All users, both those who track or don't track activities with a Fitbit device, will also receive workout recommendations in both apps based on the sessions people in similar demographics are doing.
"Since joining the Fitbit family in 2014, we've known the marriage of wearables and our dynamic video workouts would lead to more effective and relevant fitness programmes," said Mike Maser, co-founder and VP of Fitstar by Fitbit.
"The redesigned Fitstar Personal Trainer app takes the next step in realising this vision. For example, by intelligently matching your Fitbit-tracked activities with Fitstar's huge array of content, we're delivering smarter guidance that allows people to target specific muscle groups in order to reach their goals faster," he explains.
The redesigned Fitstar Personal Trainer app experience includes:
· Recommended workouts: Fitstar will recommend workouts based on your daily activity tracked with a Fitbit device in the new "Guidance" tab, providing customised fitness guidance to better help you reach your goals.
· Two certified personal trainers: Choose between Adrian and Lea who will guide you on your fitness journey. You can decide who motivates you more and switch between the two personalities as you see fit.
· Fitstar Radio: Personalise your workout soundtrack with Fitstar Radio, which offers several popular music stations from Pop to Hip Hop to motivate you while you exercise.
· New look and feel: A new, redesigned look and feel provides a fresh and inspiring exercise experience that you can view on a wide variety of formats, from mobile phones to the latest high-def TVs.
· More moves: An expanded library of new bodyweight and cardio exercises for every fitness level, with more to be added regularly.
Availability
Fitstar Personal Trainer is available worldwide now in English, French, German, Portuguese and Spanish. The app is accessible via Wi-Fi on iOS devices, Android phones, and online; it also works with Chromecast and Airplay.
The Fitstar Personal Trainer Premium provides access to unlimited personalised workouts and the entire Freestyle catalogue for $11.99 NZD/month or $59.99 NZD/year.
Fitstar Personal Trainer Basic provides access to two "Get Moving" customised sessions per week and some Freestyle workouts for free.
Fitbit is currently offering a free 90 day Fitstar Premium subscription.