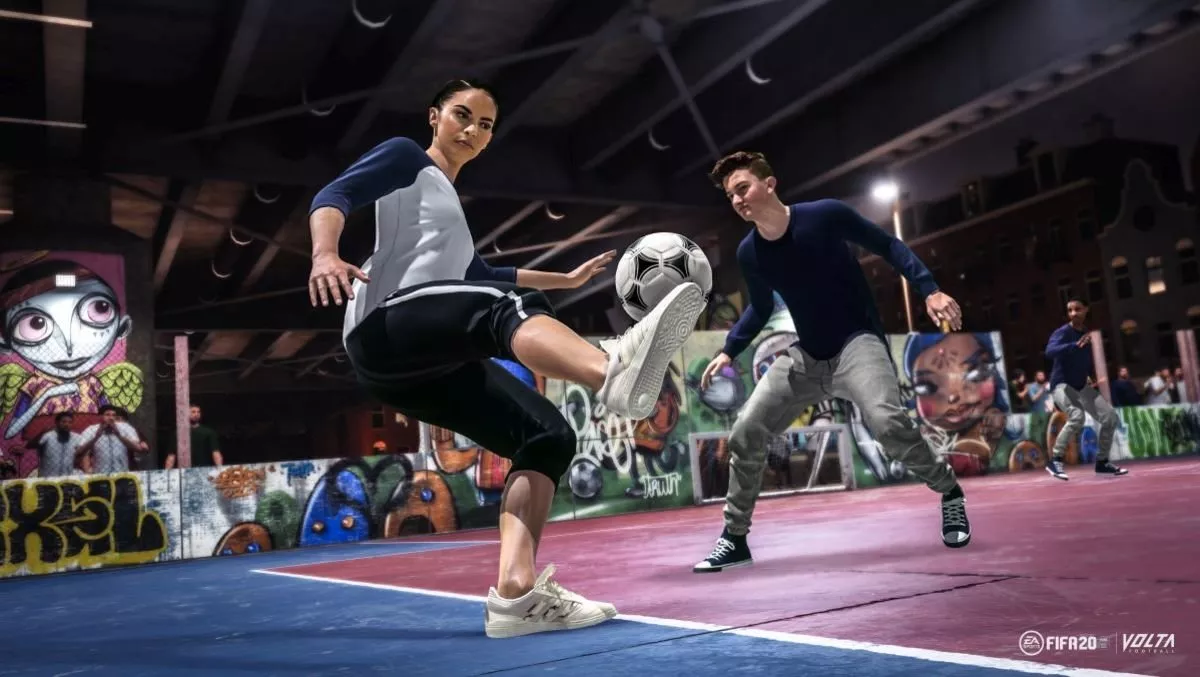 Game review: FIFA 20
FYI, this story is more than a year old
There are three certainties in life - death, taxes and EA Sports releasing a new version of FIFA every year.
You'd be forgiven for thinking that many FIFA fans, like myself, are suffering from Stockholm syndrome given the criticism the game received, especially in the second half of FIFA 19's lifecycle. Despite mainly good reviews across the board last September, many players in the community - particularly those who play the game for a living - voiced their concerns surrounding repetitive gameplay and apparent 'scripting', among other things.
Regardless of last year's issues, the vast majority of those players, will still be amongst those buying FIFA 20 next week and putting hours upon hours of time into the game until spring 2021.
So what's new?
A large part of EA Sports' marketing of FIFA 20 is centred around the new 'Volta' game mode, which is very much like the old FIFA Street games and allows you to take your created player to various locations around the world to showcase your skills against other players.
Volta has taken inspiration from the now obsolete Journey mode, which I think is a welcome substitute for most FIFA players, and one which will only increase the lifespan of FIFA 20.
The Volta story mode allows you to build up your player's attributes and recruit teammates to become the best street football team in the world. You can also play Volta online - either 3v3 or 4v4 - and showboat against players across the FIFA community.
EA Sports came under some fire prior to the release of FIFA 19 when they announced that no changes had been made to the inevitable Career Mode, but it's had a moderate update for this year's title. You can now customise your manager in more detail than ever before, and delve even deeper into the role of managing a football club.
It's also worth noting that despite new licenses that have helped bring the Romanian Liga 1 and new stadiums to FIFA 20, the licensing to Italian giants Juventus has been lost to Konami's Pro Evolution Soccer franchise. All Juventus players' likenesses have been retained, but Cristiano Ronaldo and co. now play under the name 'Piemonte Calcio' in a default stadium.
FIFA Ultimate Team
So what has changed in Ultimate Team, the favoured game mode of most FIFA fanatics?
One of the first things you'll notice is the menus have undertaken a significant makeover, making it easier than ever to add or remove players, apply consumables and fine-tune your tactics.
EA Sports have also introduced a 'battle pass' style seasons mode, which gives players even more objectives to work towards than ever, tempting you to do things such as experience different game modes and score different types of goals to earn rewards.
There's also 'Friendlies', which allows you to play the game modes from last year's House Rules mode and use your Ultimate Team both locally and online - including the entertaining No Rules mode where offsides and fouls won't stop play.
New Icons have been added, including Kaka and Kenny Dalglish, and you can now earn new celebrations and stadium decor to further customise your experience.
Despite many more incentives, FIFA Ultimate Team is, ultimately, a pay-to-win game mode and if you're a serious FIFA player, it's where you'll spend the majority of your hours (and your dollars). As it's so lucrative to EA Sports, it continues to receive the most attention year on year when it comes to updates.
Gameplay
Honestly, the gameplay does feel a lot better than last year and it's been refined in a way that it feels familiar to play whilst making the overall experience much more enjoyable. With that being said, it's still not the best football game ever made.
Perhaps a method to encourage a smooth transition from Volta into other game modes, you're now blessed with much more time on the ball which in turn allows you to try to beat your opponent with a skill move. This will be a common play style in FIFA 20.
EA Sports seem to have rolled back the years slightly by making speed a key attribute for players in this year's title. FIFA 19 was frustrating in the sense that players who are renowned for their pace felt somewhat nerfed and annoyingly slower than they should. Now, fast players can inflict serious damage on slower defenders.
Volleys are said to be much more of a risk this year, but when one flies into the top corner it feels more rewarding than ever before. The movement of the ball is now much more realistic, which you can notice when a not-so-perfectly-timed-shot still trickles into the bottom corner or when you drill a ground passes across the pitch.
One of the best updates is the overhaul of the penalty and free kick system, which was long overdue and works very well. If timed correctly, you can now 'knuckleball' a free kick into the top corner from 35 yards, which is the ultimate rewards for timing each of the two steps to perfection. It remains to be seen whether the set pieces will become too easy once players get used to the new systems.
Although not perfect, FIFA 20's gameplay is still fun and will be enjoyed by millions of gamers across the globe for the next year. However, it still doesn't feel quite as smooth as other games, including Pro Evolution Soccer 2020.
Verdict
FIFA 20 has certainly improved on last year's game, and it will certainly retain its crown as number one football game around the world. It remains a must-buy game for so many people, and Ultimate Team continues to draw enough hype and excitement no matter how good or bad the gameplay is.
If, like last year, there's genuine frustration across the FIFA community, it will only open the door further for Konami to try and tempt FIFA loyalists to jump ship. Competition in the industry is healthy, and hopefully it will only mean that both developers continue to refine and improve their games for years to come.
For the average player, at least, FIFA 20 ticks all the boxes that you'd want it to, and the new game modes are only going to increase the lifespan of the game before FIFA 21 comes around…
Related stories
Top stories