Game review: Planet Coaster - Ghostbusters expansion (PC)
FYI, this story is more than a year old
Theme park management game, Planet Coaster, gets a rather spooky expansion with Planet Coaster: Ghostbusters.
Frontier Development's Planet Coaster is built upon years of experience the developer gained whilst working on Atari's Rollercoaster Tycoon games. The result is a detailed theme park simulation that enables players to design, build and manage their own parks.
Players can choose from a number of scenarios or start their own sandbox theme park where the sky is the limit. Your parks are visited by little people keen to try your rides, eat your food, drink your drink, buy your gift sand offer their opinion of your endeavours. If a ride is too violent they won't like it and if you don't supply them with refreshments, they'll let you know.
The game comes with a huge amount of pre-build rides and the components with which to build your own. Whilst the in the sandbox mode they are all unlocked for you to play with, in the scenarios they need to be researched before they become available. Players can also set up their own custom scenarios with unique challenges.
You can build, test and even take a ride on your rollercoasters and other rides. There are all sorts of attractions available from old-school wooden rollercoasters to monorail transport systems. Then there's, of course your roundabouts and more compact white-knuckle rides.
Players can sculpt and customise almost every aspect of their parks. You can make mountains and lakes, plant trees and place rocks. There's loads of themed objects, as well, so you can make a western or sci-fi, etc. themed park or area. It's immense fun and incredibly involving.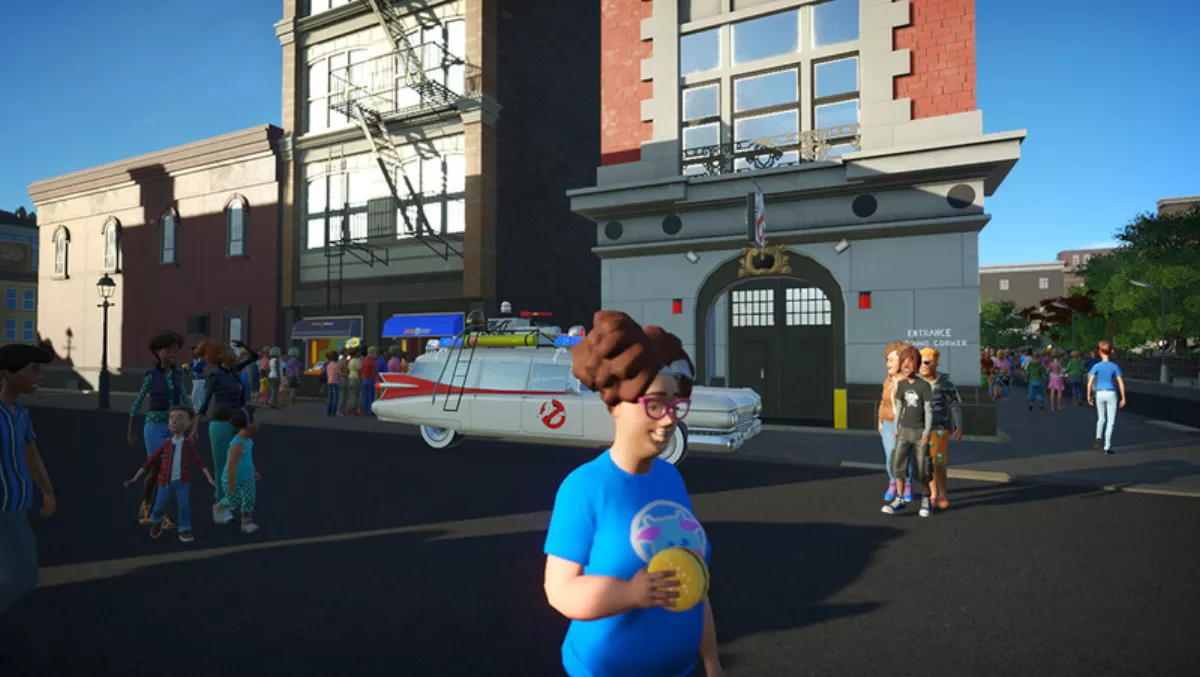 Ghostbusters is not the first licenced addition to the title, in the past we've had kits based on Back to the Future's DeLorean, K.I.T.T. from Knight Rider, and even The Munsters. But the Ghostbusters expansion features more than just a few themed props and objects.
Planet Coaster: Ghostbusters is the biggest addition to the game, yet. Not only do you get a load of Ghostbusters themed scenery to play with, there's also a whole new scenario featuring the voice of Dan Ackroyd returning as Dr. Raymond Stantz, one of the original Ghostbusters.
The Ghostbusters story scenario puts players in charge of a fledgling Ghostbusters-themed park. Under the direction of Raymond Stanz, players must complete challenges, building the park up with new rides and attractions.
As the challenge goals are met, the story progresses. To be honest, the Ghostbusters scenario isn't all that different to those included in the base game. It's worth playing though if you've finished the rest and it is rather cool to hear Dan Ackroyd's Raymond Stanz.
The real value of this DLC pack come from what you can use in your own parks.
As well as hundreds of unique, individual building components, there are a number of special themed scenery buildings to add character to your own Ghostbusters areas. You can incorporate things like the Ecto-1 Ghostbusters car to your own parks (you can even take it for a drive).
The package includes some fabulous additions to your Planet Coaster scenery library. The huge Stay Puft Marshmallow Man and animatronics of all four Ghostbusters are my stand-out favourites. There are also New York themed shops and even an Ugly Spud Ghostbusters rollercoaster to give your park a Ghostbusters flavour.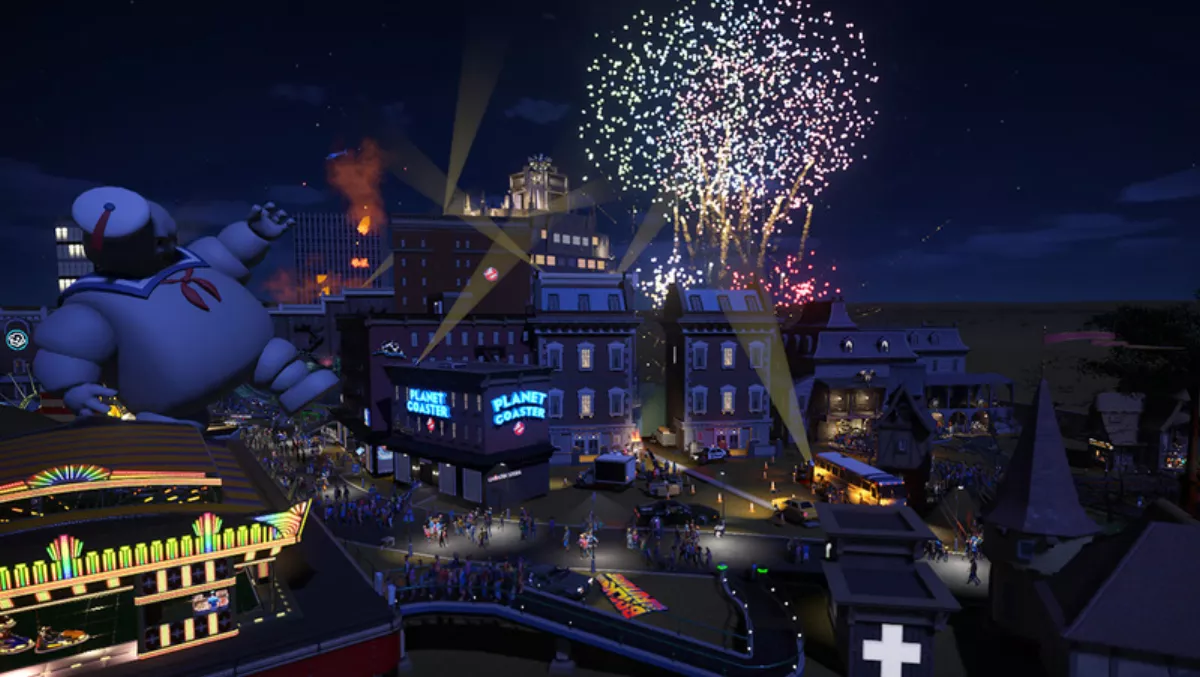 Planet Coast: Ghostbusters is a must buy for Planet Coaster fans and especially those with a soft spot for the Ghostbusters. The scenario adds a unique gameplay challenge to the game, but it's really the additional Ghostbusters items that you can use in your own parks that make the pack worth the price of admission.
Who ya gonna call?
Verdict: 8/10