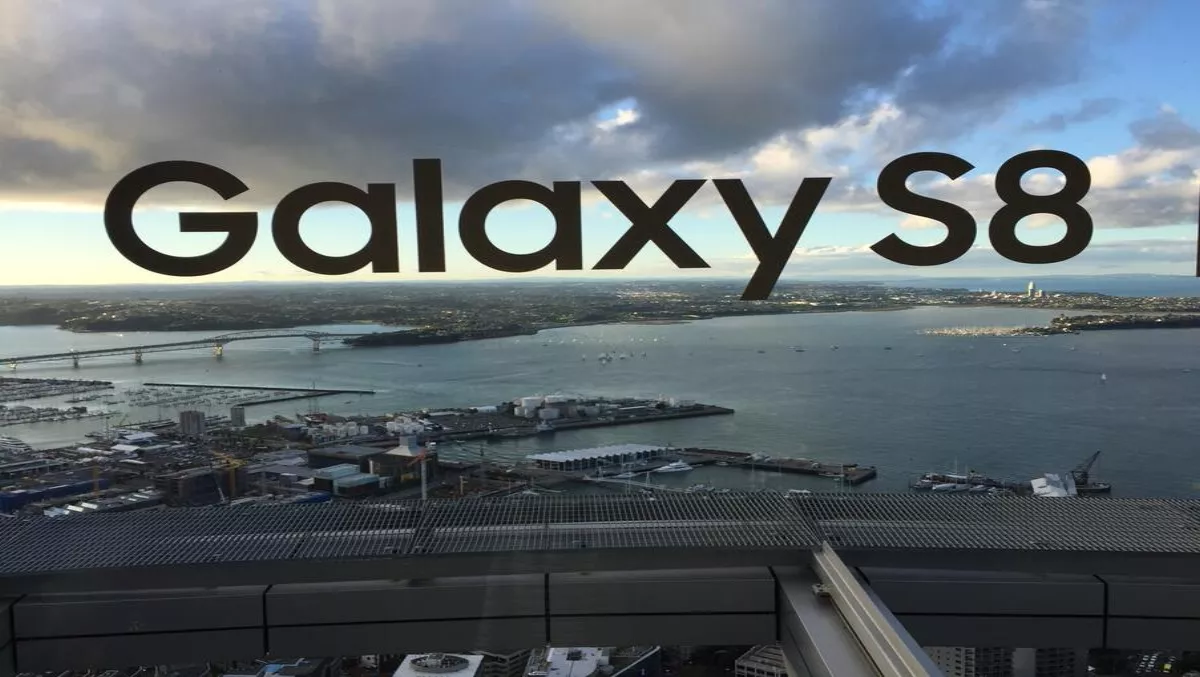 Getting hands on at the Samsung S8/S8+ launch event
By Alex Crossan,
Fri 31 Mar 2017
FYI, this story is more than a year old
Last night Samsung held their unboxing of the new Samsung Galaxy S8 and S8+ at The Sugar Club in Auckland.
After a quick tech briefing, I got a chance to try out the new phones as well as their new gadgets; The Samsung DeX, their new Gear VR and the updated Samsung Gear 360.
The Galaxy S8 and S8+ were naturally the MVP of the launch, with plenty of them around to try out. The S8+ was obviously bigger than the S8, but didn't feel too clunky which was nice. The key features I was told about were the Infinity Display, the updated size to more easily fit in users' hands, and the water resistance factor.
The Samsung Galaxy S8.
The Infinity Display addressed issues customers had with the S7 Edge, where the edges of the screen were too touchy and would be accidentally interacted with on a regular basis. The curved screen looked very sleek, and doesn't take any adapting to get used to.
The water resistance was demonstrated in a very 'James Bond' display in which one of the new phones was sitting in a glass box. At the push of a button, the box filled with water completely submerging the phone. It felt a bit like being in an infomercial, but it was fun to drown the phone and it got the point across.
The water resistance display.
The Samsung DeX was the part I was most looking forward to trying out. Plugging your device into a pod that can then be connected to a monitor, keyboard and mouse to create a sort of smartphone-desktop hybrid was interesting. I was surprised by how smooth and responsive the optimised Android desktop was. It remains to be seen if smartphones are ready to completely replace desktops and laptops, but this is a big step by Samsung towards that goal.
Samsung DeX in action.
I am almost ashamed to admit this was my first time trying out a VR headset. It was about what I expected, and I imagine more or less the same as most other VR experiences. A big talking point however was the new VR controller which, according to Samsung, allows users to become more involved in the virtual reality experience as opposed to past VR where you would just sit and watch things happen.
The Samsung Gear 360 was an updated version of a past device, a camera that constantly films in 3D. The new one also allows for 4K live broadcasting, which can stream directly to your phone. It's not something I would use myself, as my life is not live-stream worthy, but it's an interesting piece of tech nonetheless with potential for creating some really cool new media.
Gear VR and Gear 360.
The Samsung team were knowledgeable and helpful, despite their dedicated upselling whenever I pulled out my battered iPhone 6 to take photos. They addressed questions about how they are doing post-Note 7, and seemed confident and happy with where they are at.
The Galaxy S8 and S8+ are available in New Zealand for presale on the 20th of April, and for retail sale on the 5th of May.