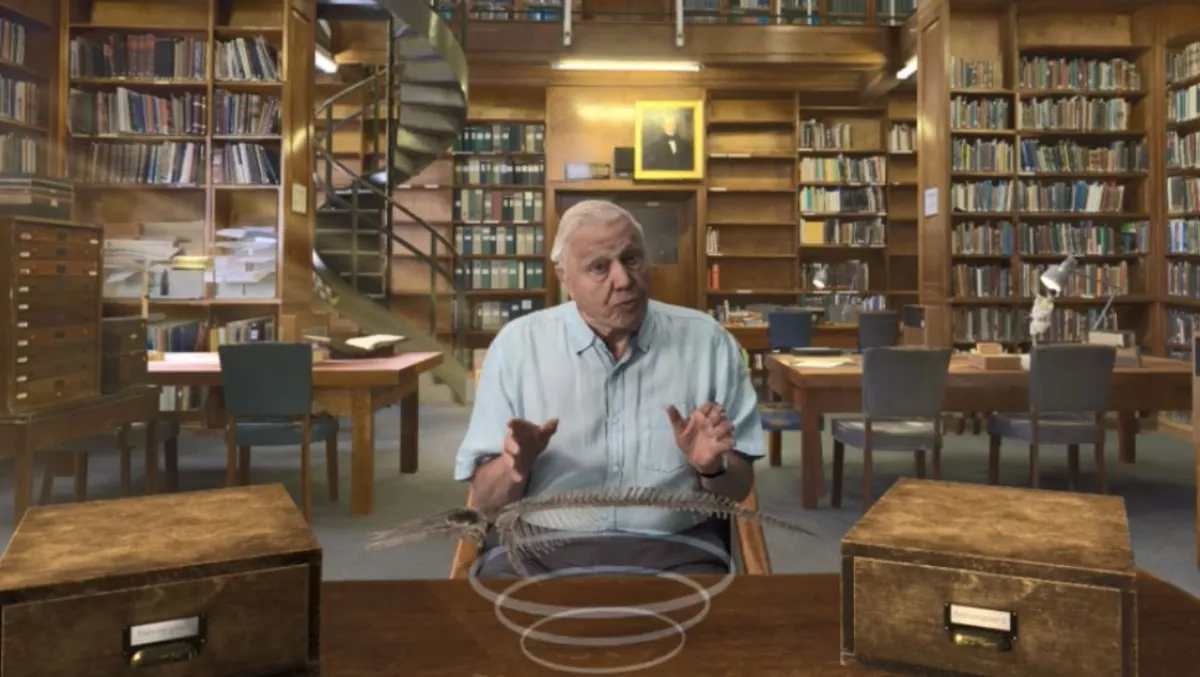 Go on a VR tour of the Natural History Museum with David Attenborough
FYI, this story is more than a year old
David Attenborough will give behind the scenes tours of the Natural History Museum in a new virtual reality experience that Microsoft has helped to create.
The experience lets people visit parts of the London museum usually closed to the public with the world-famous broadcaster and hear him talk about the rare artefacts and objects on display, all from the comfort of their own home.
Attenborough was filmed by more than 100 cameras at Microsoft's Mixed Reality Capture Studio in Redmond, there are similar studios in London and San Francisco, in order to be recreated as a hologram for Sky's Hold the World experience, which was conceived and produced by London-based content studio Factory 42 for Sky's VR app.
The footage was combined with photogrammetry, overlapping photos, which was used to recreate the Natural History Museum.
The museum's CT scanning department then worked with museum scientists and animation teams to create accurate models and animations of a blue whale, a stegosaurus, a trilobite, a dragonfly, a butterfly and a pterosaur, among other animals.
Attenborough says, "Sharing my passion for the natural world is something I have done for many years through different technologies, from the days of the black-and-white TV to colour, HD, 3D, 4K and now virtual reality.
"Hold the World is an extraordinary next step in how we can communicate and educate people about experiences they wouldn't usually have access to in the real world."
"I am delighted about what users can learn and discover from the Natural History Museum's treasures in this new VR experience, it really is one of the most convincing and bewitching experiences that the world of technology has yet produced."
Users of the app can choose to explore a number of locations in the museum, such as the Conservation Centre, the Earth Sciences Library and the Cryptogamic Herbarium.
In each of the locations, Sir David sits opposite the user and invites them to examine and virtually handle several rare specimens.
The objects "come to life" and can be enlarged and expanded to help users learn more about their history and see a level of detail that they wouldn't normally get.
You can watch a trailer for this VR experience here:
Related stories
Top stories