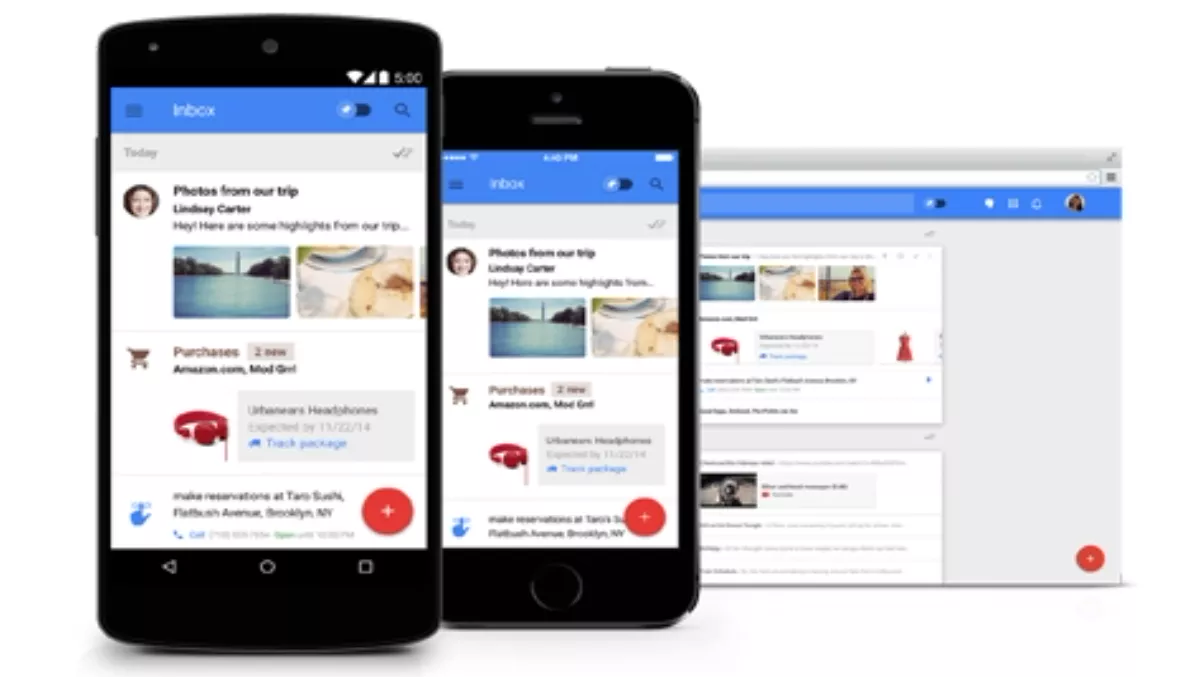 Google announces Inbox: is the future of email finally here?
By Shannon Williams,
23 Oct 2014
FYI, this story is more than a year old
Google has launched an email service that will better organise emails display information in a more user-friendly way.
Years in the making, Inbox is designed to make it easier for Gmail users to find and manage important information.
"Inbox is by the same people who brought you Gmail, but it's not Gmail: it's a completely different type of inbox, designed to focus on what really matters," Google said in a blog post.
Email started as a way to send digital notes around the office. Fast forward 30 years and you can contact virtually anyone in the world with just the phone in your pocket.
Google says this evolution brings new challenges. People get more email now than ever, and important information is buried inside message, and our most important tasks can slip through the cracks. "For many of us, dealing with email has become a daily chore that distracts from what we really need to do—rather than helping us get those things done".
Inbox displays real-time updates to emails - for example, showing the delivery status of items bought online. It also shows reminders in a more accessible way that allows users to more easily keep track of chores and appointments.
The new application also expands upon the categories introduced in Gmail last year, so similar types of mail can be dealt with at the same time. Users can teach Inbox to adapt to the way they work by choosing which emails they would like to see grouped together.
Inbox highlights the key information from important messages, such as flight itineraries, event information, and photos and documents emailed by friends and family.
Inbox will display useful information from the web that wasn't in the original email, such as the real-time status of flights and package deliveries. "Highlights and Bundles work together to give you just the information you need at a glance" the company says.
Users can add their own Reminders. Google wants Inbox to become a centralised place to keep track of people's to-do lists.
A feature of Inbox is the Assists function – handy pieces of information to help a user get something off their to-do list done. "If you write a Reminder to call the hardware store, Inbox will supply the store's phone number and tell you if it's open.
Assists work for your email, too. If you make a restaurant reservation online, Inbox adds a map to your confirmation email. Book a flight online, and Inbox gives a link to check-in".
Additionally, Inbox allows users to Snooze away emails and reminders so they can come back to them at more convenient times. Users can set them to come back at another time or when they get to a specific location, like their home or office.
Google says it will be sending out invitations to selected Gmail users to try out the new service. Users can also email the company at inbox@google.com to get an invitation.
For now the new service is being provided alongside Gmail. It will be available on the Web as well as on Android smartphones and iPhones.