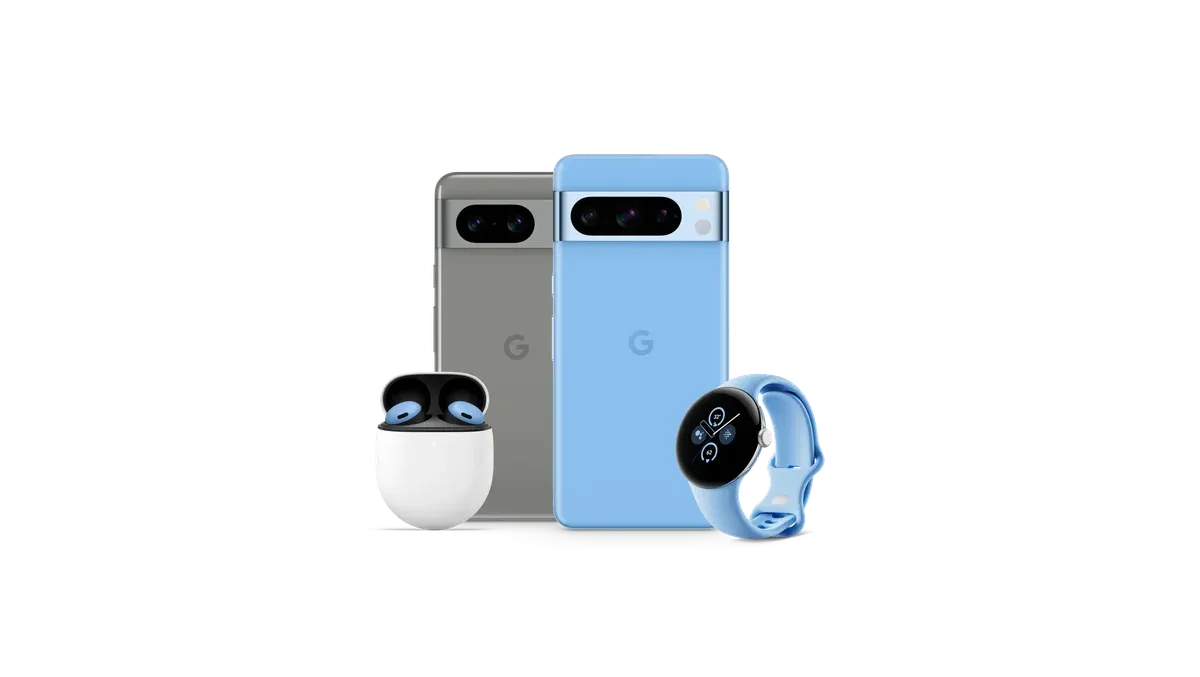 Google unveils Pixel 8 and 8 Pro, closing the gap with Apple
Google has unveiled its latest smartphones, the Pixel 8 and Pixel 8 Pro, in a move that sees the tech giant edging closer to its main rival, Apple. "Meet Pixel 8 and Pixel 8 Pro, engineered by Google and built with AI at the centre for a more helpful and personal experience," said Brian Rakowski, VP of Product Management at Google. The new devices come with a plethora of innovative features, all powered by Google's Tensor G3 chip, and promise seven years of software updates, including Android OS upgrades and security updates.
The design of the new Pixels has been revamped to offer a more elegant and ergonomic experience. "Pixel 8 and Pixel 8 Pro are elegantly designed with softer silhouettes, beautiful metal finishes and recycled materials," Rakowski noted. The Pixel 8 features a 6.2-inch Actua display, which is 42% brighter than its predecessor, the Pixel 7, and comes in three colours: Rose, Hazel, and Obsidian. The Pixel 8 Pro, on the other hand, boasts a 6.7-inch Super Actua display, described as Google's "brightest display yet."
One of the standout features of the Pixel 8 Pro is a new temperature sensor on the back of the device. "A new temperature sensor lets you quickly scan an object to get its temperature. Use it to check if your pan is hot enough to start cooking or if the milk in your baby's bottle is at the right temperature," Rakowski explained. The company has also submitted an application to the FDA to enable the Pixel's Thermometer App to take and save your temperature to Fitbit.
Both the Pixel 8 and Pixel 8 Pro come with significant camera improvements. "Every camera on the Pixel 8 Pro has been upgraded," said Rakowski. The devices feature game-changing editing tools, including Magic Editor in Google Photos, which uses generative AI to help users bring their photos in line with the essence of the moment they were trying to capture. Later this year, the Pixel 8 Pro will also get Video Boost, a feature that promises to deliver stunning videos that look true to life.
Saundra Latham, Editor at LinkedIn News, commented on the new releases, saying, "Google's newest smartphones 'are more iPhone-like than ever before.'" She pointed out that the newly flat-edged screens and face-unlock feature are the biggest similarities to Apple's devices. "What's different? Mainly, AI's heavy footprint: Google has baked artificial intelligence into features including call screening, web summaries and photo editing," Latham added.
Despite these advancements, Google still has a long way to go in catching up with Apple in terms of market share. According to Bloomberg, Apple had 55% of U.S. smartphone shipments last quarter, while Google had just 3%. However, with the Pixel 8 priced slightly less than the iPhone 15 and the Pixel 8 Pro matching the iPhone 15 Pro's price, Google seems to be positioning itself as a formidable competitor in the high-end smartphone market.