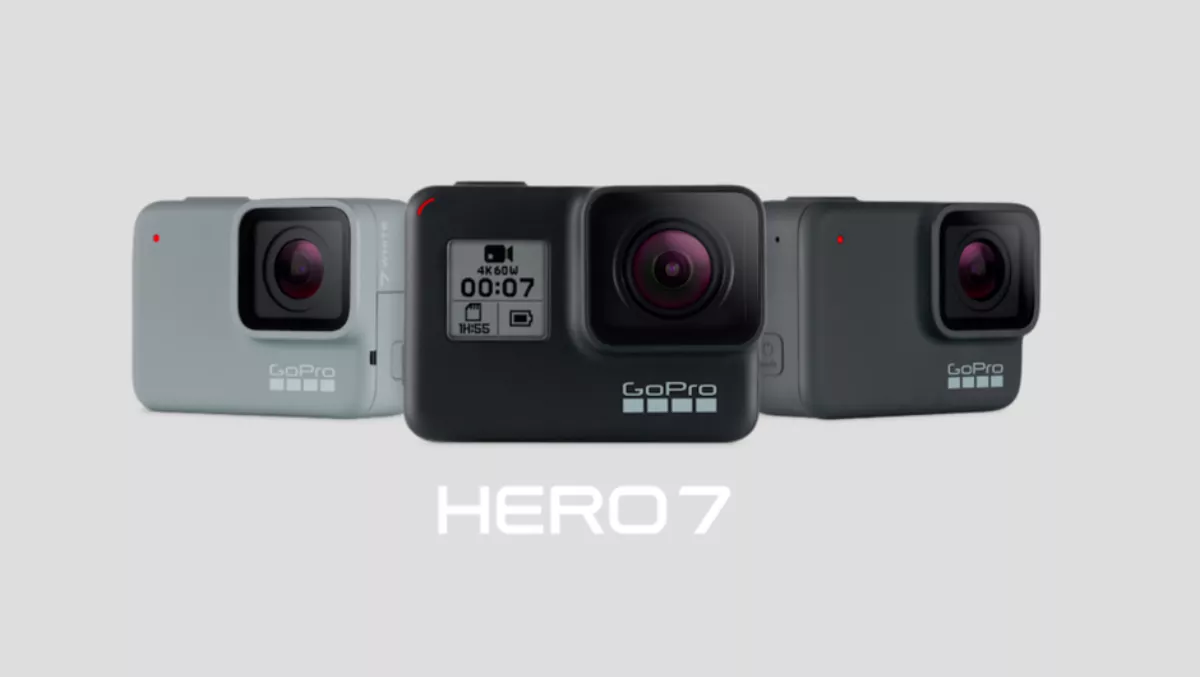 GoPro infuses new HERO7 camera range with better image stabilisation
Wed, 26th Sep 2018
FYI, this story is more than a year old
GoPro has put better video stabilisation at the forefront of its new lineup of Hero cameras, including the GoPro HERO7 Black, White, and Silver models.
The GoPro HERO7 Black features stabilised video dubbed 'HyperSmooth' that apparently looks like it was filmed with a gimbal, without the need for an actual gimbal.
HyperSmooth can also go where no gimbal has ever gone before because it also works with underwater, high-shock and windy environments.
The new cameras are also equipped with something called TimeWarp, which is a form of video that applies a high-speed effect to videos.
"Imagine a scenic drive, ocean dive or walk through the city compressed into a super-stabilised, sped-up version of itself, with the entire experience playing out in seconds. TimeWarp Video transforms longer experiences into short, flowing videos that are compelling to watch and easy to share," GoPro says.
Speaking of sharing, the HERO7 Black is the first ever GoPro to live stream to platforms including Facebook, Twitch, YouTube, Vimeo, and other platforms.
A look at the HERO7 Black's features: • HyperSmooth Stabilization - Gimbal-like stabilization without the gimbal • Live Stream – automatic sharing as you live it while saving your streamed videos to your SD card in high definition • TimeWarp Video – Super-stabilized time lapse 'magic carpet ride' videos of your experiences, up to 30x speed • SuperPhoto – Intelligent scene analyzation for professional-looking photos via automatically applied HDR, Local Tone Mapping and Multi-Frame Noise Reduction • Portrait Mode – Native vertical-capture for easy sharing to Instagram Stories, Snapchat and more • Enhanced Audio – Re-engineered audio captures increased dynamic range, new microphone membrane reduces unwanted vibrations during mounted situations • Intuitive Touch Interface – 2-inch touch display with simplified user interface enables native vertical (portrait) use of camera • Face, Smile + Scene Detection – HERO7 Black recognizes faces, expressions and scene-types to enhance automatic QuikStory edits on the GoPro app • Short Clips – Restricts video recording to 15- or 30-second clips for faster transfer to phone, editing and sharing. Great for new users and kids. • Photo Timer – Countdown timer for convenient selfies and group shots • Stunning Image Quality – 4K60 video and 12MP photos • Ultra Slo-Mo – 8x slow motion in 1080p240 • Rugged and Waterproof – Waterproof without a housing to 33ft (10m), goes everywhere your phone can't • Voice Control – Verbal commands let you go hands-free in 14 languages • Auto Transfer to Phone – Your photos and videos move automatically from camera when connected to the GoPro app for on-the-go sharing • GPS Performance Stickers – Track speed, distance and elevation, then highlight them by adding stickers to videos in the GoPro app • Touch Zoom – Frame your photos and videos with just a touch
GoPro has also released the HERO7 Silver and the Hero7 White, which are essentially cameras for entry and mid-level users.
They are both waterproof to 10 metres, tough, and tiny. While they don't include The HERO7 Black's HyperSmooth technology, they do include improved video stabilisation.
"Tell them what to do using voice commands, or just tap the shutter button, and the camera will turn on and capture the moment automatically.
The GoPro HERO7 Black will retail for NZ$669.99. The GoPro HERO7 Silver will retail for NZ$499.99, while the GoPro HERO7 White will retail for NZ$349.99.