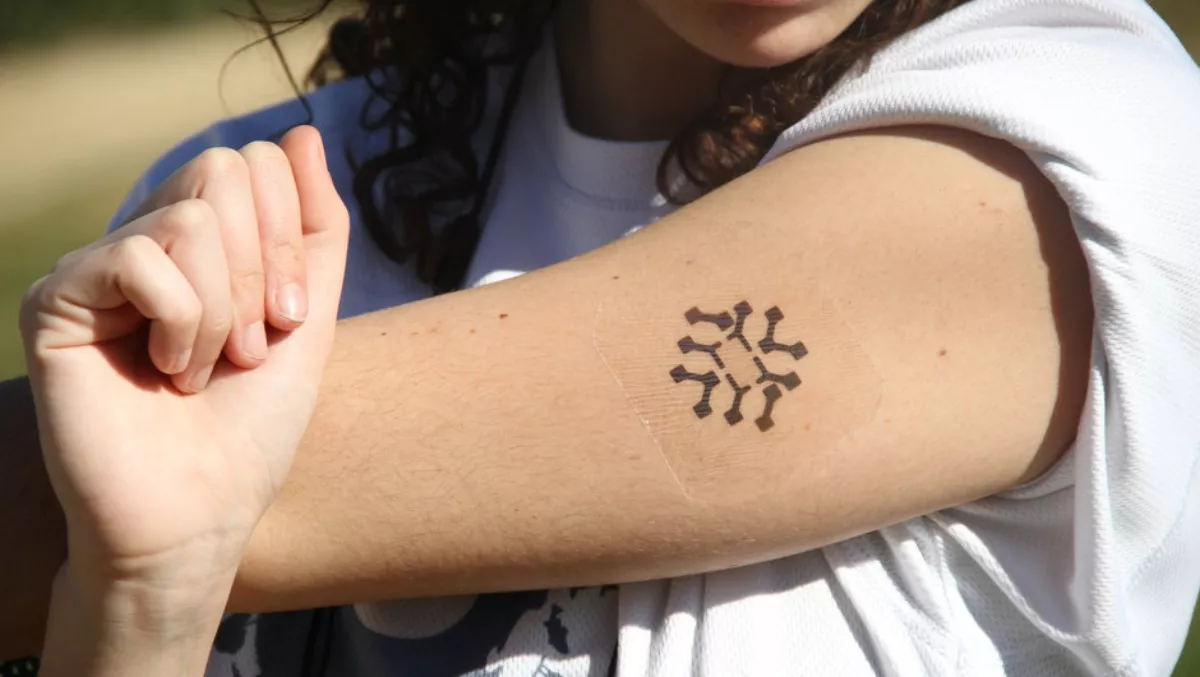 Graphene and stick-on patches: An alternative take on wearables
By Sara Barker,
Wed 27 Feb 2019
FYI, this story is more than a year old
A stick-on patch is all you need to monitor your fitness levels, hydration, heart rate, and even your sun exposure – and all of it is on display at Mobile World Congress in Barcelona this week.
European Union-funded Graphene Flagship and partner ICFO are showcasing four prototypes of a graphene –enabled fitness band that does all of the above and more, all with connection capability to mobile devices.
The first device is a transparent and disposable patch is able to measure sun exposure. It connects to a mobile device and lets a person know when they're reached their chosen level of sun exposure.
The second device is a fitness band that uses the same stick-on technology to monitor heart rate, hydration, oxygen saturation, breathing rate and temperature.
You may think workouts would be the most obvious use for such a tracker, but there are other examples too.
For example, if you're trekking in the jungle with limited access to water, you could measure skin hydration and then optimise water intake. This could prevent dehydration.
"Similarly, an explorer hiking to the peak of Mount Everest could use the band to accurately monitor oxygen saturation in blood. The high altitude can severely affect oxygen saturation in the body. Using the band, the hiker could monitor these levels and emit a warning if oxygen saturation in the blood decreases drastically below a certain level."
Graphene Flagship and ICFO are also showcasing two other technologies that could transform the way we (and our smartphones) see the world.
Those technologies include what the companies claim to be the world's smallest single pixel spectrometer. They are also displaying a graphene-enabled hyperspectral image sensor, which could eventually eliminate bulky photodetection systems.
In practice, it means that a graphene-based camera sensor could allow phones to see more than what's visible to the human eye, explains ICFO group leader Frank Koppens.
"Made up of hundreds of thousands of photodetectors, this incredibly small sensor is highly sensitive to UV and infrared light."
"This technology would allow users in the supermarket to hold the camera to fruit and infer which is the most fresh piece. Or, in a more extreme example, the camera could be used for driving in dangerously dense fog by providing augmented outlines of surrounding vehicles on the windscreen."
Could these technologies turn mobiles into life-saving devices? The future will surely hold that answer.