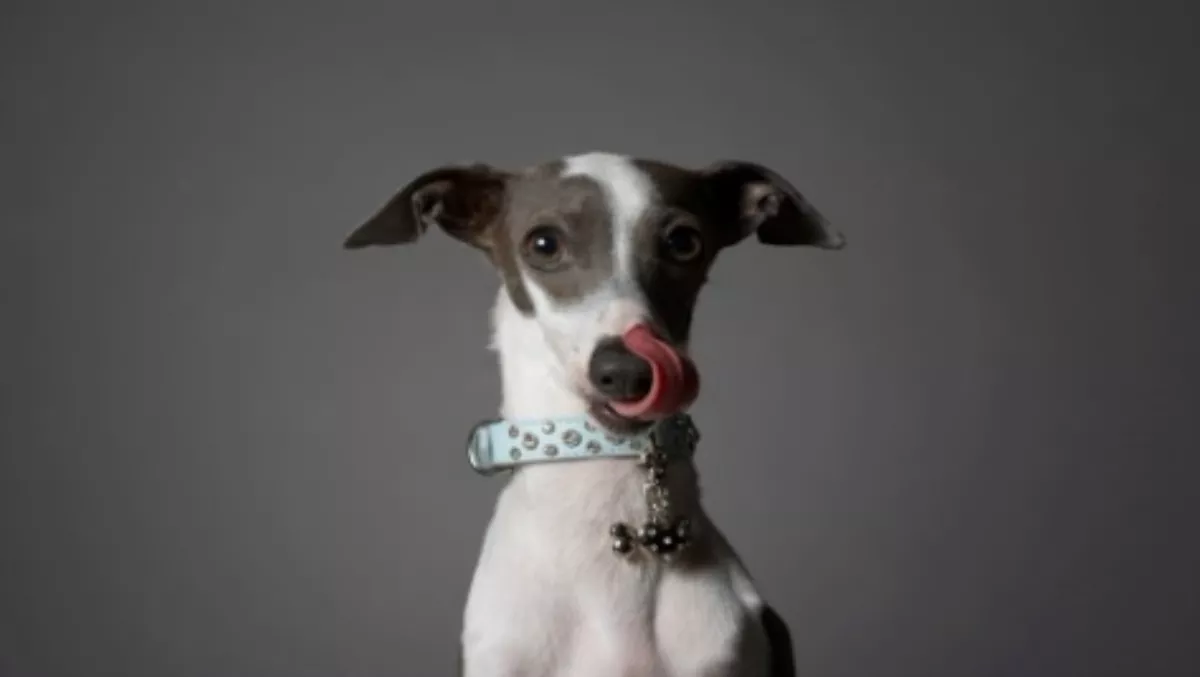 Greyhounds and Gadgets
FYI, this story is more than a year old
I rarely I get to combine reviews about the two things I'm most passionate about - my two greyhounds and gadgets. For the past few weeks, I've been trialing 3 neat bits of canine tech that can make a huge difference to dog owners. Here's what I found.
HeyRexThe first gadget is a New Zealand invention that is also pretty clever. It's called Heyrex (hey rex geddit??) and is a full remote health monitoring solution for dogs. It uses a sensor that fits onto your dogs collar. The sensor tracks temperature and movement. It stores data until your dog comes within range of a small wireless receiver connected to your broadband router.
Information gets sent back to Heyrex and can be viewed by Logging into the Heyrex.com website. The website has an online dashboard which can tell you when your dog is sleeping, walking, running or even scratching. The sensor can distinguish from active movement (walking etc.) and running. It'll also track a combination of ambient air temperature and your dogs body temperature to tell you if your dog is too cold or too hot.
The collar-mounted sensor is a well thought out bit of tech. It's small and light enough so that it won't get in the way of most usual doggy activities. Rounded edges also mean there's no chance of it chafing or otherwise irritating its canine wearer.
Given the number of dogs who'll jump in a creek, river or the sea at the drop of a hat, Heyrex have also made the sensor waterproof. Its batteries should also last anything up to a year, and it'll notify you when they need replacing.
I'd long wondered what my dogs got up to when I went to work. Now I can get a heads up at an amazing level of level of detail using any internet connected web browser.
The Heyrex solution is also a doddle to set up. I found its instructions to be pretty straightforward. Both sensors need to be shaken when near the receiver so they're registered as active and each has a unique identifier code associated with a particular dog.
If dealing with gadgetry gives you hives, don't worry. There's also helpful video tutorials that'll guide you through the entire setup process.
With the receiver plugged into my router I was able to see what was happening thanks to its blue and green LED indicators. The blue indicator flashes when a sensor comes into range and/or data gets sent to Heyrex.
After both my hounds had sensors fitted to their collars we took them for a walk around the Wellington waterfront. It was one of those hot clear spring days that signals a stinking hot summer lies ahead. My girl hound began to overheat. We found an outdoor shower intended for joggers and stuck her under it to cool her down. If this wasn't a good test of the water proofness of the sensors I don't know what was. The sensor didn't miss a beat and is still functioning fine.
Getting home I fired up my PC and logged into heyrex.com. Before I knew it, I had access to a full both hounds' activities in the form of easy to read line and pie charts.
There wasn't much info there as the sensors were only just fitted. After a day I could log in and see the spikes and dips in activity intensity levels. These matched up to when both my hounds were walking and running or sleeping.
It turns out that my two greyhounds are pretty typical for their breed in that they spend most of the day on the sofa snoozing - 60kp/h couch potatoes indeed. Several days later the data is even more accurate as the Heyrex service builds up a baseline for their behavior.
Another clever feature of the Heyrex system is notifications. This uses an email address you nominate. Any relevant notifications will keep you up to speed with your pet's activities. As the sensor can tell you when your dog is scratching, you can even get notifications if your dog has had an itchy day. Brilliant!
Heyrex retails at $199.95, which is a one-off price for the sensor and a receiver. Monthly subscriptions to the website to view your dog's data start from $9.95 per month.
Tech Specs (sensor)Dimensions: Length: 65mm, Width: 26mm, Depth: 18mmHousing Material: Moulded ABS plasticWaterproofOperating Temperature: -10C to 55C
Belkin NetcamLike many dog owners, I wonder what my two hounds got up to when I'm wasn't around. There are lots of network camera options out there, but any cam I was going to use needed to tick several boxes to earn a place in my home.
It needed to be easy to set up. I don't want to deal with arcane router settings and other nonsense. Life is too short
It needs to be unobtrusive. Having a huge camera with garish LEDs would also stick out in our lounge like a proverbial set of dog's bollocks.
It also needs to have a wide-angle lens to cover our entire lounge.
It must also work in low light conditions and even better still have a night vision mode. That way we could check in on our hounds in the early hours or late at night.
Above all, it also needs to be secure and simple. Anything that isn't set and forget won't get used.
After copious research I stumbled across a camera candidate that ticked all the boxes. The Belkin NetCam. It's not very sexy looking as it's done out in bland white plastic. This said it does sport a wide-angle lens an infrared mode and a microphone on its front. It's also so easy to set up that even I managed to get it right first time.
Like most other network-connected cams, the Belkin has a swivel base with screw slots. This means it can mount to a wall or other surfaces. Although it has an Ethernet port on its rear, you don't need to cable it, as it'll also play nice with 802.11 b/g/n Wi-Fi.
Getting set up was dead easy thanks to a simple 5-step setup card and a downloadable app for iOS and Android devices. These also meant I didn't need to muck about with router settings or get a doctorate in rocket science.
Once I'd installed the app on my phone, I flipped the switch on the back of the camera to the setup position and connected the power adapter.
Firing up the app I was then taken through a simple setup process that took 5 minutes. After flipping the setup switch on the NetCam's rear back to camera mode I was good to go. Total setup time 10 minutes.
The Belkin Netcam smartphone app might be basic, but that also means that most people can get their heads around it too. The main screen lists connected cameras which can have different names assigned to them as part of the setup process.
Once set-up, you click on the camera's name to go straight to its live video feed. The app lets you toggle the microphone or infrared and choose different video quality settings.
While watching live video view in the apps, you also have the option of taking a snapshot, or recording the video feed. The wide-angle lens also meant I was able to get a full view of my lounge.
I was pleased to note that unlike a lot of other netcams, its picture wasn't marred by fisheye lens distortion. Although its picture wasn't bad, sunlight entering my lounge windows did blow out the image.
The other big selling point with the Belkin NetCam was its infrared capabilities. It allowed me to check up on the lounge even in the dead of night. As I suspected, both hounds tend to spend most of their time sprawled out on the sofa snoozing.
Tech SpecsRRP$ $159.99Wi-Fi Support: 802.11b/g/nVideo format: H.264/MP4Resolution: 1280×720, 640×360, 320×180Frame Rate: Up to 25FPSStill Image Capture Resolution: 720PLens Focal length: 3.0mm, F2.0View Angle: Horizontal: 78°, Vertical: 45°, Diagonal: 90°Night Vision: 8 IR LEDs, 850nm
LED Dog CollarsOur boy greyhound's fur is pitch black. While soft and shiny, it also makes him next to invisible when walking at night. While he is always attached to a lead I still worried about what would happen if he slipped his collar amidst busy traffic.
The answer turned out to be as affordable as it was ingenious. On the web-based megamall that is banggood.com I stumbled across LED dog collars for US$2.99 - with free shipping to New Zealand.
Confirming my hound's neck size and which LED colours I wanted (red for our boy hound and pink for our girl hound) I put my order in and 3 weeks later they arrived.
On one end is a small LED assembly with a power source and on/off switch. The collars can blink or display a solid colour. Light gets carried around the length of the collar by an opaque layer of plastic connected the LED assembly.
The effect is brilliant. Both dogs look like extras off the set of the latest Tron movie. You'd have to be blind and driving using sonar to miss seeing them when they're walked at night wearing the LED collars.
About the only shortcoming I could see was that they collars don't look all that strong. If one of our hounds saw a cat and decided to give chase, the collar would most likely break, letting either dog run free. This said, they're separate collars that they wear when heading out for a walk, leaving the lead to clip onto their more robust non-LED illuminated collar.