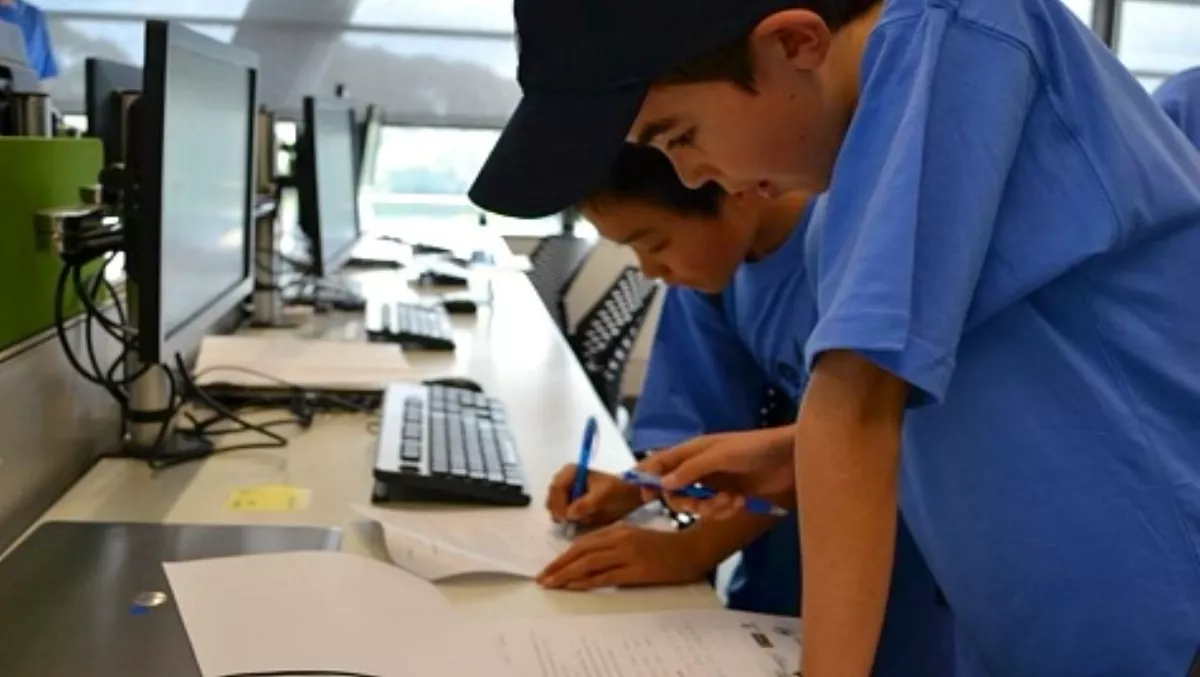 Hackathon brings Kiwi kids into the world of IT
FYI, this story is more than a year old
New Zealand's first large scale junior hackathon, JHack, took place this past Saturday in South Auckland.
Organised by the Manukau Institute of Technology (MIT) along with IT industry partners, the event attracted 120 high school students from more than 20 schools.
The students spent the day learning to code Minecraft software under the guidance of 30 industry mentors from Kiwi companies including Xero, Air NZ, BNZ, Deloitte and Vodafone.
With the help of these mentors, the students worked in teams of three to manipulate the coding in Minecraft software to create digital worlds.
Daniel Martushev, HP master technologist and JHack mentor, says Minecraft is like 'virtual lego' where users can change and extend the game with programming.
"Minecraft is good because kids are into it, and it is achievement based. It's sneakily teaching them how to programme, and seeing software in a way that's play orientated," says Damien Hansen, Xero developer team lead and JHack mentor.
Hansen says the team based learning is also a key aspect, as 'teamwork is the most important in coding'.
"IT is a very social career now. We wanted to show kids the work they could do in the future, and bring technology and people together," says Martushev.
"We're trying to make it cool and interesting, and show that we're not just sitting in front of computers, we're solving problems," adds Eileen Harris, Air NZ IT business performance manager and JHack mentor.
JHack was organised to encourage teens to think about a career in NZ's digital industry, which has grown by 9% p.a. for the past seven years, according to MIT.
In 2014 alone, the number of ICT jobs in NZ increased by 2,800, and the sector now employs more than 26,700 people, MIT says.
"The whole point of the event is to introduce kids that wouldn't normally look into the ICT industry, and to show that it's fun and interesting and there's more to it than just programming in a back room," says Martushev.
Edwina Mistry, MIT industry and community engagement manager, says, "There's a huge skills shortage in the IT industry. This is an opportunity to give the next generation some experience in coding, mentored by knowledgeable industry experts.
"It's a first step in a pathway from school, to a tertiary qualification, and a career in IT."
The event also showed students that coding is no longer relegated to the IT industry.
Greg Hoyle Jr, Xero front end developer and JHack mentor, says, "There's good logic and thinking for other careers, learning how to think through problems.
"It's about being curious. We're always looking for new solutions for problems, things we haven't even thought of yet."
For instance, one attendee - Khai Gan from Glendowie College - says learning programming tools and working in a team will help him in an architecture career.
The students who attended the event said it was 'very motivating', fun, useful and an opportunity to learn new skills.
According to Mistry, the response by students to the competition and coding has been very positive.
"We're blown away by their enthusiasm. In the month leading up to JHack, the kids had completed more than 2,500 hours of programming in our online challenges," she says.
Earning coding gold were Sacred Heart College's 'Cannoning Routers' and Epsom Girls' Grammar School's 'ScrambledEGGS', and silver went to Howick College, Whangaparoa College and Pakuranga College.
The top teams will now participate in a 'coding boot camp' at MIT in October 2015.
JHack was sponsored by MIT, Learn to Mod, HP, Propellerhead, Auckland Transport, Sovereign, Wynyard Group, Orion Health, Air New Zealand and Eagle Technology.
Related stories
Top stories