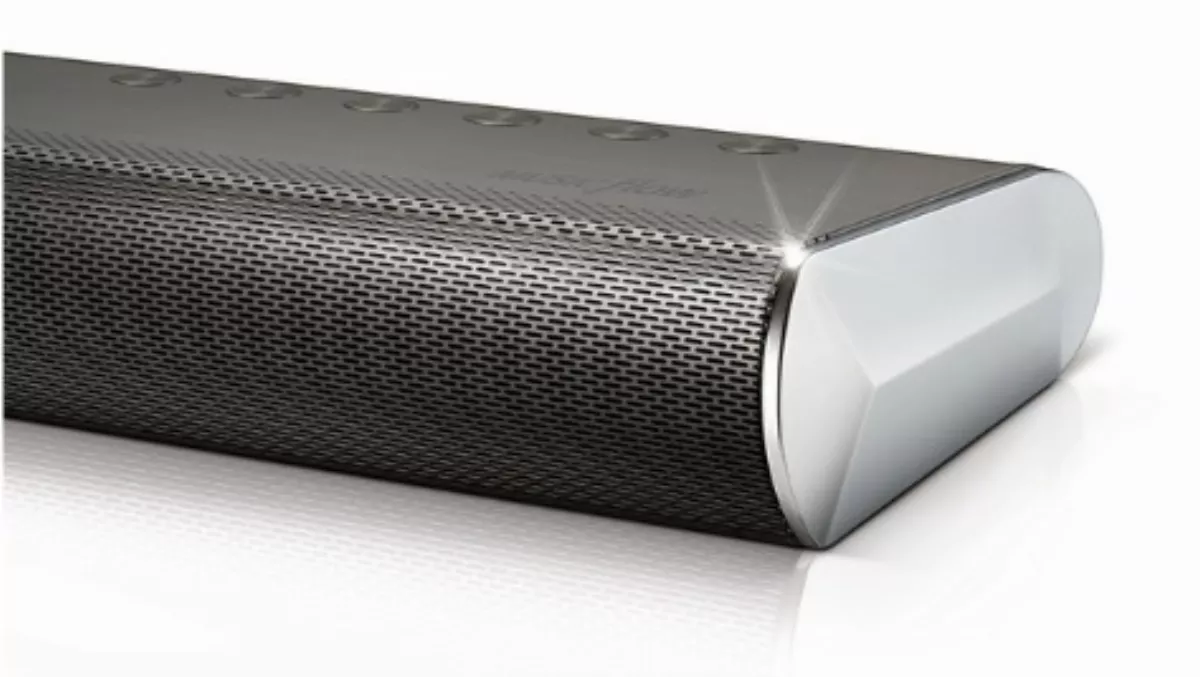 Hands on: LG LAS750M sound bar
By Patrick Pilcher,
Tue 10 Nov 2015
FYI, this story is more than a year old
As amazing as ultra-high def, flat screen and 3D capable smart TVs are, they still have one big drawback. Most have the same audio output characteristics as my grandma's transistor radio circa 1975.
This might sound harsh, but most flat screens don't have a lot of space for bass drivers or capable mids. This means that by and large, audio is often lacking.
While this can be remedied with an AV amp, many people don't want the cost, complexity or cable clutter associated with a home theatre amp.
There is an option for those wanting a clean, simple and minimalist set up that can deliver the goods – a sound bar.
LGs answer to this is the LAS750M. It mightn't have the finesse of an AV amp, but its audio output is a marked improvement over that of my ageing 40" LCD TV.
Look and feel
The LA750M houses audio drivers in a sleek, low profile rectangular alloy cabinet. It is clean and stylish looking. There are only six buttons along its top right edge, breaking its otherwise smooth design. A small wireless subwoofer is also included that you can tuck away out of sight. All it needs is a power socket.
LG have designed the LAS750M so that it stands just 45mm high. It'll fit in front of most flat screen TVs and won't obscure the infrared remote receiver. This design means that in most settings the LAS750M blends in rather than dominating the TV room.
A particularly handy feature is the LED display, which sits behind the speaker grill. This can tell you at a glance that the LAS750M is on or what mode it is in. The display disappears when the LAS750M powers down.
Specs
About the only thing missing connectivity-wise is a kitchen sink. This said I haven't checked the packaging, there may be one included. Getting hooked up offers plenty of choices including HDMI, SPDIF and a 3.5mm audio jack.
Wireless options abound including Google Chrome Cast. Which lets you cast music apps from an Android or IOS Smartphone/tablet.
LG's blurb says that the LAS750M sound bar contains 4 drivers rated at 40 watts. The wireless sub is 200 watts.
In use
Getting the LAS750M hooked up was a 10-minute task that was so idiot proof that even I got it right first time. For most, the toughest part of the install will involve un-boxing the goods.
The LAS750M has two HDMI ports, both tucked away in a recessed cavity at its rear. One is an input (to which I hooked the MySky), the other is an HDMI ARC (Audio Return Channel) out which connects to a TV.
Connecting with HDMI allowed me to control the LAS750M with my TV's remote. It also reduced the amount of cables hanging around. For those without an HDMI option, there's also a S/PDIF input, plus a 3.5mm jack.
The LAS750M also sports WiFi connectivity and a LAN port for use with MusicFIow (more on that later). Bluetooth is also present so you can cast media from a Smartphone or tablet using the chromecast app.
Audio-wise, the LAS750M was a definite step up over the anaemic audio delivered by my ageing 40" LCD TV. Highs were crisp (but not too strident). mids while there were a tad muted. The wireless sub delivered punchy yet taut and controlled bass.
Because they're designed more for movies than music, audio sometimes lacked warmth. I remedied this by selecting music mode on the remote, which provided a wide soundstage.
The wireless sub didn't overpower the LAS750M's output and wasn't too boomy or flabby. In pyrotechnic laden movies the sub still held its own. It added convincing Oonst to movies such as Terminator and interstellar.
MusicFlow is the LAS750M's killer feature. It delivers multi-room audio (if you have other LG music flow speakers). You can have different music playing on musicflow speakers around the house.
Getting musicflow set up is was effortless thanks to an Android (and iOS) app. The setup process involves adding the LAS750M to existing music flow speakers. You can also group Music flow speakers. This means that you can add music flow speakers as rear surrounds.
Sonos could finally have a competitor.
Driving the LAS750M was pretty straightforward thanks to a well thought out remote. There's an Effects and AV Sync buttons that allow you to fix audio-sync by tweaking audio timing by up to 300ms.
Verdict
The LAS750M is a stylish sound bar that'll work with all but the most low-slung flat screen TVs. It's also a solid addition to an existing LG Music flow speakers.
The LAS750M also wins on the audio quality front. It delivers clear and expansive audio plus solid, controlled bass. While it isn't going to replace a dedicated music amp, its output for movies and TV impressed.