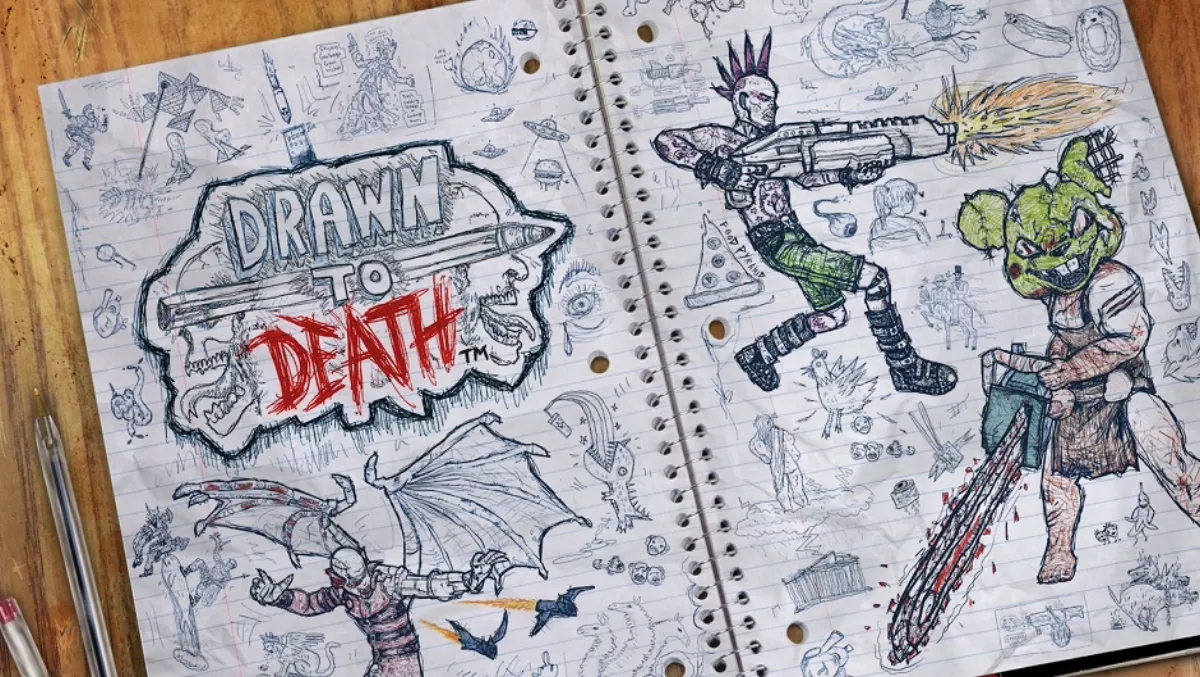 Hands-on impressions with Drawn to Death on PlayStation 4
FYI, this story is more than a year old
Drawn to Death is a third-person multiplayer online shooter with a unique design choice. The game's design is very reminiscent of what you would see in the '90s. Drawn to Death comes from the mind of David Jaffe who was the game designer on many Twisted Metal and God of War video games. Much like those aforementioned video games, Drawn to Death is also very violent, rude and crude. I must say, the atmosphere of the game is very "in-your-face" and can be a little off putting at times. This game isn't shy on letting you know that you are playing inside of a textbook of a teenager that's bored at school. All of the illustrations and characters come to life in this teenager's imagination. That said, the look and humour of the game can be a little over-the-top. When you are playing the game, you can even see memes popping out to let you know you have died. The design is unique I must say, but it's not for everyone. Anyway, this game is an online third-person shooter so expect to experience a lot of chaos. It's an always online video game so don't expect to see any single player content here.
Since this game is always online, your experience is dependent on how well the servers are acting. When I first played the game, the servers were running great as I found many opponents to play with and didn't see any lag. However when I wanted to play the game the next day, the servers weren't working completely! Unlike For Honor or Overwatch, this game doesn't allow you to combat A.I. bots either. It would have been cooler if you were able to practise against A.I. bots to hone your skills as it can be hard just taking the plunge against real players when you haven't even got the basics of the game down yet. At launch, this game offers six playable characters for you to choose from. The character design is the most unique I have ever seen in a video game in recent memory. You can play as a punk rock dude, a demoness as well as a shark with a woman's body and even a teddy bear with a chainsaw! The characters also have their own unique abilities that you can take advantage of. For example the punk rocker has a guitar which he can turn into a battle axe. The ninja shark on the other hand is fast on the battlefield and she can use a grapple hook to traverse the terrain with ease.
The actual shooting mechanics is arguably the weakest aspect of this entire game. This is a fast paced twitch shooter and it can be hard to play this game if you're not quick enough on your feet. Players zoom really fast around the levels that it's hard to keep up. Not to mention your location on the map is known at all times as waypoints are on every character. You cannot hide like a chicken or camp in one area. The more you play the game, you can unlock different skins for your favourite characters or get new ones to play with. The game also has loot boxes where you will have items for things like new taunts and other cosmetic extras. Visually, Drawn to Death is an of an acquired taste. I understand that the game takes place inside of a teenager's textbook, but the majority of the game being coloured blue and white is aesthetically displeasing. In my opinion, the game could have looked much better if they added more colour to it. Right now, Drawn to Death is free to play/download this April if you have a current PlayStation Plus subscriber. If you don't have PS Plus, it costs $NZD31.95 in New Zealand on its own. It's worth checking out if you love fast-paced online shooters, although I will say the game is not as accessible as titles such as Overwatch.