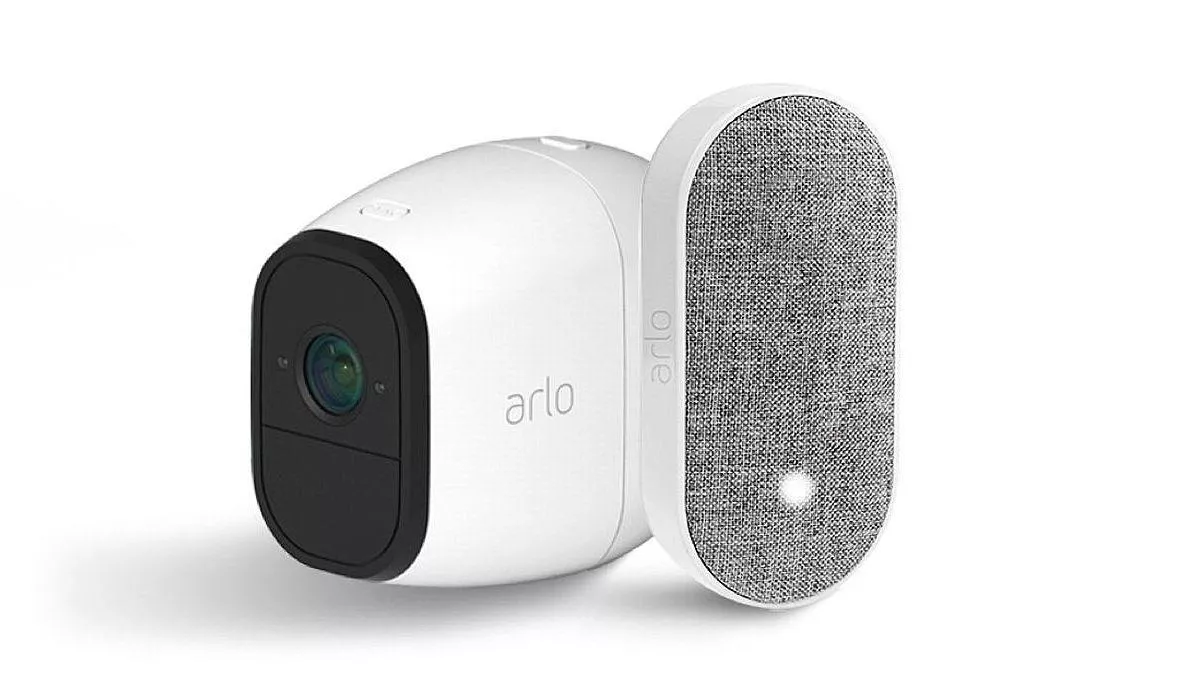 Hands-on review: Arlo rings my bell and offers Ultra + Security
Mon, 4th May 2020
FYI, this story is more than a year old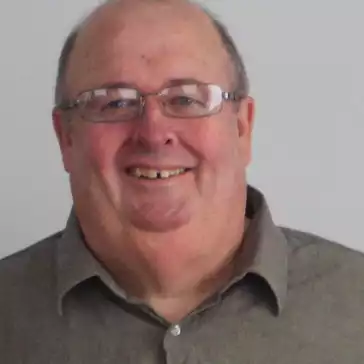 By Owen McCarthy, Reviewer
The Arlo Ultra + Wire-Free Security Camera System
During my time in lockdown, I have been looking at some of Arlo's home security products. At the core of these are the Ultra + cameras and Arlo's Advanced SmartHub. I was also given the Arlo Audio Doorbell and Arlo Chime, and it has been interesting seeing how well these products integrate.
The Arlo Ultra + cameras offer 4K quality, with colour night-vision, built-in siren and spotlights and the ability to chat with your visitor, whether it's your favourite mother-in-law, the neighbour's cat or someone intent on 'redistributing' your hard-earned belongings. For those of us who wonder at those grainy security photos that crop up on Police 10-7 or Wellington Paranormal, my two favourite reality cop shows, prepare to be disappointed. Even at dusk, the photos are rather good with plenty of colour. Try as I might, I haven't been able to take a bad one yet!
To start off, first download the Arlo app from your Android or iOS store. Everything is controlled from the app and routed via the Arlo hub.
The Arlo Advanced SmartHub
The Arlo Hub is the unobtrusive hub of the system. Setting up was quick and straightforward. Adding all the components took mere minutes, and I've been creative when naming them, choosing a particularly outstanding feature of our neighbourhood. I'll be dusting off my electric screwdriver and mounting one camera, which I've named 'Front Door' in the front porch. More about that later.
You can angle the camera to get the best view of what's happening, and you can even focus on what parts of the picture you want to include in your security screening. This means that if your neighbour drives out, your camera won't wake you up. (My neighbour leaves punctually for work at 4:45 AM, but I'm no longer alerted by my phone and can continue sleeping blissfully unaware of their early start.)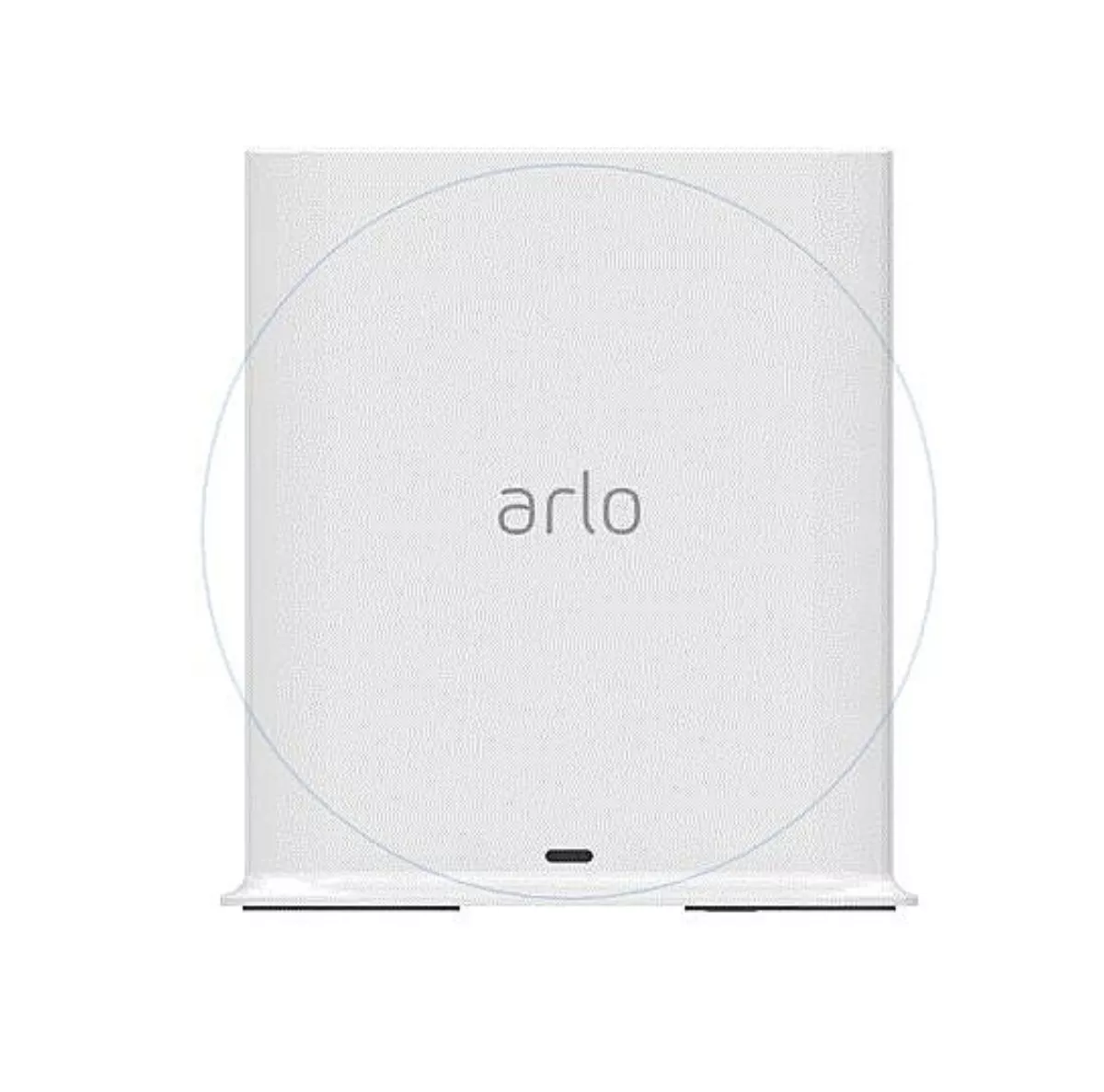 Arlo Ultra + Cameras
Camera specifications:
4K Video with HDR
Colour Night Vision
Integrated Spotlight (note: guaranteed to surprise visiting felines looking to make deposits in your garden!)
180º Viewing angle (so make sure you position your cameras to take the most advantage of this)
Crystal Clear 2-Way Audio (No matter where you are, you can chat with your visitors)
Advanced SmartHub
Weather Resistant
Battery life: 3-6 months
Battery Charge time: 3.5 hours
The second camera in my kit is mounted in my study, and I'm about to take a selfie to show you the picture quality. Note the carefully stacked cartons, adding to the ambience of my workspace. You will be wowed of course by the clear detail and the author's dashing good looks.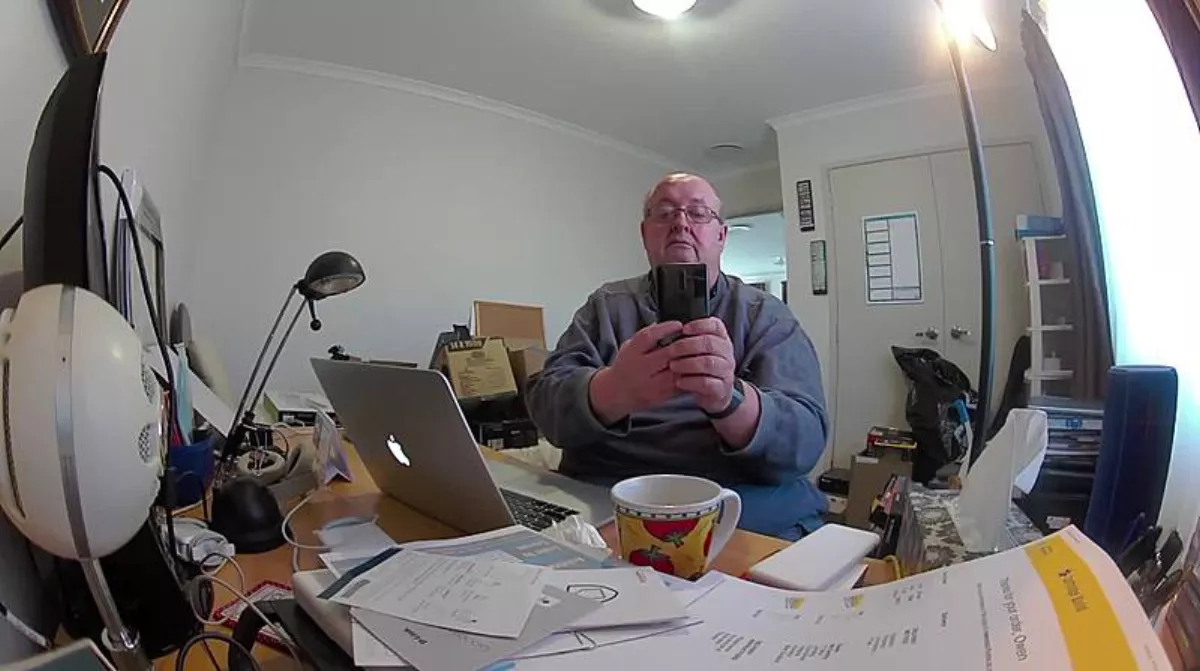 Suffice to say, being able to take still snapshots from the live feed and then download or email them from your phone is a brilliant option. You can have Billy Burglar's mugshot posted before he's even picked the lock. I'm impressed by the high resolution and have easily checked in from remote locations and watched the wind gently wafting through the leaves of the trees in our street. The sound quality is crystal clear too which means you can have a two-way chat with your visitors from wherever you happen to be. Via the Smart Hub, you can pair the doorbell with the security camera.
The Arlo app is clearly set out and simple to follow. I only encountered one problem: I can only take still shots from one of the cameras. After that, if I want to capture a still from the other, I had to remove and reinstall that camera. It's a very minor bug that I'm sure will have a fix.
I was thinking that 180º of viewing angle sounded a trifle much, but as you can see, the camera does a very good job of not making everything look too fish-eyed. To give you an indication, the Blue Microphone is only slightly offset to the front of the camera. The shots you get are easy to see, and I doubt that any user will need to worry about having security shots that are too grainy. The cameras also come with spotlights built-in, ensuring you will be able to see any night visitors clearly.
Arlo was kind enough to include two mounts, one that screws into the rear of the camera, and another magnetic mount that requires another fitting that I don't have.
The cameras are powered by rechargeable batteries while the doorbell takes two AA batteries. You can keep track of battery levels via the Arlo app, but you can expect between 3 – 6 months of operation between charges. If you have the cameras on continuously, you'll see a corresponding reduction in battery time. You can tweak settings in the app depending on your own preferences.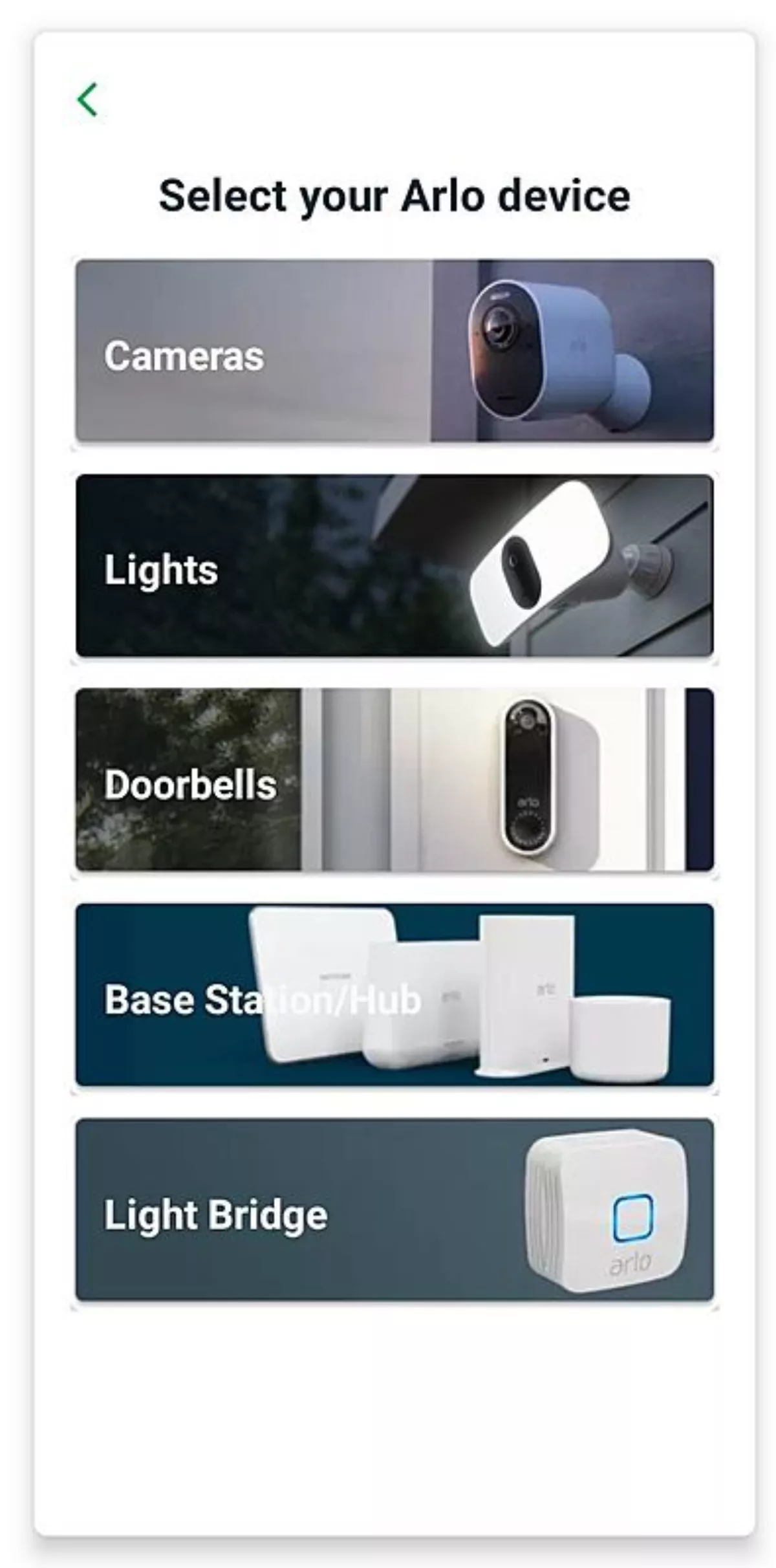 Included in the kit are the screws for both the magnetic and the screw-in fittings. Both make it easy to remove the cameras for recharging. I found it very easy to set up, and even after three weeks of intensive poking around, I am still discovering features. I have enjoyed playing with the settings, rotating the camera views, talking to myself when trialling the doorbell, and taking a few selfies purely for demonstration purposes of course.
You can also add an SD card if you want to store footage in-camera. If you are going to invest in your home's security, make sure you look at the available accessories available. You may want to add more cameras, or even change their locations, in which case you may want to fix a few more of either the magnetic or screw-in fittings. The clarity of the photographs will be sure to outwit more than a few defendants in the future.
The Arlo Audio Doorbell
Adding the doorbell is a no-brainer. Operating on Murphy's Law, I know now that vital courier drop-offs always seem to occur when I'm hanging out the washing, shopping, or in the shower. I can now chat with my visitors no matter my location, and it's one more way to add to your peace of mind.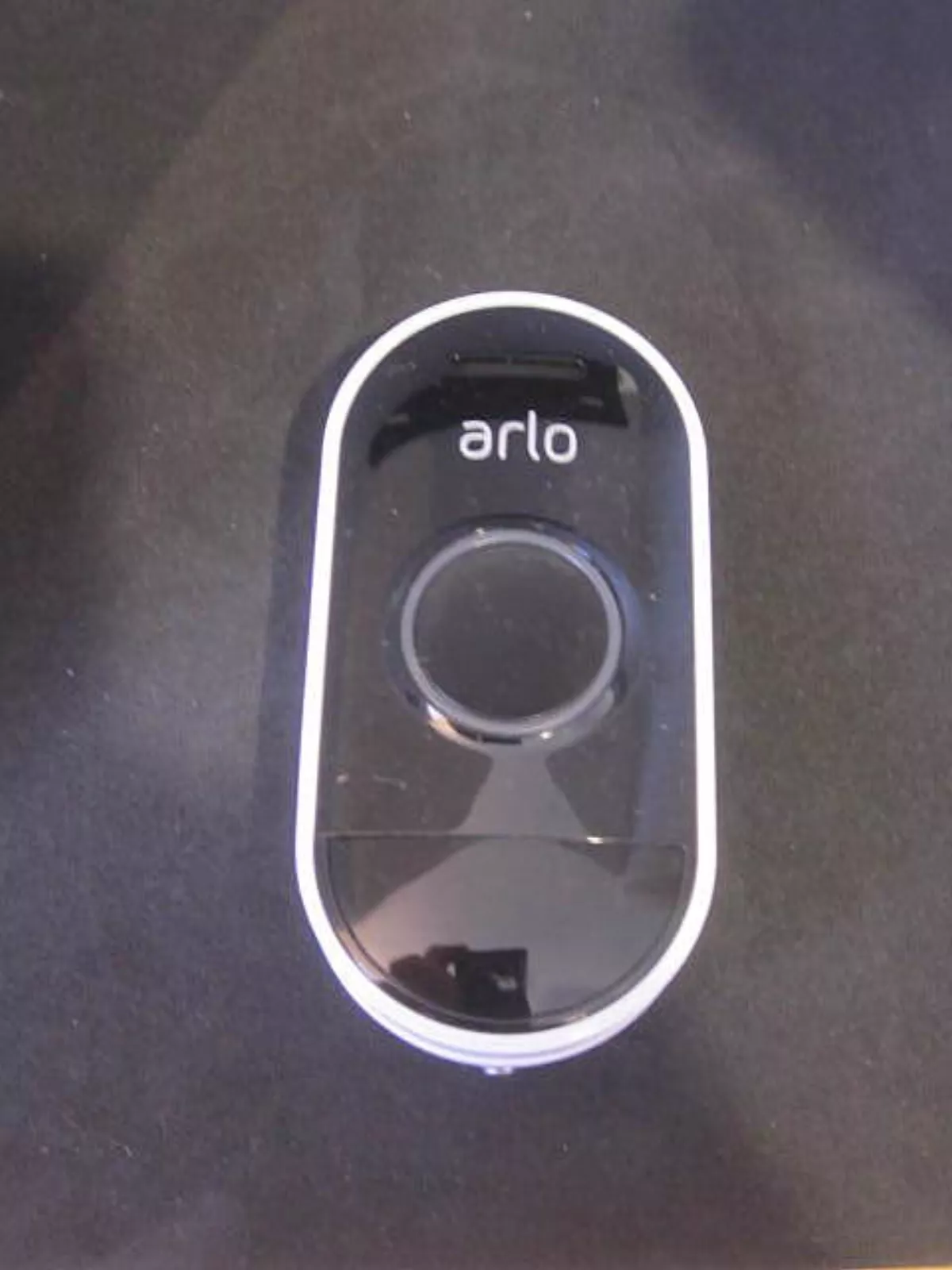 It's interesting to see that Arlo is not resting on its laurels. I recently heard that the company is releasing a video doorbell, which will mean you can angle your existing camera for other hotspots near your entrance. With an easy-to-use interface and a variety of choices in settings, you'd be well advised to examine Arlo's range of home security offerings. Stay safe and keep on bubbling!