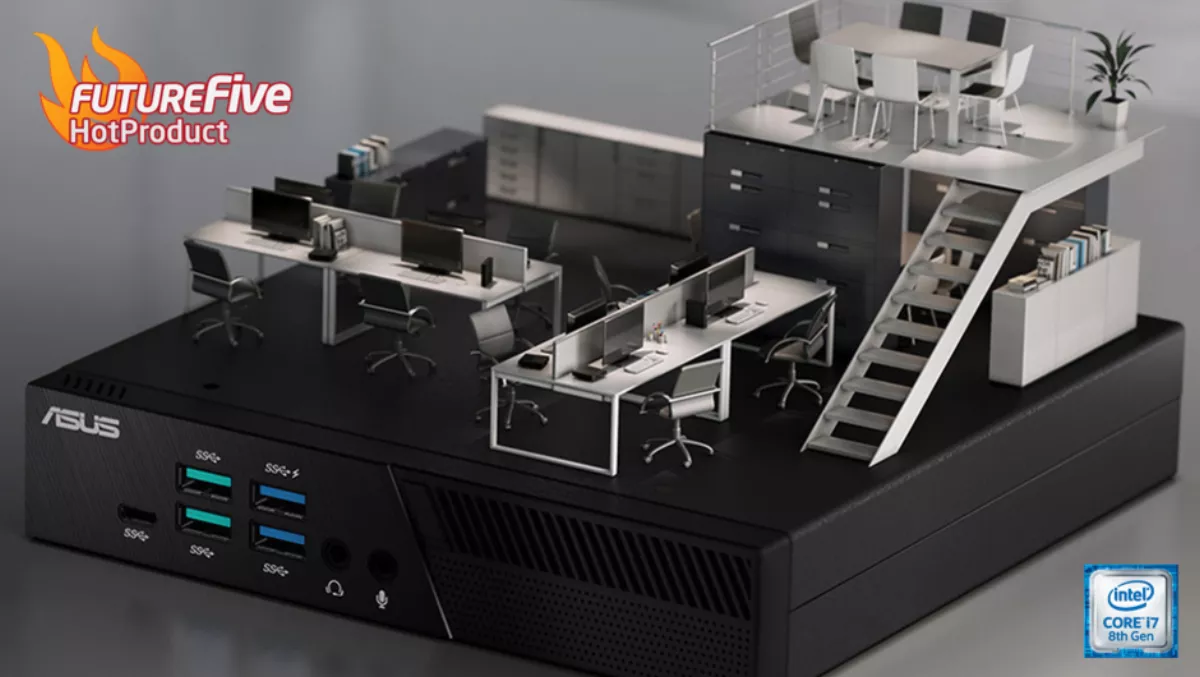 Hands-on review: ASUS Mini PC PB60G
FYI, this story is more than a year old
In my last review, I waxed lyrical about the ASUS 27" monitor.
This time we're focussing on the ASUS Mini PC PB60G, and I'll start by warning, don't be fooled by the "Mini" part of the name.
ASUS has packed maximum power into minimal space.
The ASUS Mini PC PB60G is aimed squarely at that part of the market that requires workstations with a good degree of specification.
Wired or wireless, the PC will cope admirably in either environment, which is a rather unexpected bonus.
Some of the features
Size-wise, the ASUS Mini PC PB60G takes up a tiny 175 x 175 x 70.2 mm footprint with a Graphic module installed.
In my cluttered workspace, this is a godsend.
You can lie it flat, vertically, or mount it with a VESA mount to the reverse of your monitor.
I connected to the ASUS Professional PA27AC monitor.
If I were equipping this in my office, it would be a logical and highly usable combination.
More on that later.
Meanwhile, the PC offers a plethora of ports, offering USB-C, HDMI, USB, WIFI and Ethernet.
Packed in is an Intel Core i7-8700T CPU at up to 4GHz, with 32GB of DDR4 RAM, a Samsung 250GB M.2 worth of storage.
The PC is designed for the professional and office environments, so users will in likely do their serious storing on either a physical or Cloud server.
Out-of-the-box experience
My review model was already partially set up, so I spent precious few seconds connecting to the WiFi network, connecting a keyboard and wireless mouse, and logging into my Microsoft account.
Connecting to my printers was nice and simple, although I did have to trek over to the laser printer to get the WPS code.
There appeared to be no need to go searching for drivers for my peripherals as everything I connected has worked without an issue.
Performance
With no workbench testing, I had to test performance the old-fashioned way.
All my efforts to put the ASUS Mini PC PB60G under some kind of performance strain proved in vain.
My test model, the six-core i7 with 32GB of RAM, has proven a pretty silent affair.
Some user reviews of earlier models talked of ramping up fans, but several days into my trial, I haven't managed to tax the CPU at all.
Honestly, I tried my hardest!
When thinking of RAM, I harken back to my teaching days, when we'd talk about RAM in terms of available bench-space in a virtual kitchen.
Imagine your mum as the CPU, doing stuff like baking your favourite Black Forest Gateau, and think of the ingredients as software applications.
The more powerful the CPU, the faster your mum works.
Not only does it have plenty of processing power; it comes also with an abundance of ports.
My particular model is made up of two modules, which are currently lurking in the rear recess of my desk, somewhere behind the review monitor that I can't bear to pack up.
My mouse and keyboard hog more space than does the ASUS.
Those workers who like a nice area to spread out their paperwork, coffee mug and cuddly toys, will revel in the ASUS' meagre demands for space.
The range of features packed in is anything but meagre, however. ASUS' technical writers say you will find in the ASUS Mini PC PB60G, "Comprehensive I/O ports including a configurable port to fit a wide range of business uses.
I had fun plugging in as many accessories as I could find, and still had ports to burn.
For users with a range of peripherals, from the classic USB 2.0 to USB 3.1 and USB Type C to HDMI, the ASUS Mini PC PB60G will handle them all.
For this test, I was able to toss aside my overworked USB hub.
I've been interested (some might say nosy) to see what purchasers have had to say about the ASUS Mini PC PB60G range.
Not long into my research, I discovered (and ASUS confirmed) this model is so new that most retailers are yet to stock it.
However, the earlier PCs in the series have a loyal following.
Coupled with the PA27AC Professional monitor, the graphics quality is impressive.
If you're in a business requiring a high level of accuracy in this area, you would be hard pressed to find superior graphics in this litre-sized bundle.
If you need more than one monitor to work with your super-sized databases and spreadsheets, there are four mDP ports from the graphics module.
Combined with the HDMI and DP on unit, the ASUS Mini PC PG60G can easily connect six monitors out of the box via direct connection.
The ASUS Mini PC PB60G comes with VESA mountings, meaning you can have it either tucked behind a monitor or perched horizontally or vertically on your desktop.
Depending on how you like your workstations configured, the ASUS Mini PC PB60G allows for flexibility and versatility.
Users who need the processing power will be drawn to the PB60G, packing the equivalent punch of some of its bigger desktop competitors.
For those whose needs are more modest, the i5 model will suit the users whose needs don't extend beyond the normal office applications.
A word to educators and technicians
From a technical deployment point of view, imaging the Mini models will be straightforward, as long as you remember to delete any unwanted items, such as that pesky reminder to install McAfee.
I understand why it's preinstalled, but it isn't useful in the context of an office with multiple workstations, that will doubtless use a networked-deployment solution, rather than a single-user setup.
I envisage that the ASUS Mini PC PB60G will make users and technicians alike rather happy.
With their versatility, and the option to deploy higher or differently specified models as required, they provide enough uniformity and enough variance to solve a lot of logistical headaches.

Putting on my education cap, I would have loved one or two of the i7 workstations to handle multimedia projects, especially ones where multiple monitors come in handy.
Whether creating a musical masterpiece or editing the next Fair Go Ad Award winner, the i7 promises enough power to have your learners happily engrossed on their projects.
For those of us for whom established multimedia workhorses are way out of our budget, the ASUS Mini PC PB60G provides a robust solution.
I envisage the ASUS Mini PC PB60G easily coping with applications like Moviemaker, Photoshop Elements and Premier Elements.
Pricing and availability
These models are so new that some resellers are yet to list them.
However, my friends at ASUS tell me that price-wise, their RRP starts at $1,999 for the i5, while the i7 will retail at $2,399.
Be sure to check out ASUS' website.