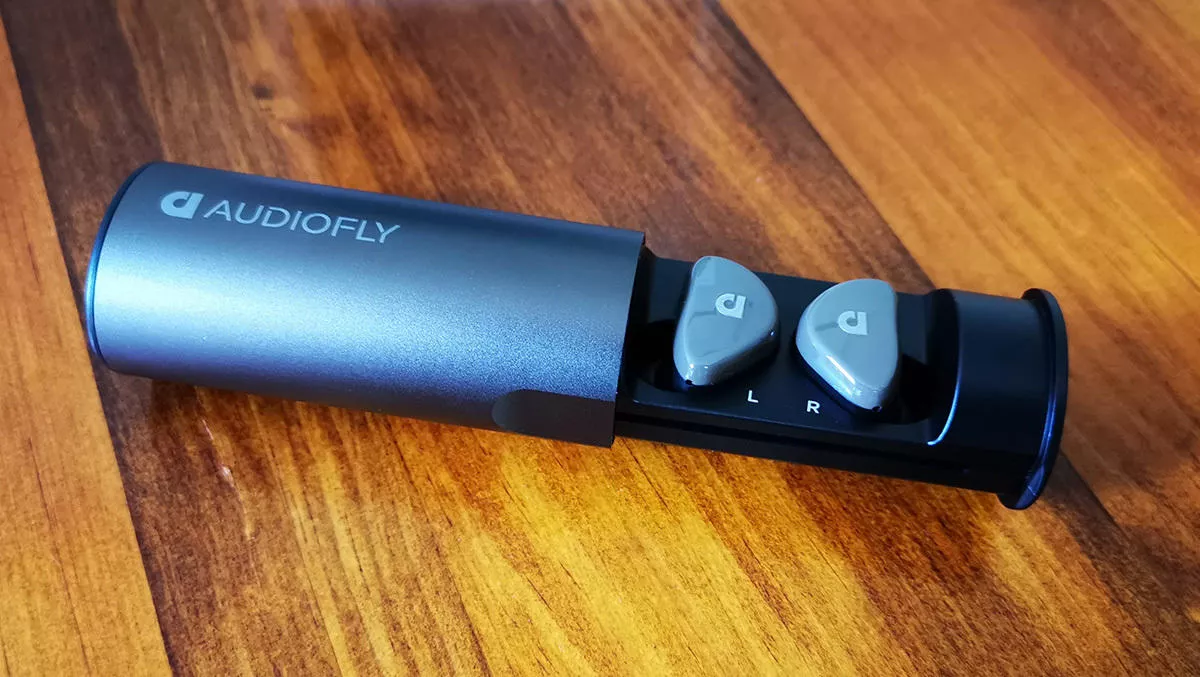 Hands-on review: Audiofly AFT2 wireless earbuds
FYI, this story is more than a year old
Earbuds continue to become essential accessories to our busy lives. With more teams working remotely, clear communication, even on the go has never been more important.
Audiofly's Australian-designed AFT2 true wireless earbuds not only boast Qualcomm's aptX audio tech but also the semiconductor giant's cVc noise-cancelling tech.
I'm very aware that I have written a lot of words about these little devices that you only want to use to listen to music on your phone and take the odd call as you are out and about. For the most part, these little earbuds all do the same thing as they snuggle up inside your ear canal. But some important details separate a decent pair of buds from a good pair.
The first thing that you notice when you open the AFT2 packaging is the rather impressive cylindrical charging case that houses the earbuds, ready for action. Pulling the top slides the case open to reveal the earbuds, held magnetically in place. Whilst I really like the style and metal finish of the case, and it certainly makes a statement, it is a bit on the unnecessarily big side.
Whilst charge cases, by virtue of their function, are not known for their svelte dimensions, the AFT2 case is going to be very uncomfortable in your pocket unless you've fully transitioned to sweat pants by now.
I can't say that I'm overly enamoured by the actual earbud design. I've seen worst, but the browny-grey chassis of the review sample didn't do it for me. The AFT earbuds are on the in-ear variety, requiring a snug fit in your ear canal. Whilst a bit on the large side, the shape of the buds conformed well to the shape of my ears and seemed reasonably secure. Of course, this fit very much depends on your ears, but the fit is comparably on par with other in-ear earbuds I've tried.
The kit comes with just one set of interchangeable smaller rubber gaskets. Whilst these were a little more comfortable for me, the earbuds didn't feel quite so secure. I'd probably fair better with a medium size, as supplied with other earbuds, but not these.
Pairing the earbuds with my phone was painless. I just removed the buds from the charging case and found them in my phone's Bluetooth app. The Bluetooth 5.0 with aptX allows for at least 10m of uninterrupted audio from your connected device. The earbuds can also be used individually.
The audio clarity is not bad. I found that some low-range tracks with a heavy bass were best not played at max volume, even though other earbuds have no trouble. More mellow tracks and sensible volume settings have the earbuds providing what I'd say was an above-average audio experience.
Telephone calls are clear but without ambient audio, my voice sounded weird. The other party found my voice crisp and clear but did mention that they could hear their voice fed back to them.
The earbuds each have one button to control calls and audio payback. This means learning a list of combinations to take/hang-up calls and adjust your music.
The battery charge is pretty good, giving you 10 hours in the earbuds and a further 25 in the charging case. A 20-minute charge of the buds will grant you a couple of hours of play, with 90 minutes to completely charge the case. The case is charged via a USB Type-C socket. The kit comes with a USB Type-C to USB Type-A charging cable.
The Audiofly AFT2 earbuds have been out for a while now, and this review comes to you via an office tidy-up that uncovered devices sent over to me at the end of last year. The advantage of this is that the formally $200 earbuds can now be found for half that if you shop around, whilst they are pretty good value at the RRP, at $100 they are a bargain.