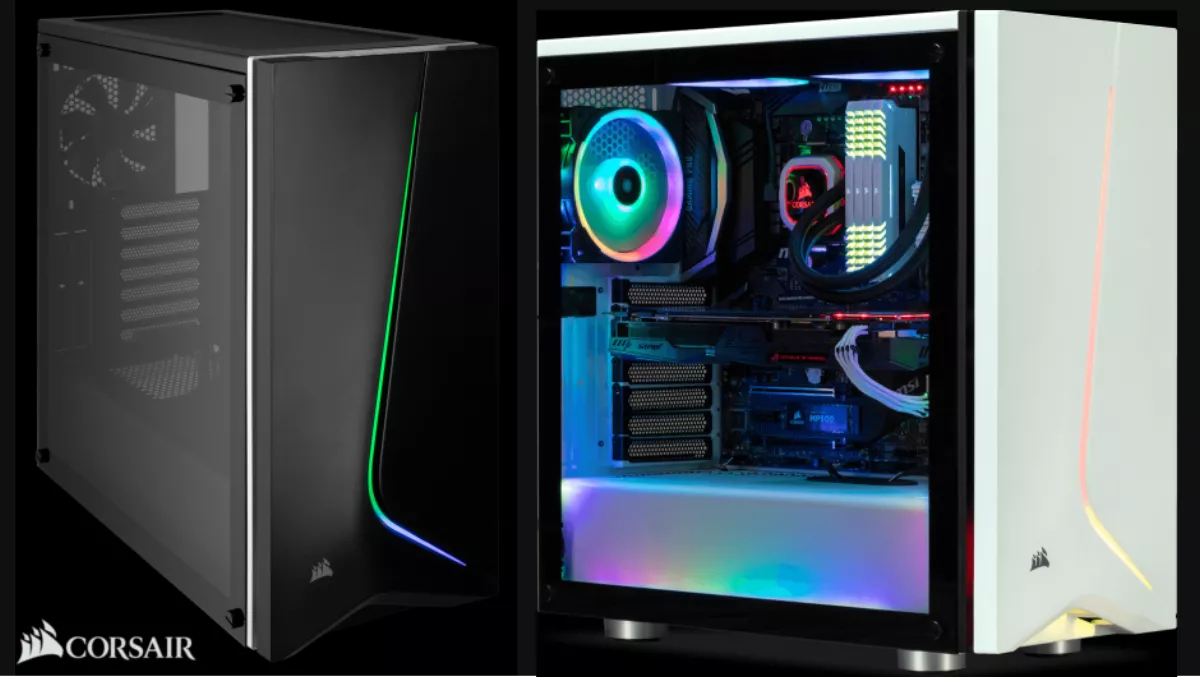 Hands-on review: Corsair Carbide Spec-06 Mid-Tower gaming case
FYI, this story is more than a year old
For hardcore gamers, this bespoke gaming machine is the dernier cri. Every gamer will tell you tales of the best build ever, and aesthetics appear to feature highly in the hierarchy of needs.
For me, the chief issues are performance and cost. That and a tidy build, without cables going everywhere. Corsair, of course, have thought ahead.
Choosing a case is just the beginning of a number of decisions you will make. However, you need never feel alone, as Corsair are there offering support in many ways, from technical support to an excellent "How to" section. Besides the excellent build of this case, they appear to have preempted all the likely questions we can think of.
I've been let loose with Corsair's Carbide Spec-06 mid-tower case. After initially struggling to get it out of the box and unseal the ziplock bag containing the instruction manual, removing the covers was a cinch.
You'll find the accessory kit neatly packaged in one of the hard drive bays. All the existing cabling is neatly arranged, and I've determined that my cabling will be neatly dealt with courtesy of the included ties. If I need more I can buy a pack for $1.23 at my local supplier.
With their clever built in controller, you can choose from up to seven RGB colour displays. Even if you totally suck as a gamer, your friends will be too distracted by the quality of your tower to notice.
Along with the rather attractive white case, Corsair have also kindly provided me with another bit of kit, the H100i Pro CPU liquid cooler. I feel unworthy even to unbox it.
Not only will it keep your system cool under the harshest overclocking, it will make your build look rather chic. Coupled with the RGB display, neighbours will be thinking you've got your Christmas display working early this year.
Corsair have ensured that this cooler will cope with Intel or AMD chips. Whether you opt for the latest i7 iteration or a Ryzen, you can't go wrong.
Make sure you keep an eye on the dimensions for GPU, PSU and cooler. The manual tells me that my GPU maximum length is 370mm and my CPU height must be a maximum of 170mm.
The book also shows you where to position your motherboard, whether you choose an ATX or MATX.
The Carbide case provides ample space for, two 3.5" drives, and two 2.5" drives. My build will feature an SSD to house the OS and software. The solid state drive will house my data. More on choosing the components in a later article.
Those of you who may be of the "fumble-fingered" type will breathe a huge sigh of relief. Corsair have made the tower rather spacious, and I haven't even had to grab a screwdriver to ready it for the build. Stripped down and ready for action, even my fat fingers will have plenty of room to manoeuvre.
What else do I need? I already have a Corsair gaming keyboard, gaming mouse and gaming headset, so I'm nicely accessorised. I'll talk later about CPUs and motherboards.
I know that RAM, graphics cards, CPU and motherboards will challenge my tight budget. I'm also investing in a static-free mat for working on my build. My trusty VGA 10- Full HD monitor will have to do in the meantime, but I'm planning on a multi-monitor display for later, so graphics capability will be important.
Keep watching as my build progresses. For those of you embarking on similar journeys, make sure you do your homework.
For more information, check out the Corsair website. Don't forget to check in on my progress, and watch for my upcoming article on demystifying the computer chip.
Related stories
Top stories