Partner content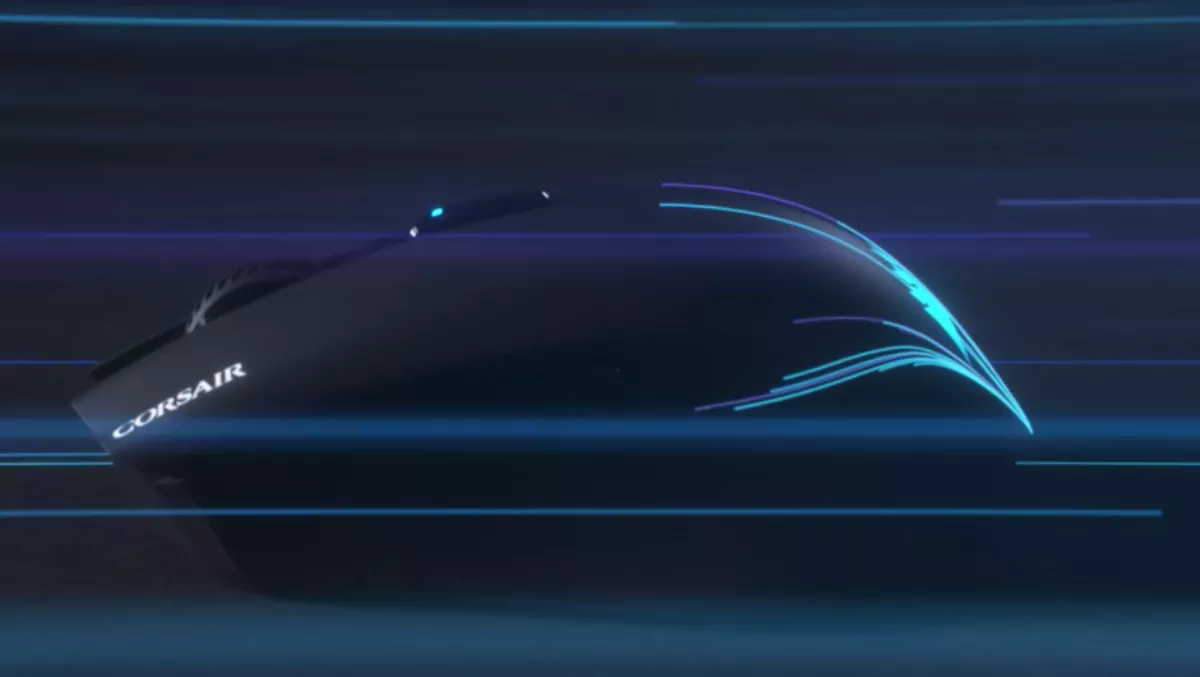 Hands-on review: Corsair's Harpoon: All you could want from a wireless mouse
FYI, this story is more than a year old
The Harpoon RGB Wireless is Corsair's culmination of its wireless mouse technology, put together in a surprisingly affordable package.
Positioned as a wireless mouse that delivers wired performance, the Harpoon comes equipped with Corsair's new SLIPSTREAM wireless technology.
It weighs a measly 99g, coming in super light compared to other bulkier gaming mice in the market, and has a 10,000 DPI resolution.
The Harpoon can connect wirelessly via 2.4HGz and a USB dongle, Bluetooth connection, or a USB wired mode.
The 2.4GHz connection promises up to 30 hours of gaming with standard lighting and 45 hours without backlighting in a low-power mode.
Switching to the Bluetooth 4.2 connection allowed me to squeeze an extra 10 hours out of the mouse, which should be enough to last any gamer between charges.
Design
The Harpoon features a sleek yet understated design.
Corsair manages to strike the perfect balance between having the right number and positioning of programmable buttons without making the Harpoon scream 'ULTI GAMING MOUSE'.
The Harpoon has two programmable buttons within easy reach of the thumb on the left side of the mouse which are positioned in a way that still ensures they aren't pressed by accident.
The sides have triangular rubber side grips that provide solid traction on the mouse while gaming, even if you have palms that tend to get sweaty.
The dual-prong clickers give the mouse a distinctive silhouette worthy of a name like 'Harpoon', while the body has a smooth matte finish and the backlit Corsair sail logo that would complement most gaming setups well.
One thing I really enjoyed about the design was the fact that its USB-A charging port slots right in between the two clickers.
This meant that I was able to still use the mouse while it was charging.
The mouse also has a small compartment underneath it that houses the USB dongle for 2.4GHz connections, which means you won't lose it if it's not your connection of choice, but also that it's not far from hand if you need to use it.
I love the flexibility the mouse gave me - whether I wanted to go with wireless, wired, or with a minimal-port setup, the mouse had an option that met my needs.
Finally, the mouse is really compact compared to some of the other gaming mice available in the market.
This might bother gamers who are used to mice with adjustable weights, but for my smaller palm size, I was pleasantly surprised by how it fit.
This makes the Harpoon a highly viable wireless mouse option for female gamers.
The Harpoon is aimed at both claw and palm grippers.
Personally, as a palm gripper, I loved the curve of the mouse, which fit really comfortably into my hand. I got used to the way the mouse felt within a few hours.
I was able to use the mouse for hours and hours on end without any cramping or discomfort, something I've come to expect from the contoured form factor of gaming mice, and the Harpoon did not disappoint.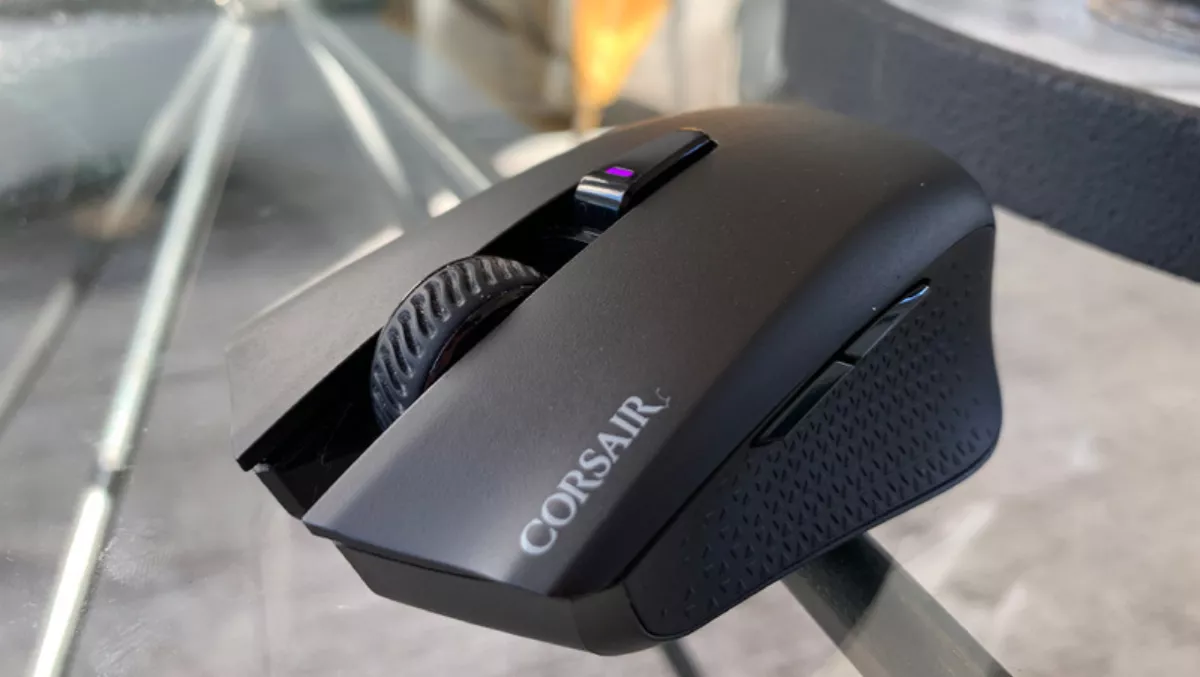 Performance
The Harpoon is a beast when it comes to performance.
Corsair's new wireless SLIPSTREAM technology promises 50% faster wireless connectivity compared to the previous generation of wireless Corsair mice.
This means sub-1 millisecond point-to-point wireless latency.
Using the mouse, I found that it had virtually zero latency and was highly responsive to even the most subtle wrist movements, which means I didn't have to make extra or unnecessary movements for the cursor to get it where I needed it to be.
The Harpoon features a centre button that can adjust DPI quickly, which I found particularly useful for first-person shooter games when you need to switch between a high DPI for quick viewfinding and a low DPI for sniper accuracy.
The fact that it's a physical button means that this can be done by feel alone – perfect for moments when taking your eyes off the screen for even a second could cost your life, or worse – cost your guild the raid.
I liked that I could use Corsair's iCUE software to programme the different DPI settings on the mouse and customise the LED lighting so it corresponded in a way that made sense to me, so I knew immediately which DPI I was on.
The Harpoon also comes with onboard flash memory, which means the DPI and lighting that I worked so painstakingly to tune to my liking can be saved to the mouse's onboard memory and will stay the same if I connect it to another device.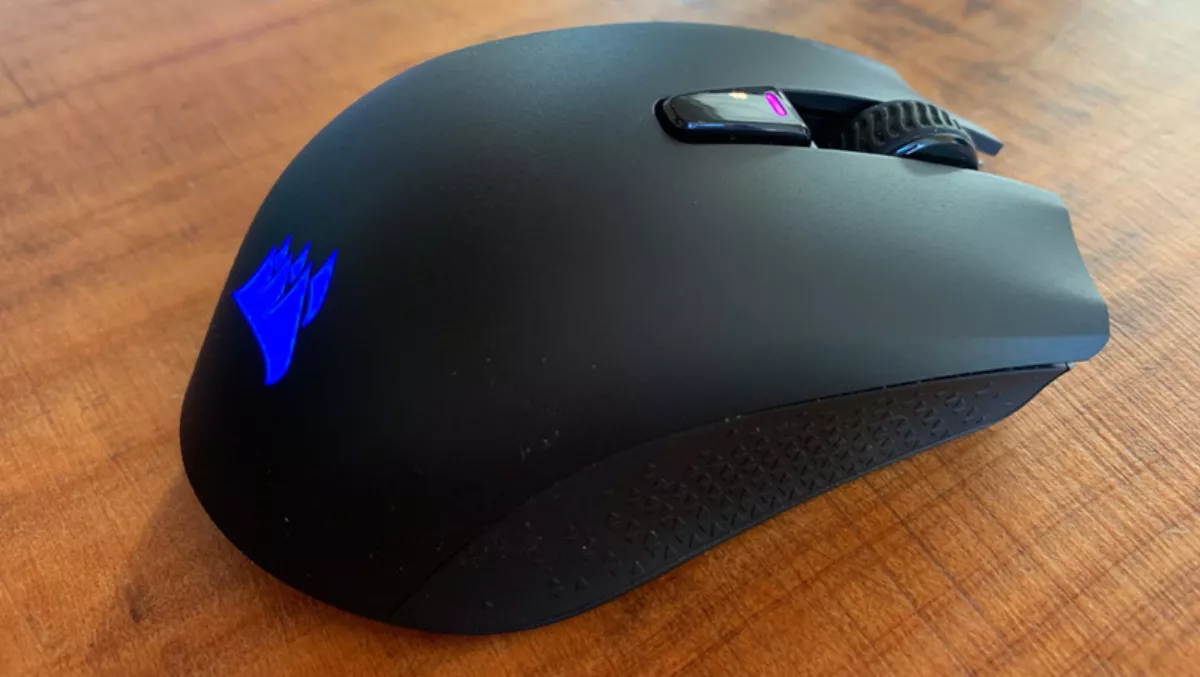 Verdict
At the highly reasonable RRP of $109, the Harpoon packs a surprisingly powerful punch for its price point.
The only wireless mouse that comes anywhere near in the price point is the Razer Atheris which compromises significantly on performance with a much lower DPI and has AA batteries instead of rechargeable lithium ions.
It performs well on all metrics, and the only complaint against it is that it's a solely right-handed mouse and can't be configured for left-handed use.
There's something to be said about the clean and clutter-free feeling of a wireless gaming setup.
Related stories
Top stories