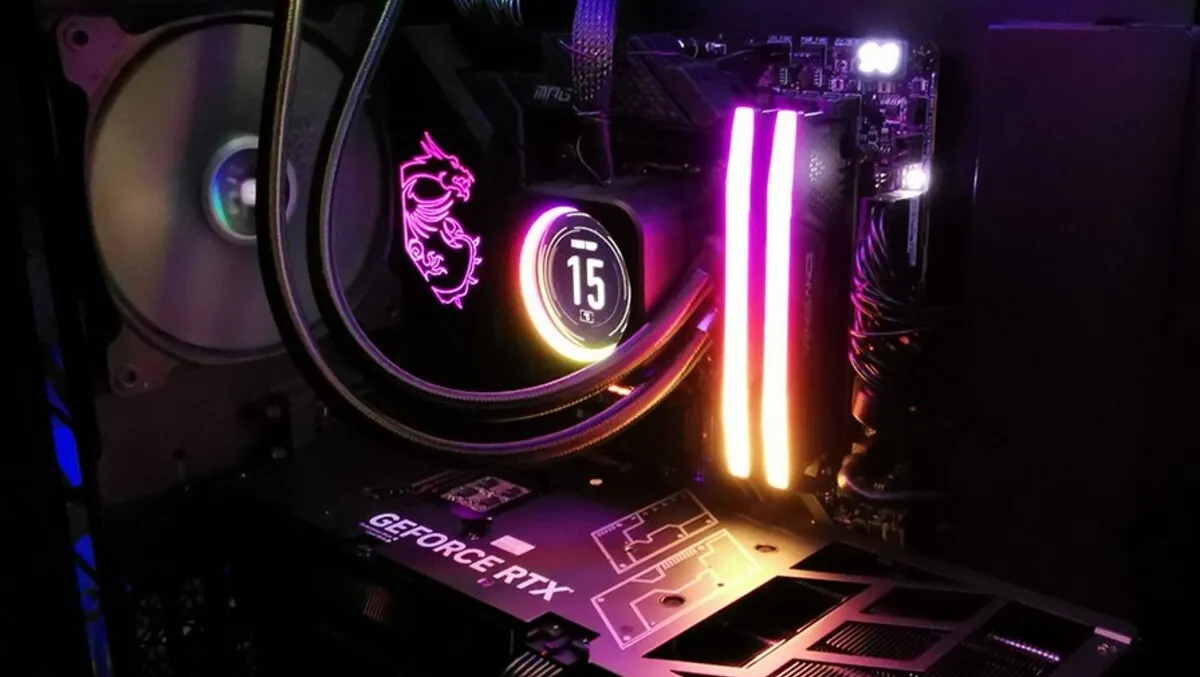 Hands-on review: Corsair Vengeance RGB DDR5 5200MHz 48GB kit
Corsair's new Vengeance RGB PC5-41600 DDR5 is not only performance memory but also a break from the norm coming in 24GB modules. For as long as I can remember, computer memory has conformed to standard multiples increasing by powers of two: 1,2,4,8,16,32,64,128,256,1024, etc. First in kilobytes, then megabytes, to the gigabyte modules we use today.
I tend to find that the real-world performance between different memory speed specs is more academic rather than having any practical advantages. The most important thing is that you have enough memory on board to carry out the operations that you need to do with your PC.
This 48GB kit offers users more choices in their system configuration and budget.
Right now, your average consumer PC doesn't really need 64GB of RAM. For gamers, you probably only need 16GB, although I'd always suggest 32GB, to be on the safe side. If you use your PC for photo and video editing, depending on the size of the files that you work on, the more memory, the better. 48GB gives consumer PCs a bit of extra headroom without splashing out on 64GB of expensive DDR5 modules.
Using 24GB modules is an interesting deviation from the norm. I can only imagine that the design came about during the silicon shortage a year or so ago, but even then, we don't have 12GB modules, which would make more sense were that the case. I know 24GB and 48GB memory configurations are used in server platforms, with the memory capacity better matching the number of cores in the server machine. With desktops now having 12 and 24 cores, this could be the same reason.
Out of the box, the Corsair Vengeance RGB DDR5 modules do look rather striking with their black aluminium heat spreaders and the "Vengeance" branding. There's a customisable strip of RGB lights running along the top of each heat spreader. Using Corsair's one-stop-shop iCue application, which I use for my Corsair M65 RGB Ultra mouse, MM700 RGB mat, and H150i Elite LCD CPU cooler, you can not only view the RAM's current status but also coordinate the RGB lights with your other compatible peripherals.
With XMP timings of 40-38-38-84, Corsairs 24GB DIMMs are burdened with a latency that is a bit on the high side, though not that you are going to actually notice it. The voltage at 1.250V suggests some headroom for those that want to overclock the modules. Even the frequency of 5200Mhz (actually 2600Mhz but multiplied by two as these are double data rate modules) isn't really top tier. The real selling point is the memory capacity and that you save yourself $50-$100 over a 64GB kit.
I tested the modules on an MSI Z690 Carbon WiFi motherboard, running the latest BIOS, with an Intel Core i9-12900K CPU and an Asus TUF Gaming RTX 4090 GPU. Installation when without a hitch. All I needed to do was switch to the XMP profile in the BIOS to get the memory running at full speed.
As this is a new memory capacity, if you are upgrading, it's worth checking that your motherboard supports 24GB DDR5 modules. There may be a BIOS update required that you should install before fitting the new modules.
Without going into the minutiae of DDR5 operations, I used a few generic benchmarks to get an idea of how the Corsair Vengeance RGB DDR5 5200MHz 48GB kit stacks up for your average user.
Performance Test 11 not only benchmarks the entire PC but also gives performance stats for each component. I can use this to gauge the effect of the RAM on the PC's overall operation and check the DDR5 operational speeds. PC Mark 10 tests the overall PC in a variety of simulated office and creative situations to indicate performance across the board. 3D Mark Timespy Extreme is more of a GPU test than anything else, indicating PC performance when playing games.
For comparison, I also benchmarked my existing 32GB DRR5 6000Mhz modules (38-38-38-77 1.3V XMP). These are faster DDR5 modules with better timings but with less capacity.
The Performance Test Passmark score with the 48GB Corsair RAM installed was 10869.5, whereas, with the 32GB memory, it was 8230.4. The actual memory benchmark for the 48GB was 3262 compared to 3457 with the lower latency 32GB memory installed. The higher Passmark score likely reflects the larger capacity, whilst the lower memory benchmark reflects slightly slower read/write speeds.
The PC Mark 10 test better reflects the real-world user experience, with the 48GB Corsair modules providing better results than the 32GB modules across "Essentials", "Productivity", and Digital Content Creation", the Corsair overall PC Mark 10 score being 9946 compared to 9274.
There was not a lot of difference between the 3D Mark Timespy Extreme benchmark score for the 48GB Corsair memory, 17534, and the 32GB RAM, 17578. This is to be expected as the GPU does the heavy lifting with games. The slightly lower score for the Corsair RAM may be due to the higher latency of the modules, or just a random processing artifact. They are essentially the same score confirming that the larger capacity of the 48GB Corsair modules will likely yield no performance improvement over 32GB modules for gaming.
The above results proved to be pretty much unsurprising. The tests benchmarking PC operations confirmed that the 48GB Corsair Vengeance modules increased overall PC performance, similarly, there were performance gains with those tests for productivity and creative applications. The Performance Test result did, however, highlight the slightly lower read/write speed due to the Corsair modules' higher latency. The GPU/gaming-intensive test showed no real advantage over the lower-capacity modules.
Corsair's 48GB 5200MHz Vengeance RGB DDR5 kit offers a less expensive way to future-proof your PC beyond the more common 32GB. It can also ensure that you have memory capacity when working on large media files or having many applications running at once. I'd most definitely consider installing this memory in my machine, as I'm always editing photos and videos, as well as 3D modelling and rendering. But those that are just playing games would likely find sticking with 16GB or 32GB more cost-effective.