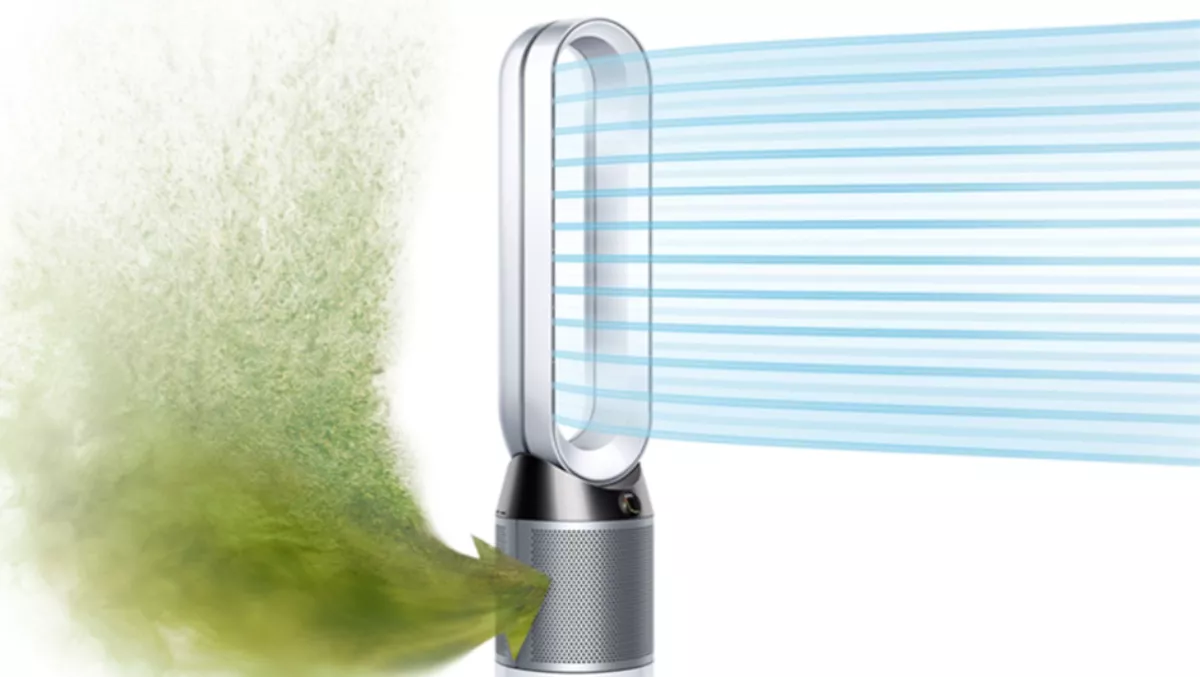 Hands-on review: Dyson Pure Cool Purifying Fan
By Owen McCarthy,
23 Nov 2018
FYI, this story is more than a year old
In October 2017 I regaled you all with tales of my allergies and how the Dyson Pure Hot+Coollink made quite a difference to my allergies. It was heartbreaking when I had to return it.
This time I have the Dyson Pure Cool Purifying Fan and after less than a week my nose is clear, my eyes are shiny, and my coat is glossy. Like many of you I suffer from allergies and when they hit, my eyes run, my nose is redder than Rudolph's and my asthma flares up. Apart from that, the osteoarthritis in my right ankle, and my hypochondria, I'm a picture of health.
Dyson shared a survey titled Kiwi Misconceptions of Indoor Air Pollution. Our households contain particles known as VOCs, or volatile organic compounds. These are found in items like household furniture and fresh paint, which explains my reaching for the inhaler whenever I paint. Opening a window will often do little-to-nothing to improve the air quality. In springtime pollen floods the air. If you leave your car outside, have you ever noticed the fine layer of dust that mysteriously appears?
Our air quality is also affected by the pollutants we cheerfully pump daily into the air. On a clear day, drive to the top of the Bombay Hills and observe the black blanket that trails along Auckland's motorway. We're breathing that stuff in, along with house dust, mould spores and dust mites. All of these are fine allergens, guaranteed to keep many of us reaching for the Ventolin and other such inhalers. The fine particles have a way of snaking past our nasal hairs and into our lungs.
Using the Dyson Link mobile app, you can monitor the level of VOCs in your home. When those levels are raised, you will benefit from a purifying fan with a HEPA air filter. I did some digging and found out from AirPurifierRatings.org that:
"HEPA is an acronym that stands for High Efficiency Particulate Air. This is a pleated filter that traps airborne particles as they pass through an air purifier. A true HEPA filter removes 99.97% of all particles that are 0.3 microns in size or larger. This is known as the HEPA standard. Although, in marketing we see HEPA as a term to mean in general a high efficiency filter."
The Dyson contains replaceable, non-washable glass HEPA filters and carbon filters. Remaining filter life is displayed on the Dyson's display and on the Dyson Link app. Replacement is a simple procedure, explained in the very user-friendly manual.
I took a Pomodoro break to check the readouts on the Link app. It shows that the air quality in our bedroom improved while we slept. I don't want to know what caused the little spike. I have consequently made a mental note not to eat baked beans before bedtime.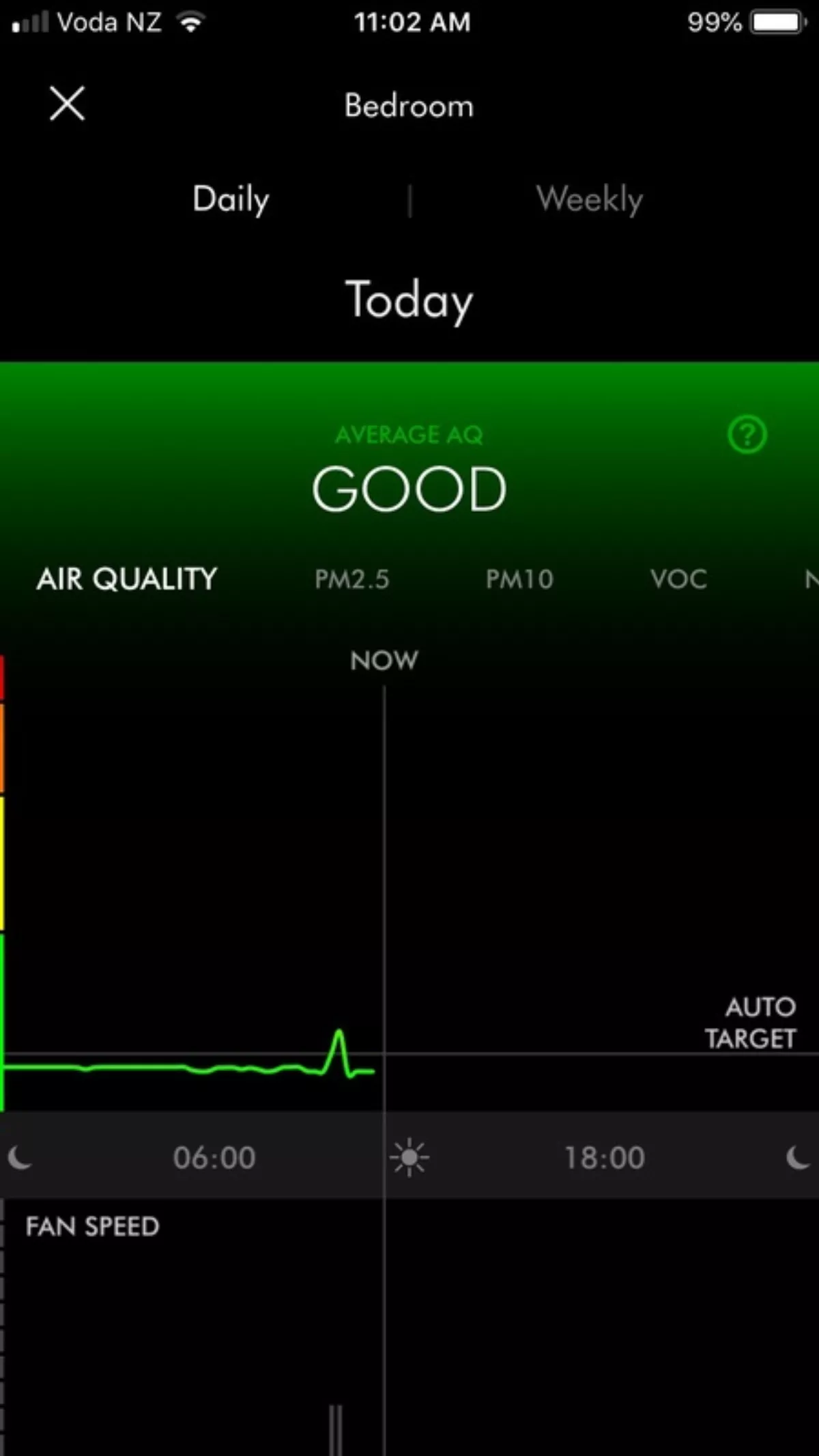 If air quality is affected by a pollutant, the display will show you the symbol for it, such as oxidising gases and larger and smaller items of particulate matter. All this is accomplished by the Dyson's link to your home WiFi network. The graph lowers as the filters kick in.
Dyson have labelled their product Pure Cool, and the other night I discovered the reason. When I turned the Dyson on in Night Mode, the room quickly cooled. After an hour or so of tossing and turning, we slept soundly. If I run the timer for an hour or so before bedtime, I found that I fall asleep very quickly. In hot weather, I'd be inclined to run it all night so the circulating air can cool our fevered brows.
Dyson's range of controls and information readouts is impressive. I mentioned Night Mode, which basically is a quiet operation with airflow ranging from 1-4 on a scale of 1-10. It's like sleeping in a gentle breeze. You can control the oscillation from 0° through to 350°, which means you get a nice airflow directed where you want it.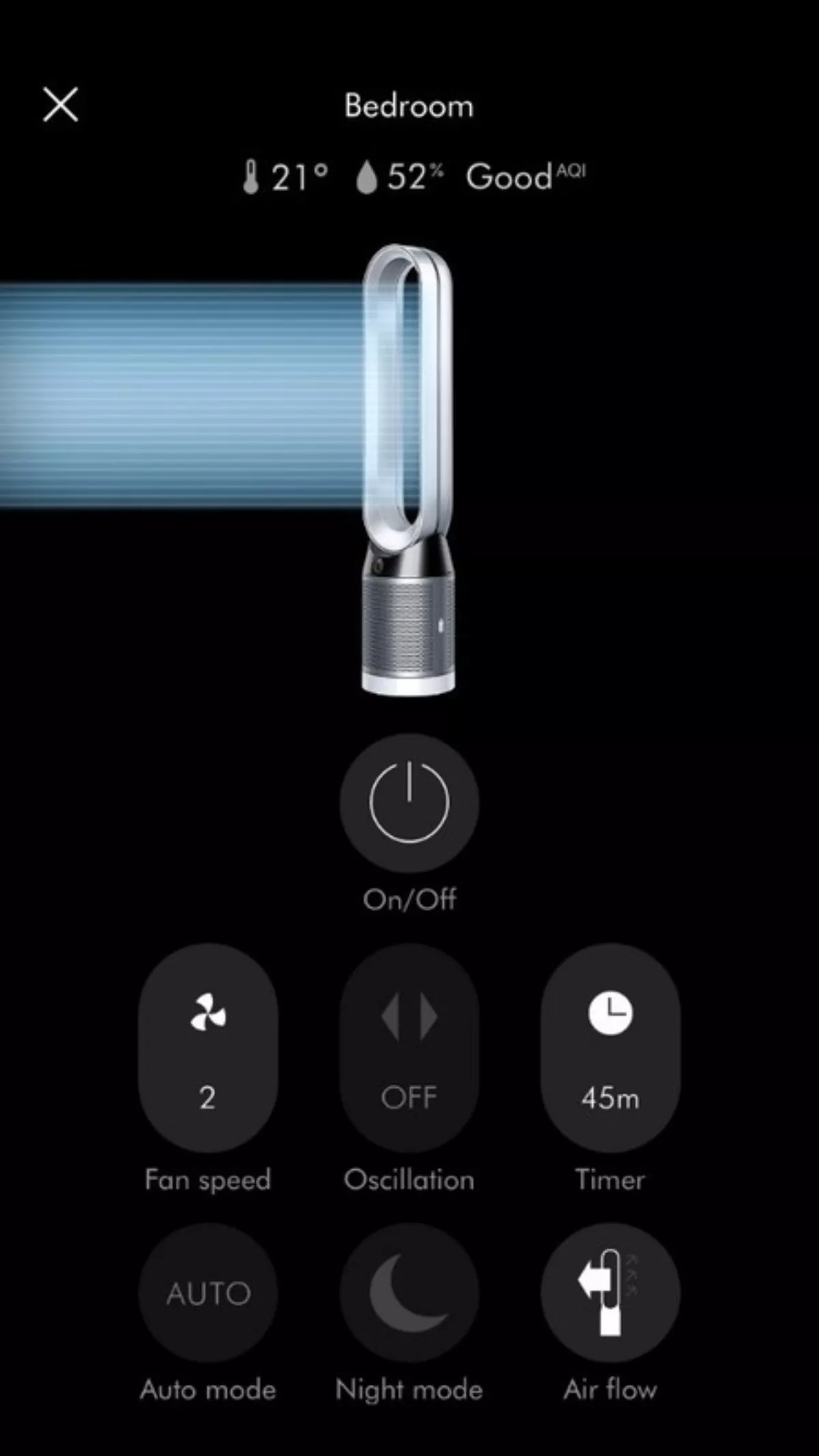 The Dyson Pure Cool shows such promise in making a positive contribution to health and quality of life. It will capture more allergens and fine particles than a home ventilation system. The Dyson Link enables you to have control virtually anywhere. There's no longer any reason to suffer through spring or those hot and sultry nights.