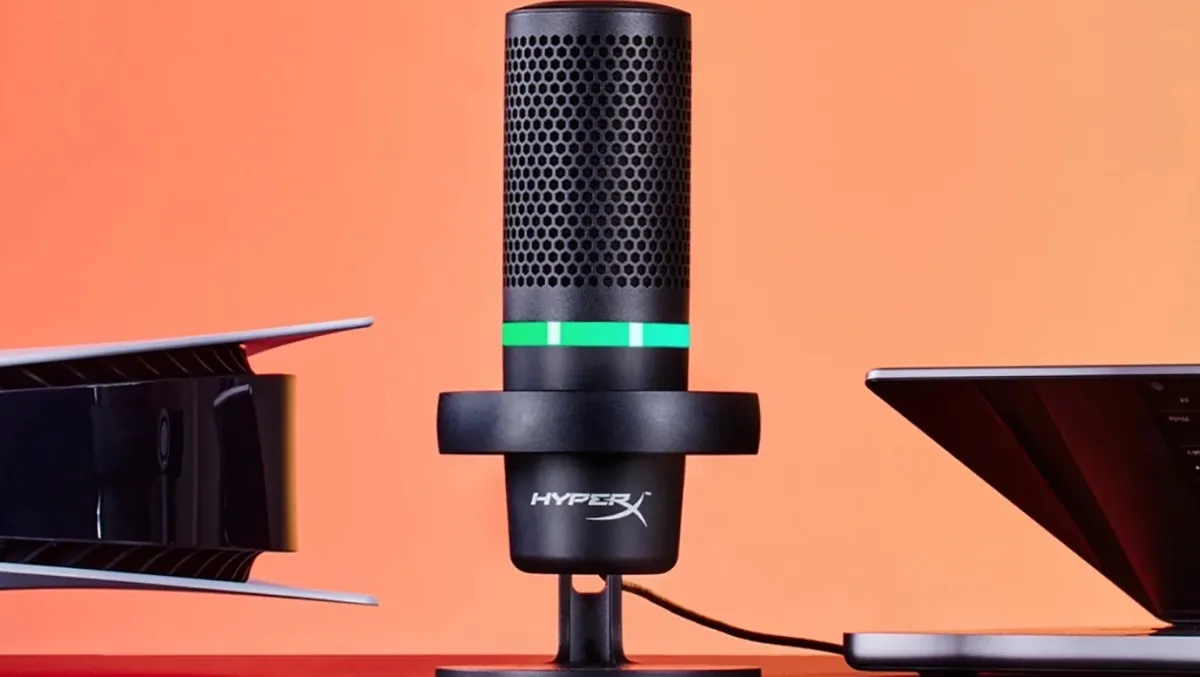 Hands-on review: HyperX DuoCast USD microphone
When it comes to finding a microphone that combines affordability, versatility, and quality, the HyperX DuoCast stands out as an impressive option. Released on August 6, 2022, at the reasonable price of $99.99, this microphone is packed with features that are sure to delight both newcomers and professionals in the world of audio recording.
Build Quality and Design
The HyperX DuoCast is a well-crafted device that exudes sophistication with its sleek black metal finish and tasteful RGB strip. With dimensions of 140 x 236 x 127mm and weighing 502.9g, it's a robust yet compact microphone that would fit seamlessly into various recording environments.
What strikes me most about the DuoCast's design is the visual functionality of the RGB strip. This strip not only adds to the aesthetic appeal but communicates gain levels, selected polar pickup patterns, and mute status. A blend of form and function is always appreciated, and HyperX achieves that beautifully here.
Features and Usability
The DuoCast is armed with two polar pickup patterns - cardioid and omnidirectional - which significantly adds to its versatility. Whether you're hosting a podcast, taking part in a conference call, or chatting with friends, the DuoCast can adapt to your needs.
Its onboard gain adjustment and suspension mounting apparatus are worth noting. The latter effectively prevents vibrations from reaching the microphone, while the sturdy metal stand ensures stability. The inclusion of an adapter to solve the absence of a threaded insert for professional mounts further exhibits HyperX's attention to detail.
Controlling the DuoCast is intuitive, with a rotary knob accounting for most adjustments, including switching pickup patterns and adjusting gain. The microphone also connects effortlessly through the included USB-C to USB-A cable and offers a 3.5mm headphone port.
The DuoCast does have its limitations, such as the lack of sidetone adjustment and the somewhat challenging on-the-fly settings adjustment. However, these are minor flaws in an otherwise stellar device.
Sound Quality
Sound is, of course, the essence of a microphone, and the DuoCast does not disappoint. Its electret-based condenser microphone is fairly sensitive, delivering lovely sound, especially when used in a quiet space.
Its dual pickup patterns are a highlight, and the built-in foam filter handles plosives efficiently. For podcasters and semi-professionals working in acoustically treated environments, this microphone is an ideal choice.
Conclusion
The HyperX DuoCast is a shining example of a product that balances quality and affordability. With a well-considered design, useful features, and commendable sound quality, it's hard not to recommend this microphone to anyone in need of a versatile USB microphone.
What sets the DuoCast apart is its commitment to the user experience. From its visually appealing design to its functional features and thoughtful inclusions like the shock mount, it's clear that HyperX has made efforts to create a microphone that caters to a wide array of users.
In a market flooded with options, the HyperX DuoCast has carved a niche for itself. Whether you're a podcaster, gamer, or just someone who appreciates good sound, the DuoCast is worth considering.
The minor drawbacks it does have are dwarfed by its positive aspects, and its performance in various scenarios demonstrates its utility across different applications.
In conclusion, the HyperX DuoCast is not just a very solid choice for a USB microphone - it's a must-consider for those looking to step up their audio game without breaking the bank. Its good build quality, nice set of features, and appealing design make it a winner in its category.