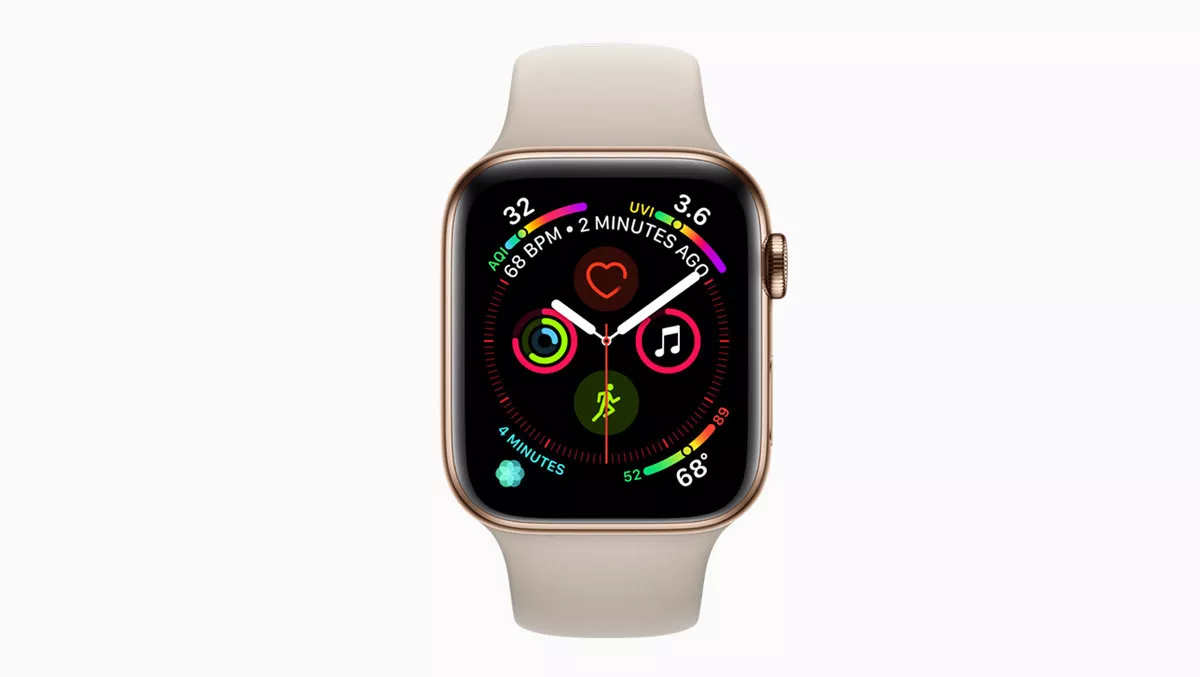 Hands-on review: Is the Apple Watch 4 worth the price?
FYI, this story is more than a year old
Apple's flagship wearable device, the Apple Watch, is generally touted as the gold standard for what wearables should be able to achieve today.
The device requires a user to have a mobile device in the Apple ecosystem as it only works with Apple devices, which limits its potential user base to a certain extent.
Techday reviewed the Apple Watch 4 to see whether it lived up to the hype.
What it did well ­­
As smartwatches go, the fourth generation Apple Watch is among the most functional on the market.
It has a decent-sized App Store for the watch with apps including Uber, Spotify, Pokemon Go, Evernote, and Air New Zealand, to name a few.
The Watch has sophisticated messaging options which make it actually viable to send short messages back in response.
The call quality is better since Apple improved its speakers, which are louder and now positioned on the opposite side of the watch to the mic.
It's seamlessly integrated into the ex­­isting Apple ecosystem, which is rewarding, for instance, if you use Apple Pay on it, use it to unlock your Mac laptop or use it as a remote shutter button for your device's camera.
They aren't life-changing features and there are third-party ways to simulate the experience if it's important enough to you - but one thing Apple has always excelled at is creating a low-friction experience, which makes it easier when less tech-savvy users want things to 'just work' and they do.
The Watch 4's new display is 30% larger than its predecessors', and this really makes itself felt with the smaller 40mm watch size.
It still feels like a substantial screen to have on your wrist and is a major upgrade from the previous iterations of the Watch from a screen size perspective.
What it could have done better
The Apple Watch has a gorgeous display – so I was disappointed when I realised that the watch faces available on it were pretty limited.
With the fourth iteration, new watch faces were added to take advantage of the improved screen – but they're all pretty formulaic.
Additionally, I felt the notifications system on the Watch did not make full use of the space it had available and required me to look at the watch for just a little too long to make out the importance of the notification – the very thing I try to avoid by having a watch that has notifications.
Although the Watch performs well as a smartwatch and as a fitness tracker, there is definitely room for improvement.
I found it odd that instead of tracking standard stats such as distance walked, steps taken, and calories burnt as the three core rings in the Activity dashboard, Apple chose calories, exercise minutes, and standing frequency as its core stats instead – and there's no way to change them, as these are not the stats I'm primarily concerned about.
The watch also has an 18-hour battery life, which means most people will charge it when they sleep at night, foregoing sleep tracking, which is a key data point.
Verdict
At an RRP of $699 for the 40mm version and $749 for the 44mm version, the Apple Watch is great if you're already locked into the Apple ecosystem and you're looking for a device that can significantly minimise how often you take your phone out of your pocket by performing many of the quick, basic tasks you use it for.
However, in any other case, many of Apple's competitors can provide similar functionality or better fitness tracking at a lower price point.
Related stories
Top stories