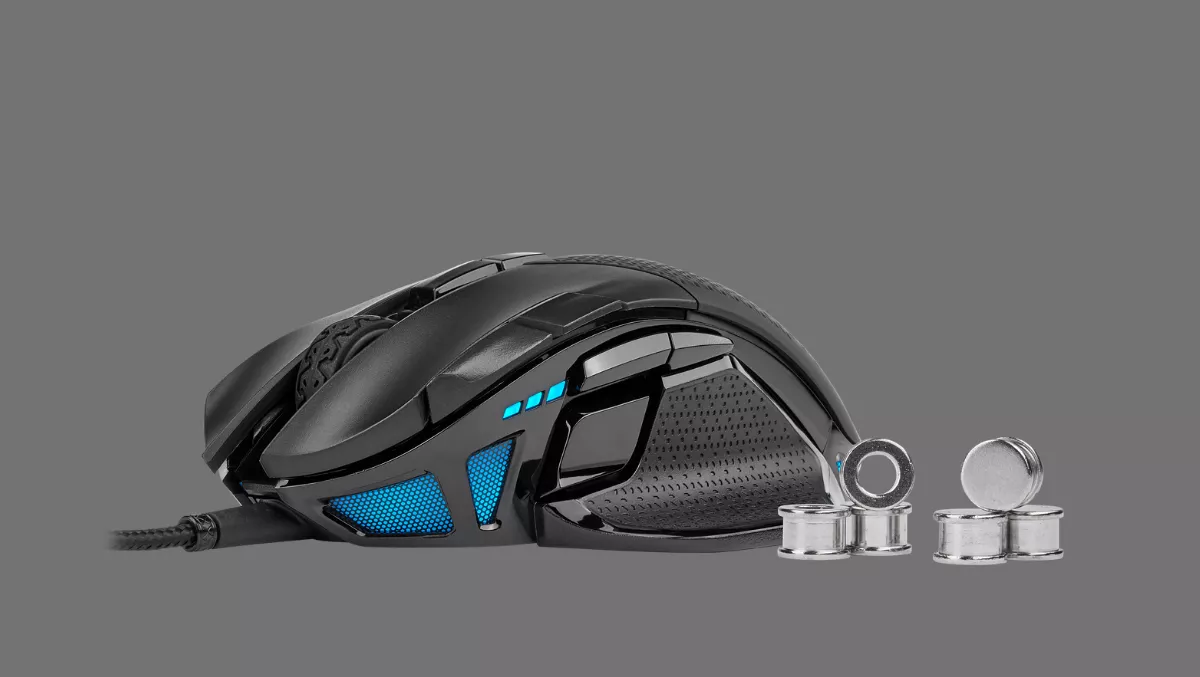 Hands-on review: Play your way with Corsair's Nightsword RGB gaming mouse
FYI, this story is more than a year old
Corsair recently announced its latest gaming mice lineup featuring the Nightsword RGB and the M55 RGB Pro.
The Nightsword is positioned by Corsair as the ultimate gaming mouse for users who want granular control over every aspect of their equipment.
This performance-tunable FPS or MOBA gaming mouse gives gamers the power to customise features such as the weight and DPI sensitivity down to minute detail.
Design
The Nightsword features a rubberised palm rest and side grips, and matte plastic clickers on a contoured body that fits well in the hand.
It also features a thumbrest for added ergonomics that blends in well with the body by virtue of the rubberised pattern – which Corsair says is inspired by pro sports equipment.
It has four lighting zones that can be configured with custom RGB lighting profiles through Corsair's iCUE software.
Put together, these give the mouse a premium aesthetic that allows the mouse to blend in easily with any gaming setup.
Customisable weight
The million-dollar feature introduced in the Nightsword is Corsair's patent-pending Smart Tunable Weight System, which integrates both hardware and software to give users maximum customisability over the weight of the mouse.
The Nightsword's Smart Tunable Weight System means it comes with six weights – three 4.5g weights and three 2.8g weights - that can be inserted into weight slots on the underside of the mouse in a hexagonal pattern.
Coupled with the Weight Tuning section in the iCUE software, players can customise the balance and the weight of the mouse in 120 different configurations.
Corsair's weight-sensing technology detects the weight in each slot in real-time, displaying the mouse's current total weight and center of mass so that players can identify their preferred configuration.
Using the mouse, I found that even removing two of the 4.5g weights impacted the level of comfort during extended use for me significantly as I tend to gravitate towards lighter mice.
Features
Clicking with the Nightsword has a decidedly satisfying sound and feel, brought to you by its Omron switches with their 0.45mm actuation distance.
This is something I've come to appreciate a lot after using gaming mice with a lower actuation distance – it just doesn't give a kill the same satisfaction when you're spamming it in the middle of an FPS.
The Omron switches are rated for over 50 million clicks.
Sensitivity-wise, the Nightsword is equipped with an ultra-sensitive 18,000 DPI optical sensor that can be adjusted by either toggling through three different profiles, or manually adjusting them with the toggle button on the left of the left-click button.
The Corsair's 10 buttons are programmable to suit your playing habits, so gamers can go crazy incorporating macros (even double macros where one button triggers two macros) – and the fact that these settings are stored in the mouse's onboard memory is an added bonus.
Performance
The Nightsword is a highly versatile mouse that performs well in multiple scenarios.
On a high DPI setting, I found that it was very responsive and accurate, which was important for making sure the cursor wasn't overcompensating when moving the mouse quickly in an FPS.
The dedicated sniper button gives you an advantage over mice that need to cycle through profiles to get to a low-sensitivity option when going for that one-shot KO.
For MOBA gaming, the optical sensor and high DPI were indispensable for getting me out of tense situations through rapid-fire button spamming and when playing in multi-monitor setups.
Verdict
The Nightsword is easily the gaming mouse of choice for a truly discerning player who knows their play style well and what they need to perform their best.
With customisable weight tuning, DPI settings, programmable buttons and macro configurations, there is nothing you can't adjust on this mouse to take your game to the next level.