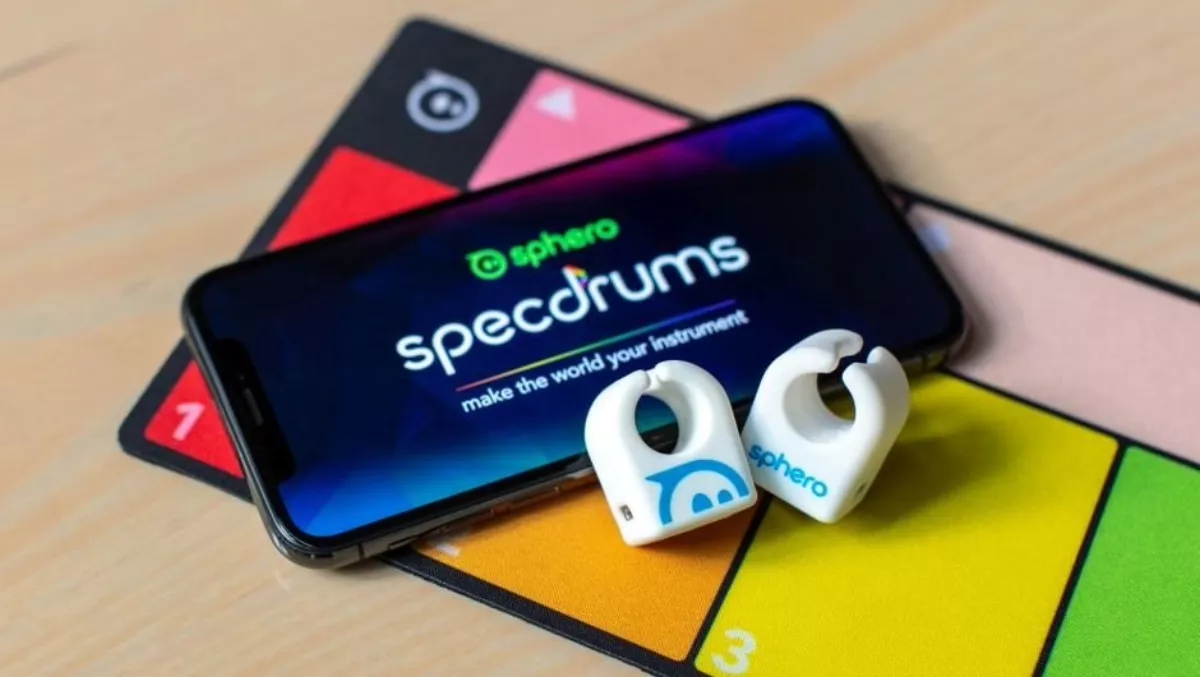 Hands-on review: Playing music with Sphero's Specdrums
By Damian Seeto,
Tue 23 Apr 2019
FYI, this story is more than a year old
Sphero is a company known around the world for making its very enjoyable movable robot toys. Many people may know the company best for developing the remote control BB-8 droid from the newer Star Wars films that came out a few years ago. Now the talented company is innovating once again by introducing a new tech product that music lovers will like.
Sphero has released this year a new device calling it the 'Specdrums'. Sphero as a company wanted to branch outside of making Star Wars droids and this gadget is what the company came up with.
The 'Specdrums' were invented by Sphero's Steven Dourmashkin who is the company's product manager. FutureFive NZ had a chance to talk to Dourmashkin and to know how 'Specdrums' work and what inspired Sphero to develop them in the first place.
First of all, Steven Dourmashkin told us that he loved playing the drums when he was a kid growing up. He loved how loud they were and drumming was one of his most favourite hobbies. However, playing the drums is not accessible to everyone because they are big and expensive. Not to mention some neighbours might not want to hear the drums being played all day and all night!
Dourmashkin wanted a way to share his love for the drums and to make his favourite hobby accessible to more people. While coming up with new ideas, the Specdrums was what came to mind and it's a way to play the drums without breaking your bank account!
Specdrums is really easy to use as all you need to do is basically fit the device around one of your fingers and connect it to your smartphone or tablet device. Once you have downloaded the app, you can play the drums on any coloured object and music starts to play. You don't have to worry about the size of your fingers either because the Specdrums are made of rubber and can expand to any size.
It's easier to show you rather than explain how Specdrums work, so a following video posted below will help you understand the product more.
For example, if I hit an object that is coloured red it will hit a high note, while a blue coloured object might produce a lower musical note. The more coloured surfaces you touch with the Spedrums, the more complex your songs can become.
The Specdrums app is where most of the music is played and you can customise it to make it produce different sounds. The introduction song included from the start allows you to make hip-hop sounds, but you can download other songs to make music from other genres too.
Even though Specdrums is inspired by the drums, it works more like a portable keyboard. You are actually given a placemat inside the box that has all the colours you need to make as much music as you want.
Pretty much most colours will produce a song of any kind, but the only colour the Specdrums won't work on is the colour black. The Specdrums has a sensor built inside to know what colour it is looking at. Obviously, black is too dark for the in-built camera to see, which is why it doesn't work.
Charging the Specdrums is nice and easy as a full one hour charge can power the device for two to eight hours long. The Specdrums comes with its own charging cable so it's easy to power them up whenever you need a recharge.
In terms of accessibility, you will need an iOS device and only select Android devices are compatible with the Specdrums. You may have to do some research in order to know if your device can work with Specdrums.
If you want to buy the Specdrums, here in New Zealand you can get them from the online store. Two Specdrum units cost $169.99 at Mighty Ape and the devices will be available in more retailers sometime this September. All Specdrums come packaged with a coloured placemat so you can play music right out of the box.
Overall, I enjoyed my time playing on the Specdrums. The device might not appeal to everyone, but young kids that enjoy music are sure to love it. It's easy to set up and very addictive to play with once you get everything going.