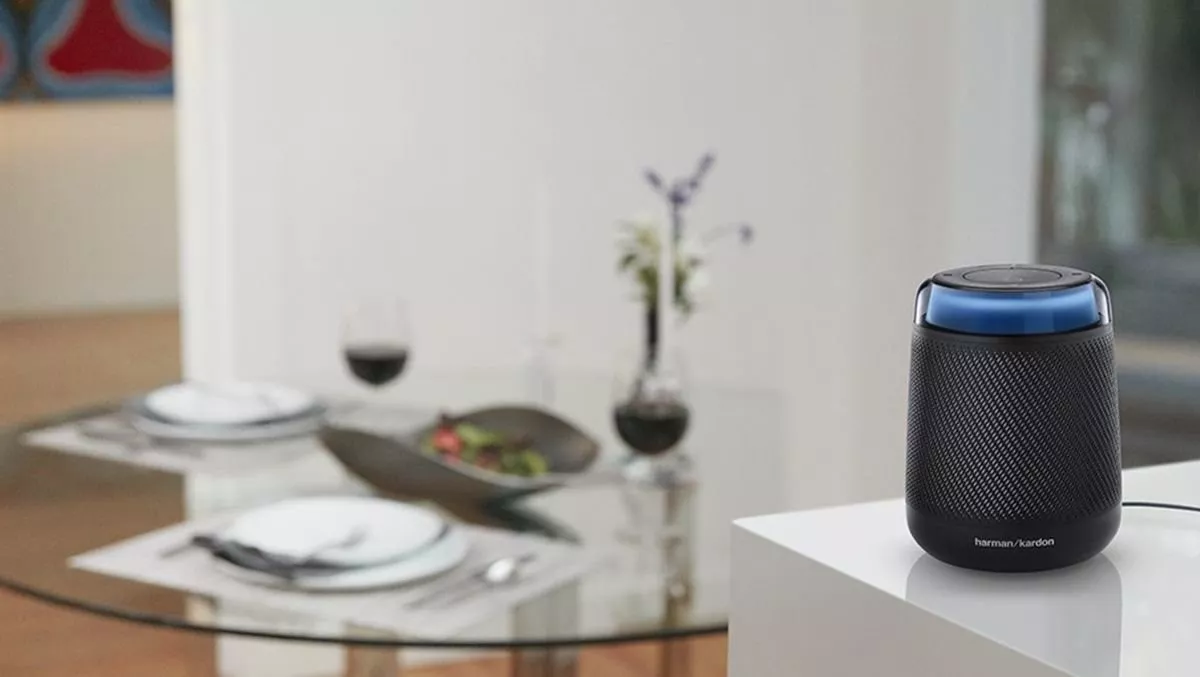 Hands-on review: The Harman Kardon Allure Portable Speaker
FYI, this story is more than a year old
I have ventured into the world of Bluetooth speakers in the past, but this is my first smart speaker. As a relatively new convert to the internet of things, I'm still learning my way. Harman Kardon's Allure Portable comes equipped with dual-band WiFi as well as Bluetooth and it's also powered by the Amazon Alexa Voice Service. Equipped with hands-free voice control, it has a built-in 2-microphone array with noise cancellation technology.
To get started, download the HK Alexa Setup App from the App Store or Google Play Store. I have also loaded the Amazon Alexa App so that I can integrate other smart home apps. Setting up the Allure Portable has been straightforward on both my Android and iOS devices. I have also signed up for Amazon Music (they offer a 30-day trial) and have a lovely piano sonata playing in the background, to keep my creative juices... er… juicing.
For me, the name Harman Kardon is synonymous with quality sound, having had their sound on other devices I've owned in the past. I've been fortunate enough to have the house to myself for the day, which means winding up the sound like there's no tomorrow and pretending my tinnitus will not get any worse. You can ask Alexa to adjust the volume from one to ten. I found that three was the best for me, which means I'll have it on two when my beloved gets home after a girls' day out.
Weighing in at a paltry 1.1 kg, the Allure Portable is a lightweight with features of a heavyweight. In essence, this means that my Mr Puniverse biceps coped with no difficulty at all. With dimensions of (W x D x H): 114 x114 x160mm, it manages to pack in quite an array of speakers.
The US website reports that the 2-microphone array with noise cancellation technology allows Alexa to react to your voice. (The NZ website doesn't appear to have the details yet but keep watching.)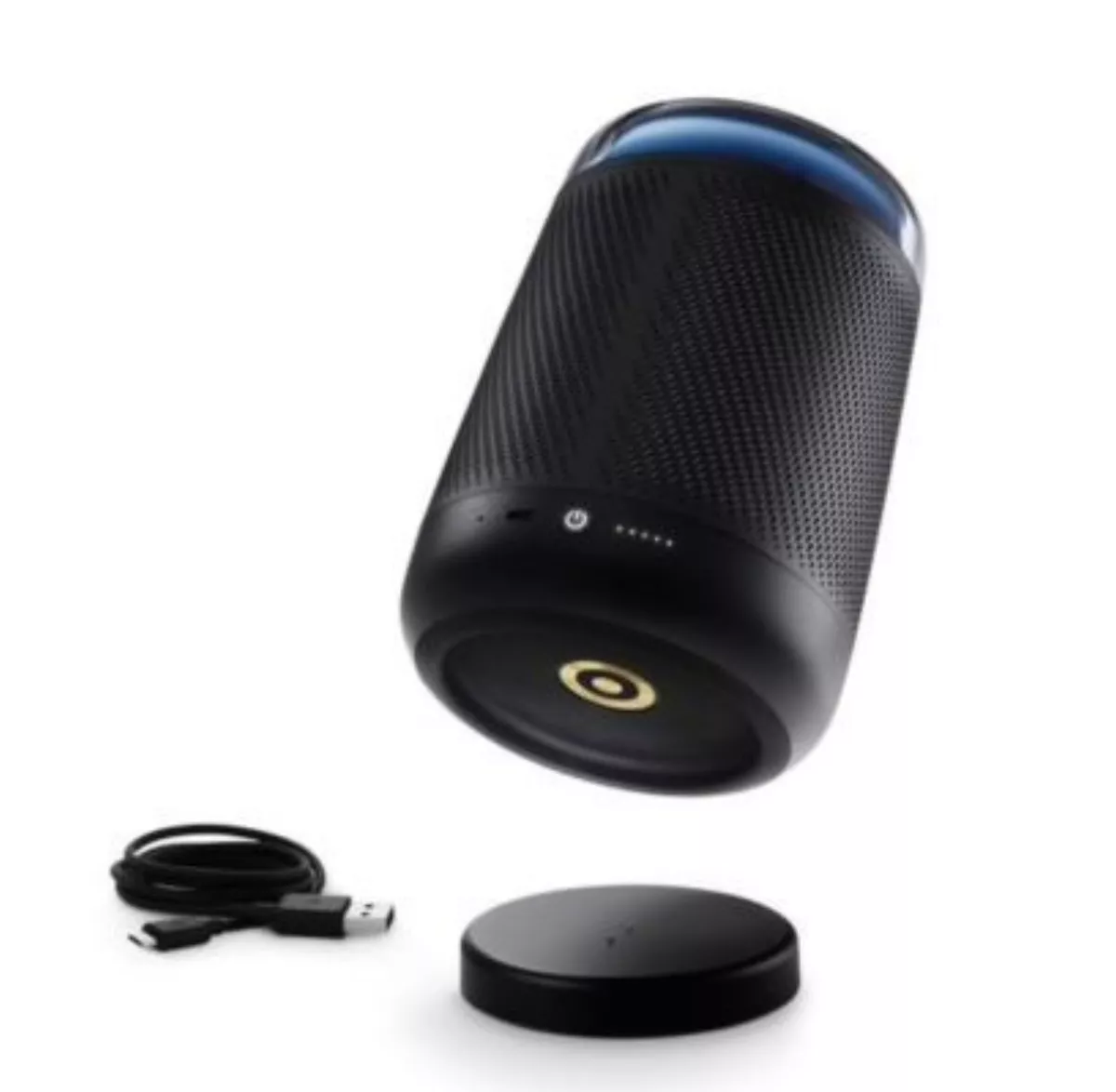 Far-Field Voice recognition: The Harman Kardon US website reports that this enables you to interact with Alexa from across the room, and I've had mixed results with this. If you're already listening and want to change your source, you may have to trot back and press the white circle at the top. Sometimes Alexa needs to be asked twice to perform a function. As a relative newbie to the world of Amazon Alexa, I'm still threading my way through what can and can't be done.
Alexa has managed to cope with my requests, telling me the time, letting me know the weather, the time, and reporting the news when I ask. However, I've run into some issues with my household devices.
I've become quite adept at resetting my smart lights which appear to fall off quickly. I've enquired, and suspect that the Allure Portable may be fairly limited through the setup app. Having said that, what it offers is pretty awesome. Just don't expect a full Alexa Home hub experience. Results for me were the same whether using Home Kit or Alexa Home.
If you want music wherever you go, the Allure Portable will become your constant companion. Offering up to 10 hours of playback time when off its charging base, the Portable is just like its name suggests. You can even keep playing when you leave your home WiFi, as long as you take your Bluetooth device with you.
Speaking of the charging cradle - it has a tiny footprint which will sit inconspicuously where you choose to put it, and it will fully charge your device in around 4 ½ hours.
Transmitting power is <9dBm on Bluetooth and <20dBm on 2.4 or 5Ghz WiFi frequencies.
Aesthetically, the Allure Portable is an attractive piece, with a plastic light ring around the top, which can light up when you play your music, and change colours according to the operating status. The internal speakers are surrounded by a "meshed" grille, with the power display built into the base. Volume and Bluetooth controls are situated on top, along with a central button which you can use to interrupt Alexa if she ignores your voice.
These controls are touch-sensitive, but personally I found them niggly. Black + and – buttons on a black background mean you will find it easier to alter volume via the spoken interface. The microphone and Bluetooth buttons are equally lacking in any kind of responsiveness, which for me (with the eyes of Mr Magoo), meant a few frustrating moments before realising I was holding down the wrong button when trying to reset the device.
Apart from those minor niggles, the Allure Portable is a powerful portable sound system which connects to your Bluetooth devices with a minimum of fuss. The sound quality is great, and the Alexa voice interface has provided me with endless entertainment. Whether listening to your favourite tunes or on-line radio station, or presenting your latest multimedia presentation at that vital sales meeting, the Allure Portable will back you up with crystal clear quality sound.
Related stories
Top stories