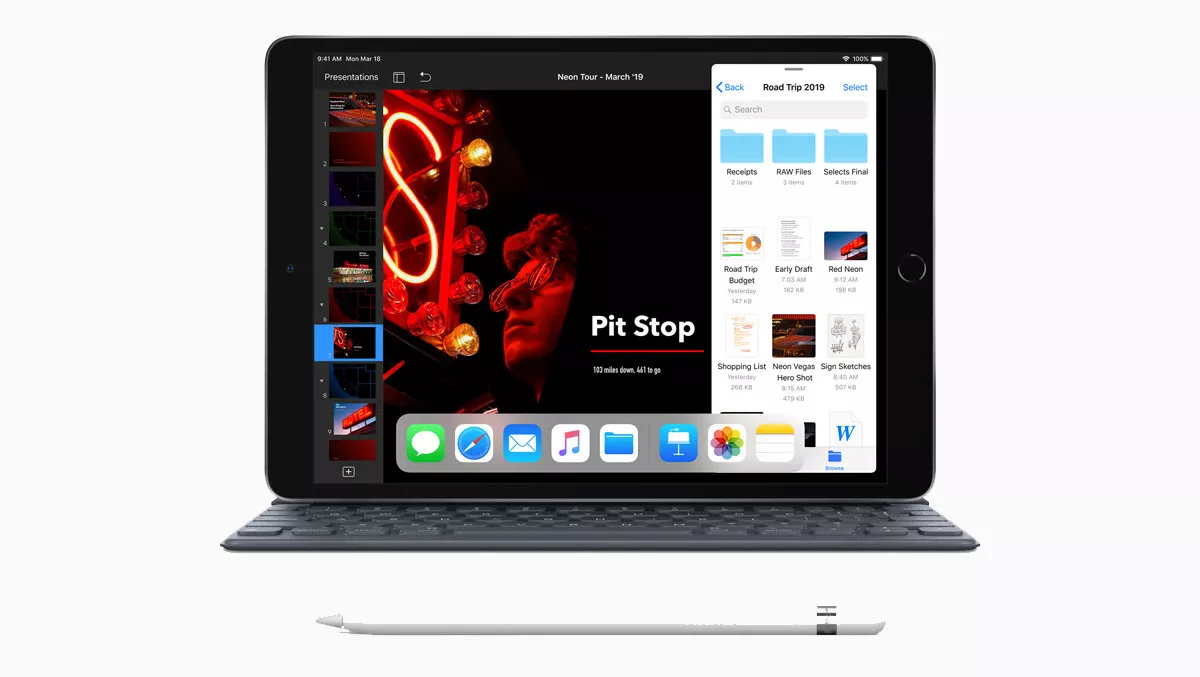 Hands-on review: The middle-of-the-road 2019 iPad Air
FYI, this story is more than a year old
At first glance, it's unclear where the iPad Air sits in Apple's hierarchy of tablets.
The base-model iPad Air is $900 cheaper than the base-model iPad Pro at $849, and $310 more expensive than the base-model iPad that retails at $539.
Users can choose between a Wi-Fi only or a Wi-Fi and Cellular version in Silver, Space Grey, and Gold.
It falls squarely in the middle of the workhorse iPad Pro and the entry-level iPad in terms of price point and specifications.
After taking the time to review the device, we've come to realised that might be the entire point of the iPad Air.
What the iPad Air did well
The Air excels at many of the things that have come to be associated with Apple's iPads.
It features a 10.5 inch LED Retina Display with a P3 wide colour gamut, antiflective coating, and TrueTone technology, which makes it an excellent device to both consume and create visual media on.
The screen interacts superbly with the Apple Pencil, with no perceivable lag time when using the Pencil – I found it exceedingly responsive when using it to write in Apple's Notes app, recreating a very natural experience.
As a media consumption device, I found the battery life more than satisfactory.
Apple promises 10 hours of battery per charge on the device, but I found that if I was using it for casual web browsing and keeping it on Airplane mode most of the time, I was able to stretch the battery out to almost a week.
The iPad Air comes equipped with the A12 Bionic chip with neural engine, one step behind the A12X chip bundled in the iPad Pro.
The A12 chip's computing power is nothing to sneeze at, however.
I found that it was able to load and switch between apps quickly, even when jumping between processor-heavy applications such as augmented reality game Lego AR Playgrounds, cloud storage apps like Google Drive, and photo editing apps.
Design-wise, iPad Air isn't a major update from previous generation iPads, with its bezels – but the upside of that is that it keeps the headphone jack and Touch ID that the iPad Pro does away with.
This feels more true to the iPad Air's ability to occupy the in-between space of being powerful enough for productivity and casual entertainment, with a screen big enough to do work on and watch videos on without being too heavy to bring around.
What it could have done better
The iPad Air is the second tablet in Apple's range that is compatible with the Apple Smart Keyboard. (The lower-end iPad is compatible with third-party Bluetooth keyboards, but not Apple's proprietary Smart Keyboard).
I felt like the Smart Keyboard should have been made of more premium materials for an accessory that retails at $259.
I also found that it tends to be quite unstable and not as securely attached as I would like when using it on surfaces that aren't completely flat (i.e. a bed), which happens mostly when I'm using the iPad as an entertainment unit or for casual internet browsing.
Apple's positioning strategy with the iPad Air makes its decision to make the iPad Air compatible with the first generation Apple Pencil (instead of the second generation magnetic charging version) understandable, but no less difficult of a pill to swallow.
Plugging the Apple Pencil into the iPad Air's Lightning port can feel unwieldy, and the adapter allowing you to plug the Pencil into a Lightning cable to charge it is tiny and easy to lose.
I also found an issue with Apple's Microsoft Office apps not fully supporting the programme's features. This might have more to do with Microsoft limiting certain functions in the iOS app rather than the performance of the tablet itself – but it's something to consider if you're wanting to use Microsoft apps a lot on the iPad.
Verdict
The iPad Air is a great middle-of-the-road tablet for users who have use cases for it in mind to improve their home and work, but can't justify forking out $1749 for the high-end iPad Pro.
Realistically, unless you're doing highly processor-heavy video and audio editing or graphics design on an iPad consistently, the iPad Air has enough processing power for your document creation, media consumption, note-taking, and gameplay needs.