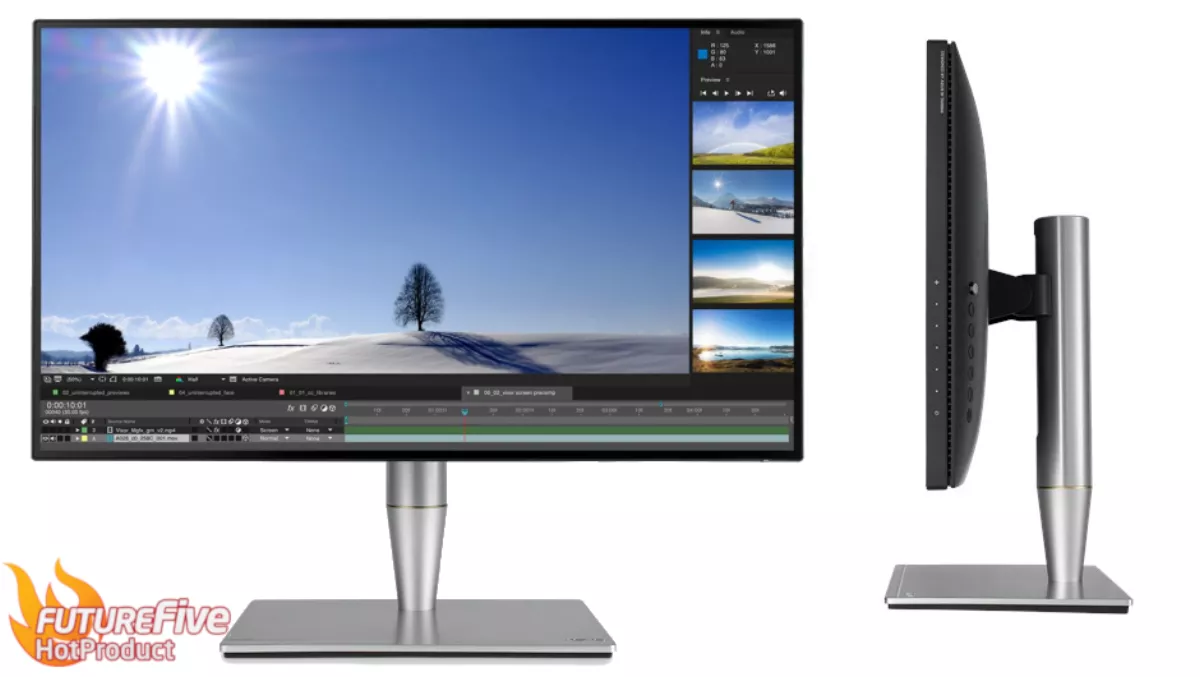 Hands-on review: The sleek The ASUS ProArt Series PA27AC monitor
FYI, this story is more than a year old
I was left stunned by The ASUS ProArt Series PA27AC: its frameless design, HDR-10 precision and clarity, aided by "up to 400 nits of brightness." It was also my long-anticipated introduction to the world of Thunderbolt, and I have not been disappointed.
To ensure an impersonal and non-biased approach, I have tested this with the ASUS VivoMini PC PB60B-PB60G Series of my other review, a 2011 MacBook Pro, and a 2018 HP EliteBook G5. Setting it up consisted of nothing more than plugging it into the correct port. I didn't even need to disconnect it from the ASUS Vivo.
This monitor comes packed with a plethora of features. On the reverse of the monitor is a handy little joystick that gives you instant and total control. The first feature I trialled was the BlueLight Filter, which you can set to your preference. BlueLight, of course, is what you should avoid for at least an hour before your bedtime.
What it meant for me was endless hours of tireless gazing into a screen that can only be described as "one giant leap in the Search of Incredible." ASUS aficionados will know what I'm talking about.
Imagine being able to eschew those dreaded Pomodoro breaks because you're worried about eye strain. The ProArt 27AC is genuinely a sight for sore eyes. I quickly found the BlueLight setting that was right for my eyes and I never looked back.
Whether you're someone who works with graphics and multimedia, or a boffin who frequently spreads their work over two or three monitors, ASUS make things easy for you. For a start, forget about needing a graphics hub or switch. You can easily daisy-chain up to three monitors and enjoy the data transfer speeds of up to 40Gb/s.
Out of the box experience: Before I unpacked I gathered my toolkit. Connecting the monitor to its stand was ridiculously well engineered and simple. The only tricky part was locating the button to depress before locking everything into place. The setup is both simple and rather beautiful to look at. The stand gives you fingertip control finding the right height, and rotating the screen 90 degrees (or more) is just as easy.
Technical specifications: With a 2KWQHD 2560X1440 resolution, you in effect are given "77% More onscreen," and it took me a while to envisage what that equates to.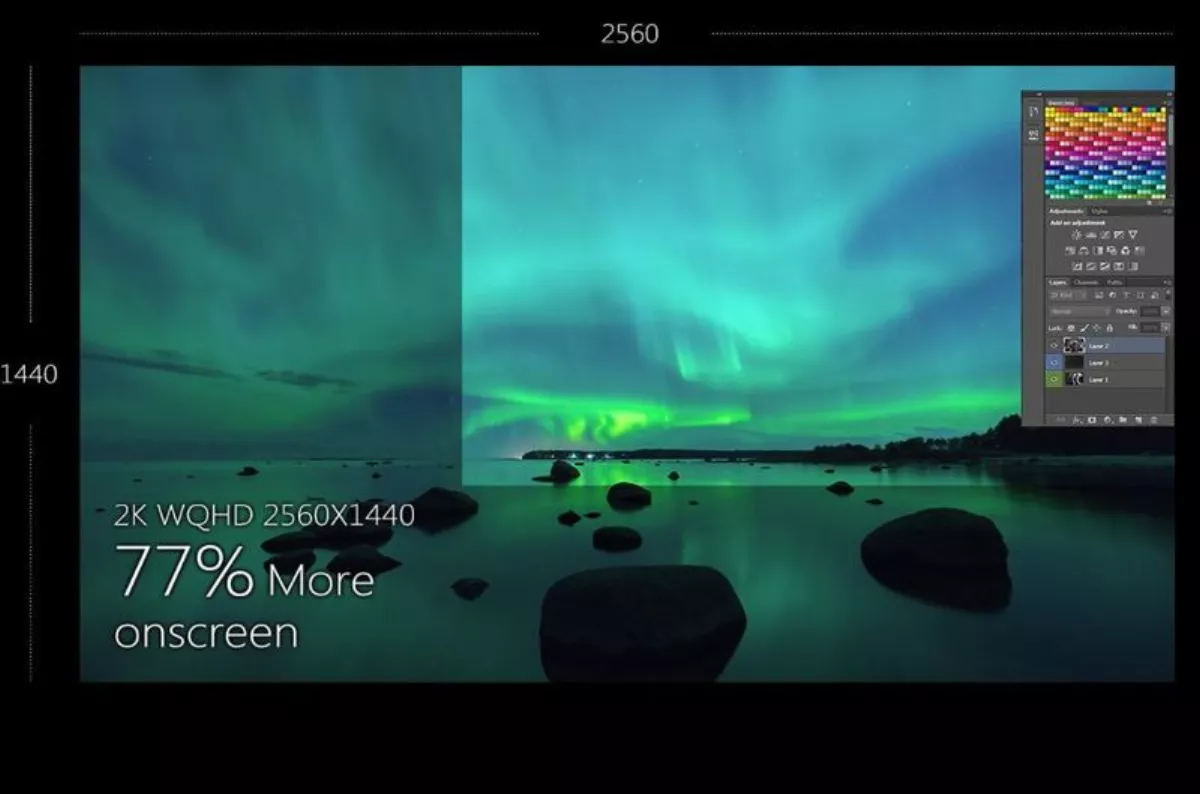 It's no wonder, then, that I kept getting sidetracked by viewing my latest efforts from my Advanced Digital Photography class. ASUS says the monitor features "extreme clarity" and "superior contrast." This results in smoother transitioning between hues, courtesy of their 8-bit colour graphics, which displays over 16.7 million colours.
Pre-calibration of each monitor takes place, ensuring, say ASUS, "industry leading colour accuracy" and resulting in your finished product looking as it should. For those of you working with a variety of colour profiles, you can save them directly to the monitor's internal scaler integrated circuit chip (IC). This will save the graphics people a lot of time and headaches.
Those of you who use hardware calibrators such as X-rite i1 Display Pro or Datacolor Spyder 5 will be pleased to learn they are compatible with this monitor.
The last word.. in connectivity: The ProArt P27AC includes two USB-C ports supporting Thunderbolt 3. The ASUS website goes into greater detail about the technical ins and outs, but here's more detail about the I/O ports:
Signal Input: Thunderbolt 3 USB-C x2 (In x1 Out x1) HDMI v2.0 DisplayPort 1.3, HDMI v1.4 x2
PC Audio Input: 3.5mm Mini-Jack
AV Audio Input: HDMI
USB upstream USB 3.0 Type-B x1
USB downstream USB3.0 Type-A x1, USB 3.0 Type-C x1
What else: As a photographer, I want sharp pictures and great quality. With their WQHD (2560x 1440) resolution, ASUS promise that I'll spend my time working "easily and comfortably with less scrolling and zooming".
I was surprised that the monitor managed to fit in dual stereo speakers. The sound quality is adequate with a tendency to be slightly on the tinny side - but with the 3.5 mini-jack, external sound outputs can easily be connected.
ASUS have also provided a plastic clip-on cover and a cable tidy for keeping the rear of the monitor with its multiple connection cables...er... tidy!
To Buy or Not to Buy? Ay, there's the rub. PB Tech have the PA27AC advertised at $1278. You will find cheaper monitors, but not with these specifications.
Having worked with the monitor for just a few days, I've already had one conversation with my beloved accounts person, who taking one look at my face, remarked, "Don't even ask!" before my mouth had opened.
If quality, accuracy, resolution, multiple connections and ease of use are factors, look no further. My very final word will be on the monitor's minimal footprint, and while the monitor's 27 inches dominates, you'll find plenty of space left on your desktop.
For more information, go to the ASUS New Zealand website here.
Related stories
Top stories