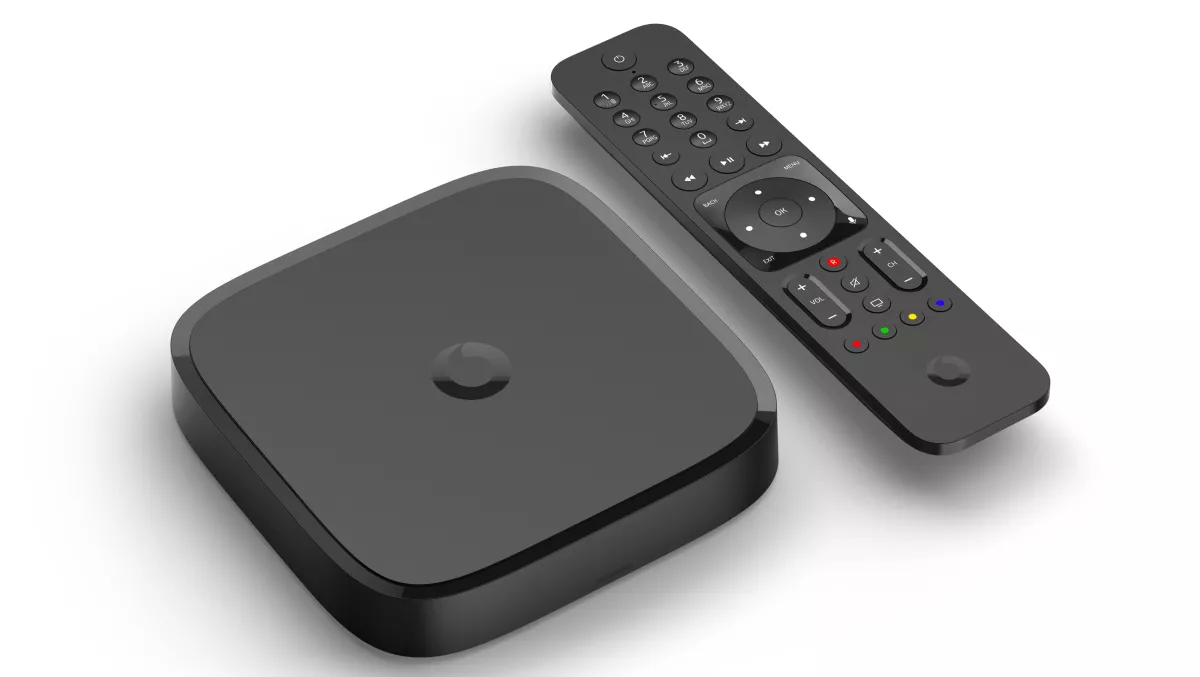 Hands-on review: Vodafone TV - the best way to stream channels in 2019
FYI, this story is more than a year old
Last month Vodafone released its next generation Vodafone TV box. Vodafone TV is designed to fit the needs of the New Zealand market and to provide effortless entertainment for all Kiwis. Is it a good enough solution? This is what I wanted to find out.
In the box
The Vodafone TV comes with a remote, batteries for the remote (a very convenient touch), a power supply cable, Ethernet cable and an HDMI cable. The Vodafone TV also comes with clear and simple set up instructions.
The device is thin and modern-looking; it would make a great addition to any TV setup. The remote is also slim with well-thought button placements that make it easy to control.
If you buy the Vodafone TV before December 31st, the box will also come with a four-month Lightbox code and a three-month NEON code.
The setup
The Vodafone TV was very easy to set up. All you have to do is plug into the HDMI port of any TV, turn it on, and follow the onscreen instructions.
Vodafone TV requires users to sign up for an account in order to set it up, but that account is very helpful for adding Sky channels later in the process.
The interface
Vodafone TV comes with preinstalled apps and channels. Straight out of the box the Vodafone TV has these channels: TVNZ 1, TVNZ 2, Three, Bravo, Maori TV, Prime, Three Life, Choice TV, TVNZ Duke, Te Reo, HGTV, SHINE, Al JAZEERA, Hope Channel, Parliament TV and Firstlight.
It also come preinstalled with the following apps: Netflix, TVNZ on Demand, Three, YouTube, NEON, Play Stuff and Lightbox.
The interface is not bad once you get used to it. It is mainly centred around the channels. As soon the TV is on, it will start playing a channel in the background – I personally found this a bit annoying. I got into the habit of muting it as soon as I turn it on, and then unmuting it once I enter the channel or application I wanted to use. However, I do understand that Vodafone is trying to stay true to the live television experience.
While the preloaded applications are great and NZ-focused, I would've liked to see the option for users to download extra apps. I admit I'm just being picky because realistically the preloaded apps are all an average user would need.
The Vodafone TV can play 4K content on devices that support 4K, which is a great feature because 4K is the standard in 2019.
Channels and Sky subscriptions
While the Vodafone TV is advertised as a plug and play device, I don't think that that is where it shines.
The great power behind this small box is unlocked once you add a Sky subscription. Users can use between five different Sky packages that range from starter package and Entertainment package to the Sports package.
It is very easy to add, remove and manage the subscription packages from the Vodafone account.
Once I added the Sky channels, I could see how powerful the Vodafone TV really is. The box provides 500 hours of cloud-based recording allowing to record any content from any channel. It even has the power to record multiple channels simultaneously.
It also allows for three-day rewind on most channels. This gives users hundreds of shows, movies, sports matches, documentaries, news and more to choose from. It also means that you will never miss live content ever again.
The verdict
I think Vodafone did a great job creating a product that will directly benefit the Kiwi lifestyle. It has all the essential apps you need, and it is the perfect way to watch and manage live TV at an affordable price.