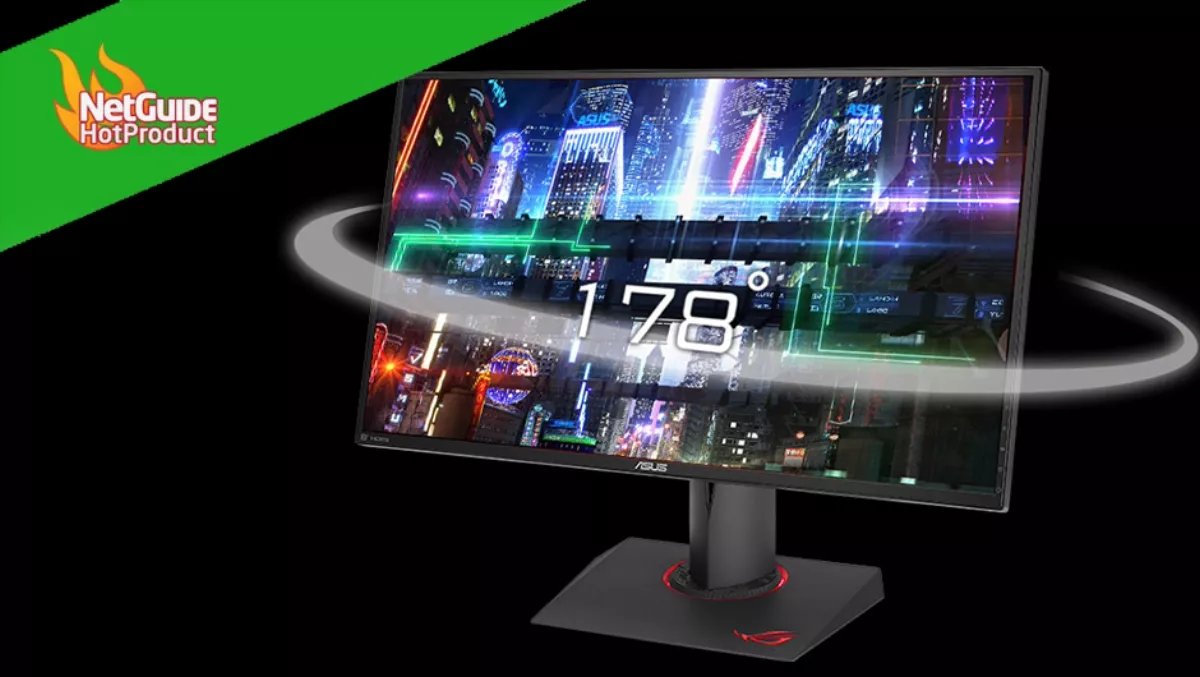 Hands-on review: ASUS ROG SWIFT PG279Q gaming monitor
Thu, 10th Mar 2016
FYI, this story is more than a year old
By James Fraser, Ex editor/contributor
The ASUS ROG SWIFT PG279Q gaming monitor is a top-of-the-line, enthusiast-grade gaming monitor.
The most up-front feature is the world-first 165Hz refresh rate, compared with the standard 60Hz. However, this is only useful if your PC can run games at 165 FPS (Frames Per Second) or higher, which is very, very high for most modern games. I have a high-end gaming PC myself, equipped with an Intel Core i5 processor, GTX 970 GPU and 8GB DDR3 RAM, and struggle to push 165 FPS in most modern games without severely lowering the graphics settings. That said, I do have one game that runs at near 200 FPS on Ultra settings which I tested it on, and there is certainly a noticeable difference if you can reach that crucial 165 FPS. It appears quite a bit smoother than a monitor with a slower refresh rate.
One of the most visually noticeable features, though, is the colourful and vibrant display. The colours were so much brighter than on my LG Flatron E2342 1080p monitor.
The monitor also has different modes in the on-screen menu; scenery, racing, cinema, RTS (Real Time Strategy), RPG (Role Playing Game), FPS (First-Person Shooter) and sRGB. This can easily be cycled through by opening the on-screen menu and going to the 'GameVisual' section, which will bring up the list of modes.
There is also a blue light filter with 5 different levels; 0, 1, 2, 3, and 4. This is very useful if you're using colour-insensitive applications at night or in a dark room, as it reduces the blue light being emitted from the screen, so that it's less straining on your eyes.
On to some of the more gaming-oriented features, the most noticeable being the custom heatsink installed on the monitor for high endurance. Running a monitor at 165Hz can produce a lot of heat, so there is a custom heatsink and air venting system on the back of the monitor to keep it cool for hours on end. It was very good at doing so, too. I was running a game at 180-190 FPS (so the monitor was running at a full 165Hz), for several hours during one of the hottest periods of the afternoon, and while the monitor definitely got a bit hot, it was well within limits. Running the monitor at 165Hz is technically considered as overclocking (it's even called that in the menu!), but it's been designed in such a way that it's essentially a safe feature that anyone can use.
Another great gaming feature is the narrow bezel, which is perfect for multi-monitor setups (typically three for this scenario). What this allows you to do is line three of these monitors up side-by-side so that their bezels are touching, and then you can extend the display across all three to get a total ultra-wide resolution of 7680x1440. This, obviously, is very expensive, as three of these monitors would set you back approximately $4,200.
Finally, the monitor has two USB 2.0 ports on the back so that you can charge devices with it. This would be very useful if you were tight on space or lacked powerpoints in your room.
In conclusion, the Asus ROG SWIFT PG279Q gaming monitor is an expensive, high-end gaming monitor designed for enthusiast gamers who want the best of the best, with a world-first 165Hz refresh rate, 1440p resolution and 178-degree viewing angle, as well as a narrow bezel for multi-monitor setups.
Very high 165Hz refresh rate, useful if your PC can run games at 165fps or higher
Colourful, vibrant screen
Different modes in the OSD; scenery, racing, cinema, RTS/RPG, FPS and sRGB
Blue light filter
1440p resolution
WQHD IPS panel
G-Sync technology synchronises the display's refresh rate to the GPU for smooth visuals and lag-free gameplay
178-degree viewing angle
Narrow bezel, great for multi-monitor setups
USB ports that can charge devices
Heatsink and air vents for high endurance
Smart cable management
$1400, definitely designed for the enthusiast gaming community
To find out more about the ASUS ROG SWIFT PG279Q gaming monitor, click here.