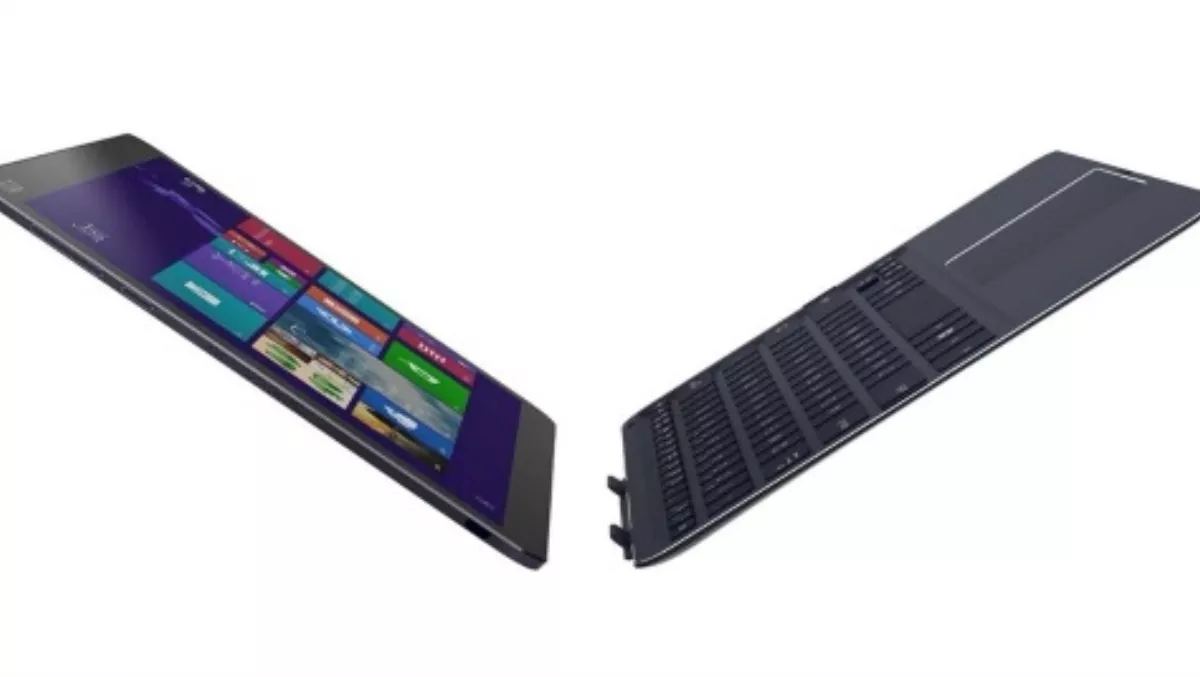 Hands-on review: Asus T300 Transformer Book Chi
By Patrick Pilcher,
30 Oct 2015
FYI, this story is more than a year old
Tablets are great for checking up on Facebook feeds, watching media or casual gaming, but their heavier and older PC siblings do a much better job of creating content, thanks to their physical keyboards and trackpads that offer an antidote to the hell that is touchscreen keyboards and predictive text.
While you could invest in a tablet for consuming digital media and a separate PC to create it, Asus has a better solution in the form of the Transformer Book Chi, a convertible ultra-book that gives you the best of both worlds.
The T300 Chi starts at $1170 to $1588 depending on what specs you purchase and where you shop. It also makes use of Intel's Core M CPU, which accounts for the Tranformer Book Chi's fanless and svelte chassis.
Look and feel
The Transformer book is mostly fashioned out of alloy and feels both slim and light, weighing in at a chiropractor pleasing 1.45kg. It's not exactly a MacBook Air or Pro, as its screen is hemmed in with a chunky bezel and its clamshell design feels a tad top heavy, but it's easily one of the best hybrids in its price range.
As its Transformer book moniker implies, it's a convertible which sees the connectivity between the screen and keyboard being a critical usability factor. Where some convertibles have pivoting but permanently attached screens, the T300 Chi, can physically separate with its screen becoming a stand-alone tablet.
Where some hybrid convertibles use a mechanical latch arrangement (which inevitably wears out and/or breaks), Asus opted for the more sensible arrangement of a magnetic and friction connection that keeps the screen and keyboard connected.
In use, this combination worked well. Pulling the screen and keyboard apart takes a bit of force, (meaning accidental disconnects are unlikely). Reconnecting is the other side of the coin, and in use proved to be a tad fiddly but worked.
In Use
The Transformer Book Chi is a winner on the keyboard front. In terms of QWERTY goodness, its keyboard feels a lot like a laptop keyboard rather one of the spongy monstrosities on some convertibles we won't name. For a start, the Transformer Book Chi's large keys have plenty of travel, which combines with a decent sized track-pad. The upside of this is that bashing out large amounts of text with minimal typos was a doable proposition.
Even though its keyboard feels roomy enough for touch typing, the Transformer Book Chi isn't a big piece of hardware. Its screen/tablet is a mere 12.5" but still sports a respectable 2560x1440 resolution. This makes for crisp photos, but also hard to read small fonts. This aside, colour reproduction was accurate and contrast levels were good, which helped to keep everything looking crisp and sharp.
The Transformer Book Chi also comes with Windows 8.1 preinstalled. Given the newness of Windows 10 this isn't too surprising. Thankfully Windows 10 upgrades are a relatively straightforward and zero cost option that can significantly improve the Transformer Book Chi's usability in both PC and tablet mode.
As good as the Transformer Book's screen and keyboard were its connectivity options were frustratingly sparse. Following Apple's lead, Asus opted to keep connectivity options limited to a single Micro-USB port/MicroSD slot on the screen (the micro-USB port on the keyboard is just for charging the keyboard's battery). Thankfully a USB hub provides an easy solution to the Transformer Book Chi's lack of connectivity.
The key factor figuring in the transformer Book Chi's wafer thin design is that it uses Intel's ultra-low power Intel Core M processor whose low thermal envelope allows for a fanless design and slim chassis. While the dual-core 1.2GHz CPU doesn't pack as much grunt as say Intel's Core-series chips, it's still quicker than the 1.1GHz Core M silicon used inside in many competing convertible PC/Tablets. Add to this an SSD inside the Transformer Book Chi and it's quick to boot up and positively zippy under real world conditions. The Transformer Book Chi uses 802.11n Wi-Fi, but frustratingly not the faster 802.11ac standard. In use it still felt plenty fast.
Verdict
The Asus Transformer Book T300 Chi is a solid combination of usability and stylish design, all at a very reasonable price. If you want the versatility of a notebook as well as the convenience of a tablet, the Asus Transformer Book Chi is a great choice.
Tech Specs
RRP $1,170 to $1,588
Display size/resolution 12.5-inch 2,560x1,440 touchscreen
PC CPU 1.2Ghz Intel Core M 5Y71
PC Memory 8GB DDR3 SDRAM 1600MHz
Graphics 3839MB (shared) Intel HD Graphics 5300
Storage 128GB SSD
Optical drive None
Networking 802.11n wireless, Bluetooth 4.0
Operating system Windows 8.1 (64-bit)