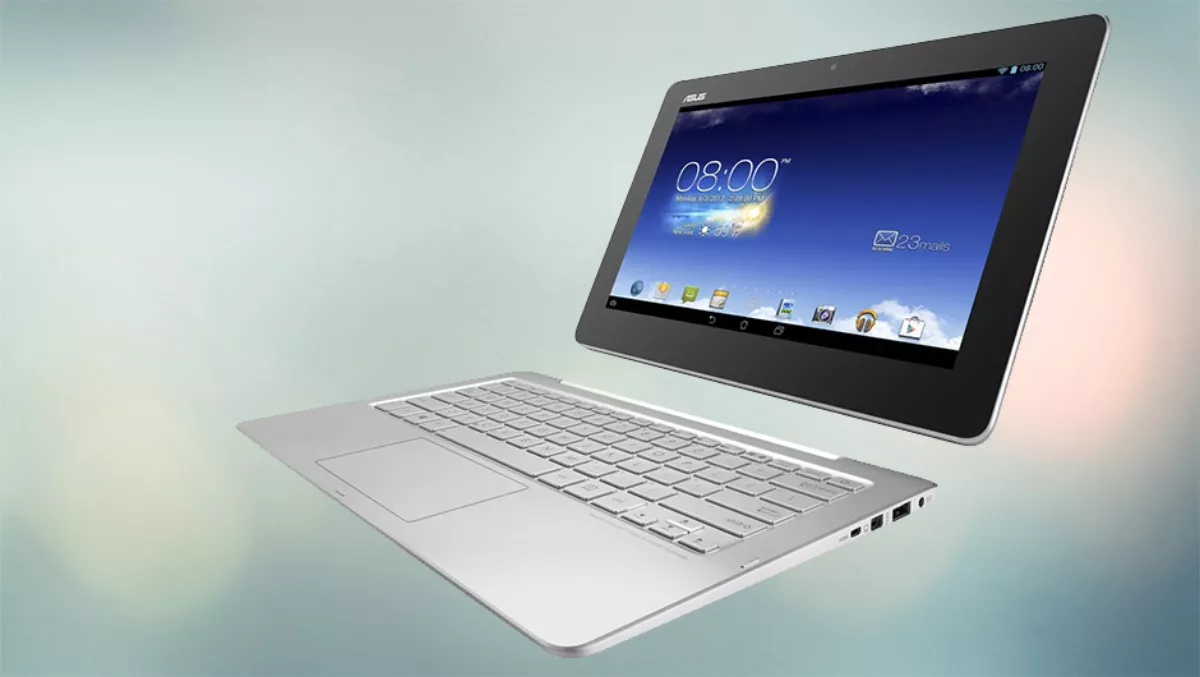 Hands-on review: ASUS Transformer Book
FYI, this story is more than a year old
Asus's Transformer Book is an 11" convertible featuring a flip-hinged screen and solid battery life. It isn't a gaming powerhouse and storage is meagre, but it does offer solid value for money.
Look and Feel
The Transformer Book has the same brushed metal lid as other ASUS products. Its bottom half is plastic. It also feels solid with little to no flexing. Given its sub-$600 sticker price, this is a pleasant surprise.
Its arty trick revolves around its screen/hinge arrangement which allows the screen to flip around so it can do double duty as a tablet. It can also face outwards in "tent" mode, which is useful for presenting to small audiences.
In Use
The one downside of such a petite build is that the Transformer isn't ideal for touch typists. Its keys don't have a lot of travel and feel small. This saw me creating more than a few typos when first testing it.
This isn't a show stopper though, and after a few hours the number of typos dropped to their usual level. After a day's use, I was able to knock out reams of text, however, it did still feel a little cramped.
The Transformer book keyboard is small, but the touchpad is just over 5" – which is plenty of room for mousey manoeuvres.
The Transformer's 11.6" screen is both bright and vivid. For watching video content, photo editing, or surfing, the screen is likely to be more than ample. The Transformer Book's speakers are on its underside. While they didn't shake my house off its foundations, they worked for casual listening.
With extended use, the Transformer Book didn't heat up too much. It remained warm (but not hot) even while the mercury hovered around the 30c mark and I was using it for light gaming.
Bells and Whistles
About the only thing missing connectivity-wise on the Transformer book is a kitchen sink. Given its petite size, it packs a surprising amount of connectivity. As well as USB 2/3 ports with a Type-C connector, it also has HDMI plus headphone/mic ports and a microSD card reader.
The Micro SD card reader is likely to be a pretty vital addition as the review unit I had only had a meagre 28GB of solid state storage which drops to a mere 17GB with Windows 10 installed (storage capacities can range up 128GB). The Transformer book is powered by a 1.6-GHz Intel Celeron CPU and packs 2GB of RAM. While that spec won't suit power users wanting to run the latest games or decode the human genome, it's still fine for basic productivity chores.
The upside to this is battery life. I wrung just over 10 hours of life with typical use, a solid improvement over most other devices I've tested at this price point.
Verdict
Gamers and power users may want to look elsewhere, but anyone wanting a light and affordable notebook/tablet will find the ASUS Transformer a solid choice. I'd love more storage, but its display, USB C connectivity, solid battery life and the $549 price tag make it an ideal travel laptop.
Tech Specs
RRP:$549
CPU: Pentium Dual-Core N3050,
OS: Windows 10
RAM: DDR3L 1600 MHz SDRAM, (up to 4 GB)
Display: 11.6" 16:9 WXGA (1366x768)
Storage: 32GB, 64GB, 128GB
Card Reader (Micro SD Micro SDXC Micro SDHC )
Camera: VGA Web Camera
Networking: 802.11 a/b/g/n/ac
Connectivity: 1 x COMBO audio jack, 1 x USB 3.0 port(s), 1 x USB 2.0 port(s), 1 x USB-C Gen 1 (up to 5 Gbps), 1 x micro HDMI