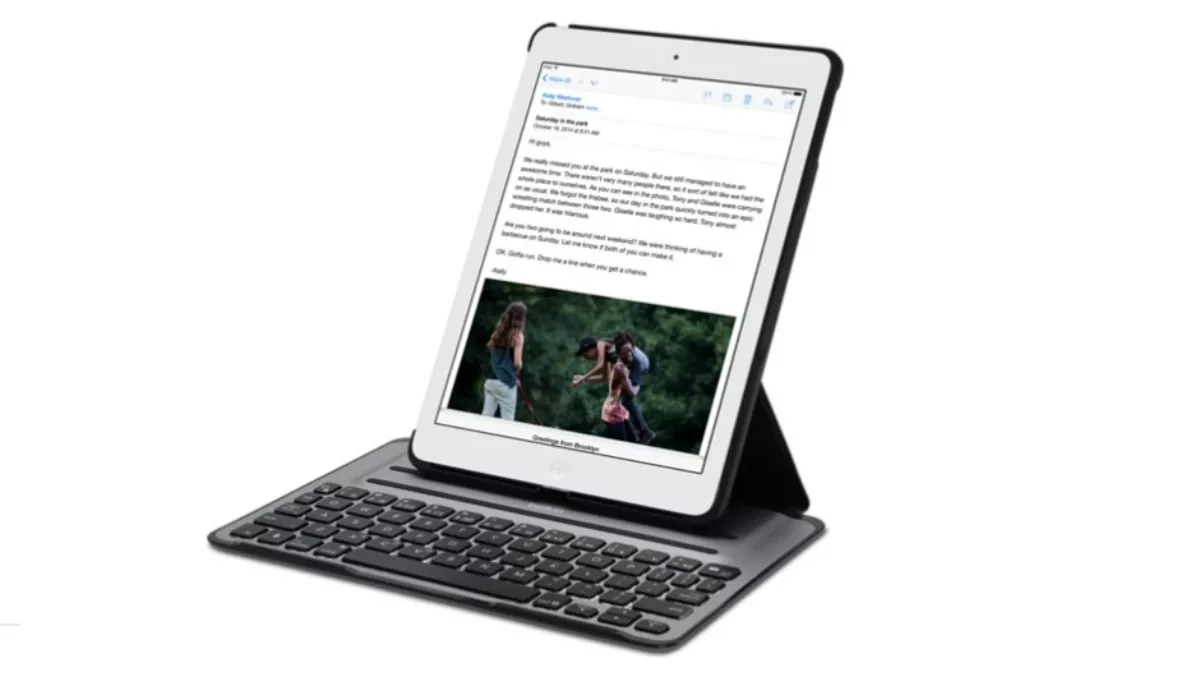 Hands-on review: Belkin QODE Ultimate Pro iPad Keyboard
By Patrick Pilcher,
Fri 27 Nov 2015
FYI, this story is more than a year old
I don't know about you, but touchscreen keyboards have me breaking out in hives. The lack of tactile feedback and predictive transforms text I've entered into bizarre haikus.
For Facebook posts or emails to friends and family this can be amusing. For work emails, it's definitely not a good thing.
Thank goodness for Belkin who've come to my rescue with the QODE Ultimate Po iPad Keyboard Case. It's a Bluetooth keyboard with a backlit QWERTY layout that pairs with two devices. So it'll not only work with an iPad, but it'll also work with a smartphone at the same time.
Look and Feel
The first thing that struck me as I unboxed it was how solid it is. This is due to its alloy base, which matches my iPad Air's underside. The top of the QODE case is a soft leather-like material to protect your iPad from knocks and bumps. It's a good looking combination too.
In Use
The QODE case consists of two halves that connect using a magnetic flap. The case lets you prop an iPad up at two angles, in portrait or landscape. The magnetic catch holding the iPad onto the QODE keyboard felt solid. In all but the most vigorous shake tests it remained connected.
It may be wafer thin, but this hasn't translated into any serious keyboard compromises. The keys are well spaced and have a decent amount of travel. Nicer still,the keys also need a definite press to register a key press.
After charging and pairing the QODE case with my iPad, I used it to knock out a few documents. For touch typing the QODE case worked well. I was able to knock out text at a fair clip with reasonable accuracy. This was helped along by the QODE's decent sized keys. This said, their flat scrabble-tile design sometimes saw my fingers sipping. The QODE also has iPad-specific function keys (e.g. Volume, Spotlight search, etc.) which can be pretty handy depending on what you're using your iPad for.
Bells and Whistles
Belkin has built some subtle yet clever tricks into the QODE. Being a Bluetooth connected widget battery life is a key consideration and Belkin have factored this into the QODE's design so that its keyboard will only power up when my iPad is docked and the case is open. It's an immediately obvious feature, but it does make a significant difference in battery life.
The QODE also sports backlighting with variable intensity levels. This mightn't sound like a big deal, but for use in darkened or semi-darkened environments, it makes using the QODE a lot easier and less distracting to others sitting nearby.
The other feature I really liked with the QODE is the fact that you can pair it with two different devices. This handily allows you to use the QODE with your iPad and a Smartphone.
Belkin says that the QODE lasts up a year off of a single charge. There's a caveat to this – using the QODE's backlighting will dramatically reduce this figure. After its initial charge I've yet to see it run out of juice (the QODE is charged via a micro-USB port on its rear).
Verdict
There is a lot to like with the Belkin QODE Ultimate Keyboard Case. Not only does it provide some much needed protection to my all too delicate iPad, its keyboard is also detachable and seems to run on the smell of an oily rag. Add to this backlighting and a sensible ergonomic design and typing on an iPad (and/or smartphone) soon becomes a lot less frustrating.
Tech Specs
RRP $170
Weight: 490 grams
Keyboard layout: QWERTY (Backlit with 3 brightness levels)
Connectivity: Bluetooth Smart (for up to 2 devices)
Battery life: Up to 1 year continuous battery life (when backlit keys turned off)